Latest News on Joe McGinty
Latest News on Joe McGinty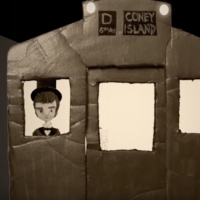 Michael Sackler-Berner Shares 'City Living' Video
by Abigail Charpentier - Nov 19, 2019
On loan from Brooklyn rock band The Slim Kings, singer/songwriter/guitarist Michael Sackler-Berner's new video does not rock. It doesn't folk-rock either, as fans of his solo work might expect - it swings. In MSB's dreams, it's Bennett, Sinatra, or Martin, but there's a punk side to the track because he's not a crooner by trade. It is tailor-made for people who think Bublé is cheese, but dig young gents singing and writing tunes for Big Band. Pop and jazz fans alike will latch onto this "Autumn in New York" release by the Big Apple native.

VIDEO: Lincoln Center Announces MIDSUMMER NIGHT SWING 2018 Lineup
by Alan Henry - May 10, 2018
Today, Lincoln Center announced the 2018 season of Midsummer Night Swing, bringing people from all walks of life together to experience an array of sounds and dance styles from Tuesday, June 26 to Saturday, July 14, 2018. This iconic New York social dance party will feature 15 nights under the stars, with outdoor dance lessons and live performances paying tribute to the histories of Lindy hop, swing, mambo, salsa, blues, and more, while welcoming newcomers and dance pros alike to experience the joy of social dance.