Latest News on Jennifer Kim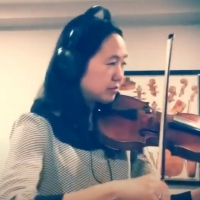 VIDEO: NSO's Adriana Horne and Jennifer Kim Perform Strauss
by Stage Tube - May 6, 2020
In a new NSO @ Home video, Jennifer Kim answers some commonly asked questions about being in the NSO, and performs a work was originally for voice and orchestra by Richard Strauss with Adriana Horne.
BWW TV: Watch Scenes from GLORIA's Chicago Premiere at Goodman Theatre
by BroadwayWorld TV - Jan 19, 2017
Gloria by Branden Jacobs-Jenkins, is currently running through February 19, 2017, directed by Evan Cabnet, in its Chicago premiere at the Goodman Theatre, starring Kyle Beltran, Catherine Combs, Michael Crane, Jennifer Kim, Jeanine Serralles and Ryan Spahn. Click below to watch highlights from the show!