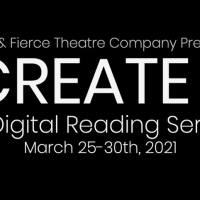 Little & Fierce Theatre Company Presents CREATE II: A Digital Reading Series
by Chloe Rabinowitz - Mar 15, 2021
Little & Fierce Theatre Company will present CREATE II: A Digital Reading Series, featuring 7 new plays and 40+ artists. The festival is streaming March 25-30th, and tickets are available via Eventbrite. Tickets are free to the public, with a $5 suggested donation for those attending one evening, and $10 suggested donation for a full festival pass.
Exquisite Corpse Company Returns To Governors Island with WATER, WATER, EVERYWHERE...
by Julie Musbach - Aug 13, 2019
In Exquisite Corpse Company's performative exhibition, Water, Water, Everywhere... step into the lives of people from the past, present, and future.