Latest News on Jeffrey Schlotman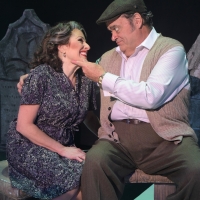 BWW Review: MAMBO ITALIANO at Westchester Broadway Theatre Is An Italian Feast for the Eyes and Ears
by Bruce Apar - Sep 11, 2019
Mambo Italiana is about family camaraderie. It's about being displaced by outside forces. It's about the younger generation breaking away from traditions and being caught between cultures old and new.

BWW Review: Feasting on Family in AUGUST: OSAGE COUNTY, at Axial Theatre
by Bruce Apar - May 12, 2019
It's a fun-house mirror of Americana arcana, reminding us that the reason blood is thicker than water is because it's larded with toxic sentiment
Photo Flash: Christine Pedi Celebrates GOOD TO MAMA CD Release at Birdland
by BWW News Desk - Oct 9, 2014
On Monday night, funny lady Christine Pedi got to show off her musical chops as she celebrated the release of her new CD, 'Good To Mama' as part of the Broadway at Birdland concert series. She belted, she purred, she joked, she duetted with legendary guitarist Bucky Pizzarelli, and she showed off her vast array of famous voices to the delight of a packed house. Scroll down for photos from the concert!