Latest News on Rinaldo Nistico
Rinaldo Nistico News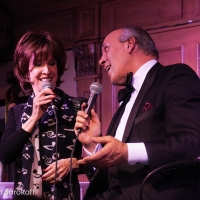 Photo Coverage: 'Baby It's Cold Outside' at the Friars Club as Deana Martin Duets With Steven Maglio
by Stephen Sorokoff - Dec 17, 2019
Some Radio and TV Stations may be refusing to play Frank Loesser's Academy Award-winning song, but Deana Martin and Steven Maglio sang it last night at the Friars Club to a jam packed room of gloriously festive and politically incorrect Friars. They joined the ranks of celebrities who have recorded the tune such as, Idina Menzel & Michael Buble', Esther Williams & Ricardo Montalban, Ella Fitzgerald & Louis Jordan, Margret Whiting & Johnny Mercer and the composer Frank Lesser and his wife Lynn Garland.
Photo Coverage: Billy Crystal Presented Friars Icon Award by Robert De Niro
by Stephen Sorokoff - Nov 13, 2018
When you enter the Friars Club on 55th street the world immediately becomes a better place. The first space you encounter is the Billy Crystal Room where you hear the laughter and the animated conversations as Friars share stories with one another. Last night in only the 8th time in the Club's 114-year history The Icon Award was presented by Robert De Niro to Billy Crystal at the Ziegfeld Ballroom to a capacity filled New York/Hollywood audience. The Icon Award honors individuals whose extraordinary accomplishment raise the standard of entertainment and positively redefines our culture. Billy is following in the footsteps of entertainment icons Douglas Fairbanks, Cary Grant, Frank Sinatra, Martin Scorsese, and Robert De Niro.
Photo Coverage: Gloria Allred Women's Rights Champion Roasted at the Friars Club
by Stephen Sorokoff - Jun 22, 2018
In 1983 Phyllis Diller had to dress up in drag to sneak into a men's only Sid Caesar's Friars Roast. Last night women's champion Friar Gloria Allred resplendent in an attractive pants and gold jacket was escorted through the front door of The Monastery for that time-honored Friar privilege of being Roasted. BroadwayWorld was there for photos only. What's said in the Friars, stays in the Friars.
Photo Coverage: The Friars, A Yiddish Theatre, and City Village Cinema Bring Christmas Cheer to NYC Kids
by Stephen Sorokoff - Dec 2, 2017
In 1904 the Friars started meeting, and in 1918 The Yiddish Art Theatre was founded. How symbolic that the Yiddish Theatre, now a City Village Cinema movie house was the scene of The Friars Sunshine Committee's annual morning of Christmas cheer for New York City Children. The kids are entertained by clowns, are given their early Christmas presents by some famous Friars, and the theatre staff makes sure they have unlimited popcorn while enjoying a movie.

Photo Coverage: Inside Opening Night - Steve Tyrell at Cafe Carlyle
by Stephen Sorokoff - Nov 29, 2017
Sometimes a performer is so effective in using his or her talent to entertain and charm an audience that the mention of their name and a venue become synonymous. Sinatra at The Sands, Darin at The Copa, Celine Dion at Caesars Palace, Feinstein at The Regency ( & now 54 Below). Bobby Short was The Carlyle for 36 years, and after his passing in 2005 Steve Tyrell's name and Cafe Carlyle have become intertwined. The artistry of Tyrell and the sophistication of The Carlyle have produced an annual holiday engagement for this music icon that has brought cheer and good feelings to thousands over the years. Steve fills the hotel with his swinging music, and he has been also doing something essential in the nightclub business . he also fills the seats. It's not just New Yorkers that flock to Cafe Carlyle for his performances. The Carlyle becomes a destination point for fans around the country during his runs.
Photo Coverage: Gilbert Gottfried Screens His New Documentary GILBERT at The Friars Club
by Stephen Sorokoff - Oct 31, 2017
Photo Coverage: Gov. Cuomo, Harry Belafonte, and Others Join Friars In Saluting Mayor David Dinkins on His 90th
by Stephen Sorokoff - Jun 30, 2017
The security was tight in the Monastery last night as politicians, tennis legends, celebrities and Friars gathered in the Frank Sinatra Dining Room to pay tribute to David Dinkins on his 90th birthday.   The security protection wasn't good enough however to stop one of the greatest comedians on the planet, Dean Emeritus Freddie Roman (MC) to have some fun with the former Mayor.  As a matter of fact Gov. Andrew Cuomo, who made a special trip down from Albany to be at the Friars got some laughs himself during his heartfelt tribute to Mr. Dinkins.  There was much love, laughter, joy, and a few tears in the club during the evening, as there always is in the Friars Club.  I couldn't help thinking as I watched all the Democrats and  Republicans in the room enjoying each others camaraderie, how great it would be if all our representatives in Washington would become Friars, meet in The Monastery, feel the love, and solve the nations problems. 
Photo Coverage: Tony Danza Helps Showcase the Stars of Tomorrow For The Police Athletic League's Teen Acting Program
by Stephen Sorokoff - Jun 21, 2017
Tony Danza is the 'Peoples Choice' not only because he won that award (among many).  He is also the choice for hundreds of New York City kids for whom he is a role model  in his capacity as Board Member of the NYC Police Athletic League (PAL).  Tony recently launched PAL's first acting program under the philosophy  'when you teach a kid how to act, you teach them how to act.' Alongside PAL's other athletic, academic, and artistic programs, the Acting Program has become an instant favorite.  Last night students were showcased in their stage debut at the Gerald w. Lynch Theater in Manhattan in a variety show which was developed over the last few months.
Photo Coverage: Chita Rivera Attends Friars Salute To Bobby Short
by Stephen Sorokoff - Apr 20, 2017
Yankee Stadium has it's 'Legends Seats' and Monuments prominently displayed in the 'House That Ruth Built'.  Then the current team takes the field and future legends start to play ball.  In the Friars Club show biz past and present are always in the house.  Their photos are on the wall and names are engraved on the chairs in the Frank Sinatra Dining Room.  Then as so often happens an 'insiders' great show is produced for the members and those legends current and future entertain their fellow Friars.  So it happened last night as the Friars Club honored Bobby Short, the legendary cabaret singer/pianist who was best known for his three decade plus music residency at Cafe Carlyle in New York City.  The music of Bobby Short was brought to life by some current Cafe Carlye and Bemelmans Bar stars in a spectacular evening produced and hosted by Friar Jeff Leibowitz and Co-Produced by Friar Will Friedwald.