Latest News on Prescott Seymour
Stage Credits
  [Off-Broadway]
DR2 Kids Theatre Production, 2013
Chester
Photos
The Cast: Abe Goldfarb, John Garry, Robert Anthony Jones, Ashley Campana, Prescott Seymour, Erin Maguire
From: 
Date:
02/11/2013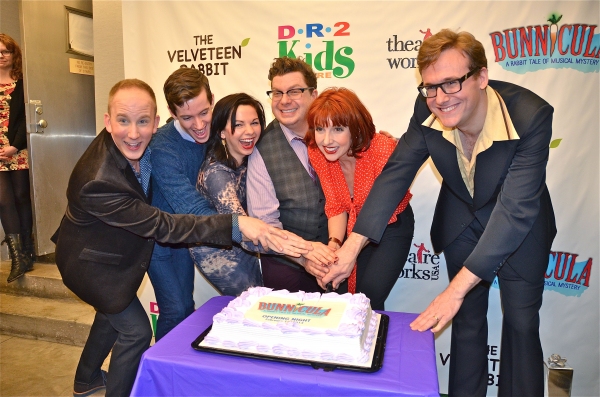 Cast Cutting the Cake Celebration Prescott Seymour, John Garry Ashley Campana, Robert Anthony Jones, Erin Maguire, Abe Goldfarg
From: 
Date:
02/11/2013
Prescott Seymour News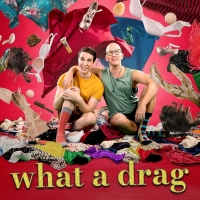 Web Series WHAT A DRAG to Premiere This Weekend
by Chloe Rabinowitz - Oct 26, 2021
What A Drag, a new LGBTQIA+ comedy web series will debut October 30,2021, starring Prescott Seymour (Also known by their famed drag persona 'Sutton Lee Seymour') and John Wascavage (writer/ creator) as the series leads.
TheaterWorksUSA to Stream Virtual Benefit Reading of BUNNICULA
by Chloe Rabinowitz - May 20, 2020
TheaterWorksUSA will stream a benefit reading of their musical adaptation of Bunnicula, a spine-tingling musical about a floppy-eared bunny with mysterious habits based on the book by James & Deborah Howe on Sunday May 24 at 2pm.

Tony Danza, Marin Mazzie and Jason Danieley, Paulo Szot, and More Feature This June at 54 Below
by Julie Musbach - May 31, 2018
This June, FEINSTEIN'S/54 BELOW, Broadway's Supper Club & Private Event Destination, presents some of the brightest stars from Broadway, cabaret, jazz, and beyond.

54 Below Hosts WHAT DO CRITICS KNOW?
by Julie Musbach - May 8, 2018
FEINSTEIN'S/54 BELOW, Broadway's Supper Club, presents a concert of songs from the hilarious, new musical comedy What Do Critics Know? In a strange turn of fate, three of the most powerful theater critics are forced to write a Broadway musical that must receive rave reviews.
Broadway at the Cabaret - Top 5 Cabaret Picks for May 23-29, Featuring The Skivvies, John Arthur Greene, and More!
by Louisa Brady - May 22, 2016
Broadway's 40 theatres aren't the only places to catch performances from your favorite stars! Well after Broadway orchestras begin their overtures, ensemble members take their dance breaks, and performers belt out their eleven o'clock numbers, the party continues at various cabaret venues throughout New York City. Below, BroadwayWorld brings you some cabaret highlights for this week as picked by our theatre editors, including: Exposure in Concert, Featuring Lillias White and More; Sven Ratzke's STARMAN; John Arthur Greene at the Metropolitan Room; The Skivvies at 54 Below; and Aladdin's Arielle and Adam Jacobs in 'Sibling Disobedience.'
Patti Murin, Christopher Hanke, and More Will Strip Down with THE SKIVVIES at 54 Below on 5/27
by Louisa Brady - May 14, 2016
The Skivvies are back by popular demand at Feinstein's/54 Below! Their upcoming show, on May 27th at 9:30 PM, features an array of Broadway's best and brightest. The guest list includes Erik Altemus, Lindsay Nicole Chambers, Benny Elledge, Christopher Hanke, Travis Kent, Patti Murin, Ryann Redmond, and Prescott Seymour.
Photo Flash: NYMF's WHAT DO CRITICS KNOW? Begins Tonight
by BWW News Desk - Jul 23, 2015
The New York Musical Theatre Festival and MWG Productions, LLC present WHAT DO CRITICS KNOW?, a new musical with music and lyrics by James Campodonico and Matthew Gurren a book by Matthew Gurren and direction by Michael Bello. The company includes Chris Gleim, Sarah Stevens, Mary Mossberg, Danny Bolero, Kimberly Doreen Burns, Ryan Knowles, Bruce Rebold, Jason Fleck, Prescott Seymour, Kaitlyn Frank, Lindsay Bayer, Sean Bell and Danny Harris Kornfeld. Scroll down for a peek at the cast in their preview concert below!