Latest News on Joseph Meyer
Stage Credits
  [Broadway]
Original Broadway Production, 1943
Ike Skidmore [Replacement]
Writing
Composer
Composer
Lyricist
Composer
Composer/Lyricist
Composer
Stage
Performances
  [Broadway]
Original Broadway Production, 1943
Ike Skidmore [Replacement]
Writing
Composer
Composer
Lyricist
Composer
Composer/Lyricist
Composer
Joseph Meyer News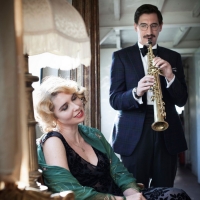 NYC Jazz Duo Sweet Megg And Ricky Alexander Bring The '20's Back To 2020 With New Single
by Chloe Rabinowitz - Mar 19, 2021
New York City-based jazz vocalist Sweet Megg (Meaghan Farrell) and saxophone/clarinet extraordinaire Ricky Alexander revive the 1920s with their refreshing take on the classic song 'My Honey's Lovin Arms,' which premieres today. 
Michael Buble, Jussie Smollett & More Will Headline Kennedy Center's Spring Gala
by Tyler Peterson - Apr 12, 2016
?In one of D.C.'s social events of the year, the Kennedy Center pays tribute to America's immortal Motown hit-maker, the late singer Marvin Gaye, at the 2016 Kennedy Center Spring Gala on Sunday, June 5, 2016 in the Kennedy Center Concert Hall. The evening's program celebrates Gaye's enigmatic and innovative contributions to the Motown sound during the peak of his career in the 1970s and 1980s, and his musical influence that spans generations. Hosted by actress, comedian, and television host Whoopi Goldberg, the gala performance is headlined by multi-Grammy Award-winning artist Michael Buble, and features a talented, all-star cast including Andra Day, Ledisi, and Jussie Smollett, star of the FOX hit show, Empire.
Joseph Meyer Frequently Asked Questions
How many Broadway shows has Joseph Meyer been in?
Joseph Meyer has appeared on Broadway in 1 shows.
How many West End shows has Joseph Meyer been in?
Joseph Meyer has not appeared in the West End
How many shows has Joseph Meyer written?
Joseph Meyer has written 5 shows including Big Boy (Composer), Here's Howe (Composer), Lady Fingers (Composer), Five Guys Named Moe (Composer), Jolson & Co. (Composer/Lyricist).