Latest News on Jordi Bosch
Jordi Bosch News
GOLFUS DE ROMA se despide de Barcelona este fin de semana
by Juan-Jose Gonzalez - Jan 3, 2023
El musical de Stephen Sondheim dirigido por Daniel Anglès y Roger Julià bajará el telón el 8 de enero.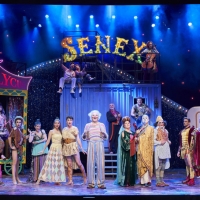 GOLFUS DE ROMA celebra el espectador 100.000
by Juan-Jose Gonzalez - Dec 7, 2022
Después de más de 200 funciones, GOLFUS DE ROMA se ha convertido en un éxito en Barcelona.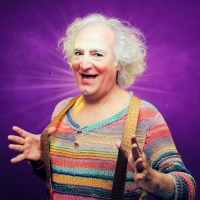 INTERVIEWS: Jordi Bosch nos habla de GOLFUS DE ROMA
by Juan-Jose Gonzalez - Sep 23, 2022
El actor interpreta a Pseudolus en el musical de Stephen Sondheim que actualmente se representa en el Teatre Condal.
El Teatro Musical Que Viene: Temporada 2022/2023
by Juan-Jose Gonzalez - Aug 9, 2022
Como cada año, vamos calentando motores ya que en breve llega la nueva temporada de teatro musical. Repasamos los espectáculos que llenarán las carteleras en nuestro país en 2022/2023. ¡Echa un vistazo a todos estos títulos!
BWW TV: GOLFUS DE ROMA se presenta en Barcelona
by Elena Díaz-Guerra - Mar 22, 2022
Podrá verse a partir de septiembre en el Teatre Condal.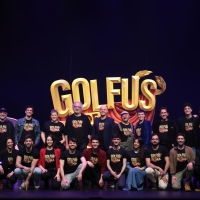 GOLFUS DE ROMA llega a Barcelona después de su éxito en Madrid
by Elena Díaz-Guerra - Mar 22, 2022
El divertido musical compuesto por Stephen Sondheim, ahora protagonziado por Jordi Bosch, y dirigido por Daniel Anglès podrá verse en el Teatre Condal en septiembre.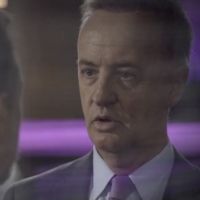 EL CREDITO llega esta noche a TVE con Carlos Hipólito
by Ainhoa Hornero - Aug 16, 2021
Esta TV Movie está basada en la obra de teatro de Jordi Galcerán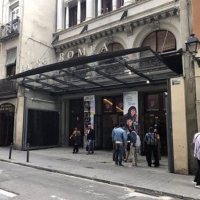 Los teatros del Grup Focus reabren sus puertas
by Cristina Martinez - Nov 20, 2020
El Grup Focus, en Barcelona, ha anunciado que sus teatros reabrirán las puertas la semana que viene. El primero en hacerlo será el Goya el 24 de noviembre con la tercera temporada de la exitosa producción de ESCAPE ROOM escrita por Joel Joan y Hèctor Claramunt.
SUMMER STAGES: Guía teatral musical para este verano
by Juan-Jose Gonzalez - Jun 19, 2013
De divas que se lamentan a familias irreales, pasando por bellas, bestias, T-Birds y Pink Ladies. Este verano hay una variada oferta musicalera en toda la geografia española para refrescar las calurosas 'summer nights'.
BWW Interviews: Joan Vives habla sobre Into The Woods, James Lapine y Tots Fem Comèdia
by Juan-Jose Gonzalez - Jun 4, 2013
El trabajo del musico y letrista catalan, que ha colaborado con compañias como Dagoll Dagom o La Cubana, ha cruzado fronteras este año, llegando hasta Puerto Rico con la version en español del musical de Stephen Sondheim Into The Woods. De esto y de Tots Fem Comedia, la nueva obra de Joaquim Oristrell, en la que ademas participa como actor nos habla en esta entrevista para BroadwayWorld.
Jordi Bosch Videos
BWW TV: 'Candide' llega al Auditorio de El Escorial
by Juan-Jose Gonzalez - Jul 28, 2011
Este viernes se estrenará dentro del Festival de Verano del Teatro Auditorio de El Escorial la opereta de Leonard Bernstein 'Candide', con dirección escénica de Paco Mir, dirección musical de Manuel Coves y coreografías de Francesc Abós, y protagonizada por Antoni Comas, María Rey-Joly, Jordi Bosch, Xavier Ribera-Val y Eva Diago. ¡Echa un vistazo a este video con entrevistas a sus protagonistas!
BWW TV: Final de La Sagrada Familia
by Juan-Jose Gonzalez - Jun 4, 2010
Estrenada en enero de 2010 esta nueva serie de Dagoll Dagom de 15 capítulos ha desarrollado los problemas domésticos y familiares en dos ámbitos: el laboral y el personal. Cada caso está interpretado por actores invitados, muchos de los cuales provienen del teatro musical como Josep Maria Gimeno, Mone, Annabel Tutusaus, Muntsa Rius, Pep Molina, Mariona Castillo o Teresa Vallicrosa.