Latest News on Fred Smith
Stage Credits
Productions
[Broadway, 1962]
Stage Manager
Photos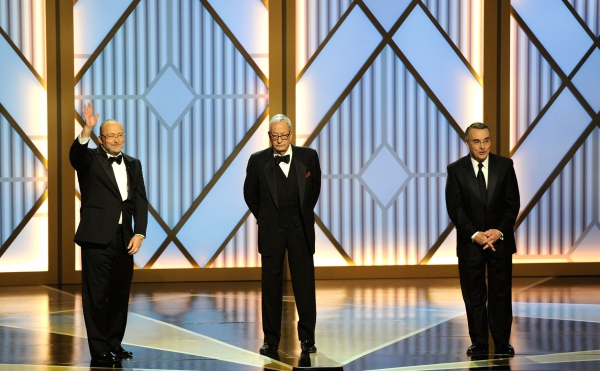 Myron Martin, President/CEO of The Smith Center; Fred Smith, Chairman of Reynolds Foundation; and Donald Snyder, Chairman of The Smith Center
From: 
Date:
03/11/2012
Fred Smith News
Indie Rock Singer / Songwriter Alpha Cat Releasing EP of Vintage Recordings
by Michael Major - May 26, 2022
Elizabeth McCullough formed the band Alpha Cat to support a notable success with the first Alpha Cat record, Real Boy, which was produced by Fred Smith of Television. But as often happens, the band fell apart after recording the follow up, Pearl Harbor, yet the Alpha Cat name stuck.
TN Shakespeare Company Announces 14th Performance Season
by A.A. Cristi - Aug 11, 2021
Tennessee Shakespeare Company today announced its 14th performance season celebrating inspiration and invention with a regional premiere, the return of the Southern Literary Salon Series, a first-time Shakespeare play for Memphis, and theatre's ode to the greatest manifestation of love: sacrifice. 
'Rhapsody In Blue' Anchors California Symphony's Next Innovative Special Event And Fundraiser
by A.A. Cristi - Feb 13, 2020
The forward-looking California Symphony, Contra Costa County's only professional orchestra, presents Roaring into the Future - its biggest fundraiser of the season. With Event Co-Chairs Marcia Wilson and Fred Smith, a confluence of about 250 Bay Area community builders, tastemakers, trendsetters, corporate leaders, and entrepreneurs will gather for this premier social event of the East Bay for an evening unlike any other. The event features California Symphony in a performance of Gershwin's a?oeRhapsody in Bluea?? led by Music Director Donato Cabrera, best-in-class design, impeccable food, a silent and live auction, and more.
Acclaimed ASCAP Film Scoring Workshop Celebrates 30th Year Of Producing Top-Tier Screen Composers
by Macon Prickett - Jul 9, 2018
ASCAP, the world leader in performing rights and advocacy for music creators, today kicks off its renowned annual ASCAP Film Scoring Workshop for an historic 30th year. Mentored by Emmy Award-winning composer Richard Bellis and produced by ASCAP Film & TV executives Michael Todd and Jennifer Harmon, the comprehensive 4-week program in Los Angeles is known in Hollywood circles for grooming some of the film and TV industry's top composers, connecting them with agents, music supervisors, attorneys and A-list Hollywood studio executives. The 12 composer participants for this year's program were revealed today.
BWW Review: SWEET COUNTRY at Palace Nova Eastend Cinemas
by Barry Lenny - Jan 31, 2018
There is strong contrast between the beauty of the landscape and the ugliness of the unfolding story.
Symphony Surround Special Event Returns with 'Classical Rock Star' Cellist Joshua Roman
by Julie Musbach - Jan 24, 2018
California Symphony and Music Director Donato Cabrera celebrate the Orchestra's 31st season with Symphony Surround, a special event and fundraiser Saturday, June 16, 2018, at the Claremont Hotel in Berkeley, featuring star cellist Joshua Roman. Roman returns to perform with the California Symphony for the first time since his 2012 debut, when he was 29.
National Folk Festival Major Line-up Announcement
by A.A. Cristi - Nov 8, 2017
The National Folk Festival celebrates the diversity of folk with a major announcement of artists for 2018.

Television to Play The Neptune This September; Tickets on Sale Friday
by BWW News Desk - Aug 2, 2017
Seattle Theatre Group (STG) announces the following show going on sale: Television, coming to The Neptune on September 25, 2017 at 8:00 PM.
iRev's Comedy Festival Offers Over 51 Free Workshops and Expands with Improvisation Symposium
by BWW News Desk - May 2, 2017
UCI's Improv Revolution (iRev) will produce The Coup de Comedy Festival 2017, a celebration of improvisation and comedy.  iRev is an improvisational ensemble composed of undergraduate students from UC Irvine's Claire Trevor School of the Arts (CTSA). This epic 4-day festival brings the best shows, panels, and workshops to the UC Irvine campus and community for FREE.
BWW Review: Sandra Bernhard Takes a Stroll Down SANDRA MONICA BLVD at Joe's Pub
by Troy Frisby - Jan 11, 2017
A woman of many talents, one of Sandra Bernhard's greatest gifts has been her finely-honed ability to satirize Hollywood from the inside. Luckily, her latest residency at Joe's Pub, the year-ending SANDRA MONICA BLVD: COAST TO COAST, gave her plenty of opportunities to keep sharpening that blade.
Fred Smith Videos
BWW TV: Chatting with the Cast of BREAKFAST AT TIFFANY'S - Emilia Clarke, Cory Michael Smith & More!
by BroadwayWorld TV - Feb 27, 2013
Tony Award winning playwright Richard Greenberg's new play, Breakfast at Tiffany's will soon open at the Cort Theatre (138 W 48th Street). Directed by Sean Mathias, Breakfast at Tiffany's begins preview performances on Monday, March 4, 2013 and officially opens on Wednesday, March 20, 2013. This stage adaption of Truman Capote's classic novella will star Emilia Clarke (HBO's 'Game of Thrones') in the iconic role of 'Holly Golightly,' Cory Michael Smith as 'Fred,' and George Wendt as 'Joe Bell.' The cast and creative team met the press earlier today and BroadwayWorld's Richard Ridge was there to chat with the whole gang. Check out what they had to say below!