Bio:
Latest News on Emily Witte
Photos
Emily Witte (Anna), Clare Howes Eisentrout (Martha), Kyra Kennedy (Wendla), Andrea Leach (Ilse), and Rachel Brawley (Thea)
From: 
Date:
02/03/2012
Emily Witte Biography
Emily Witte News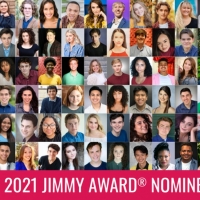 Meet the 2021 Jimmy Awards Nominees- Part 1
by Team BWW - Jul 9, 2021
It's just under one week until the biggest night in high school musical theatre! The Jimmy Awards officially return as a virtual ceremony on Thursday, July 15, 2021.

BWW Review: Like Panoramic Pease, MUSIC OF THE NIGHT Was Fun While It Lasted
by Perry Tannenbaum - Nov 2, 2018
After we're rid of the obligatory 'Memory,'CP's fond farewall to Pease Auditorium, THE MUSIC OF THE NIGHT, is a lot of fun - but not a lot of music,

BWW Review: Triumphant AIDA Cast Slogs Through Tedious Sir Elton Score
by Perry Tannenbaum - Sep 14, 2017
Linda Woolverton does a masterful job of modernizing - and feminizing - Verdi's libretto for A DA, but despite an excellent Theatre Charlotte cast, slogging through Sir Elton's parade of power ballads grows tedious.
Amy Spanger Replaces Nikki Blonsky in Tim Realbuto's Maury Yeston Tribute Concert
by BWW News Desk - Feb 12, 2015
Nikki Blonsky, who was originally scheduled to perform in Tim Realbuto's Bookseller in the Rain Maury Yeston tribute concert, had to withdraw from the production due to a severe flu that has left her on bed rest with extremely strict orders from her doctors. Drama Desk nominee Amy Spanger ('Six Feet Under'; Reefer Madness) has replaced Ms. Blonsky as the show's opener, singing Yeston's Oscar nominated hit 'Take It All.'
AMERICAN IDOL Alum Eric Anthony Lopez Joins Tim Realbuto's Maury Yeston Tribute Cast
by Tyler Peterson - Feb 7, 2015
American Idol's Eric Anthony Lopez completes the principal list of special guest stars for Tim Realbuto's Bookseller in the Rain, a tribute to the music of legendary composer Maury Yeston. Mr. Lopez joins previously announced Golden Globe nominee Nikki Blonsky (Hairspray), Tony Award winner Tonya Pinkins (Caroline, or Change),Mara Davi ('Smash'), Jenna Leigh Green ('Sabrina, the Teenage Witch'), Joshua Colley (Les Miserables), Christine Dwyer (Wicked), Ovation Award nominee Erika Amato (Flashdance), Kimberly Faye Greenberg (Danny and Sylvia), Abigail Ludrof (The HVAC Plays), and Emily Esposito (A Christmas Story). Also present will be our guest of honor, Tony Award winning and Oscar nominated composer Maury Yeston.
Emily Witte Videos