Latest News on Cheryl Riley
Cheryl Riley News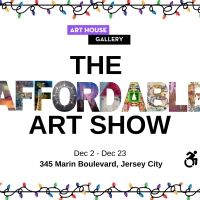 The Art House Gallery Presents THE AFFORDABLE ART SHOW
by Stephi Wild - Nov 29, 2022
Art House Productions will present "The Affordable Art Show," an annual December event with works priced $500 and under. Curated by Andrea McKenna, the show includes over 150 works of art from 89 artists.

Art House's City Wide Free Arts Festival Returns
by Julie Musbach - Feb 9, 2018
Spring is on the way, and Art House's JC Fridays will kick off the season with 20 exciting visual and performing arts events! Come out and celebrate with this city-wide festival on Friday, March 2nd, 2018. Restaurants, galleries, stores, and event spaces throughout Jersey City will showcase a variety of art-related happenings including visual exhibitions, live music, performance acts, educational demonstrations, and more. All events are free and open to the public. As one of the preeminent art scenes in the tri-state area, Jersey City is abound with artists of all types, musicians, and individuals with unique talent; JC Fridays is one of the best times for them to share their newest projects and works. Held quarterly, thousands of residents pour out to experience these artists' latest works and to revel in the joy art brings to the community.
Photo Flash: 14th Annual MIDSUMMER NIGHT DRINKS Supports God's Love We Deliver
by BWW News Desk - Jun 23, 2014
At Saturday night's 14th Annual Midsummer Night Drinks more than 400 friends and supporters gathered at the stunning Southampton home of Kelly Behun and Jay Sugarman for a wonderful evening of fun, food and cocktails, all benefiting God's Love We Deliver. This signature event supports one of New York City's most beloved charities, the only organization of its kind that cooks and home delivers nutritious meals to clients living with severe illnesses, their children and senior caregivers. Scroll down for photos!