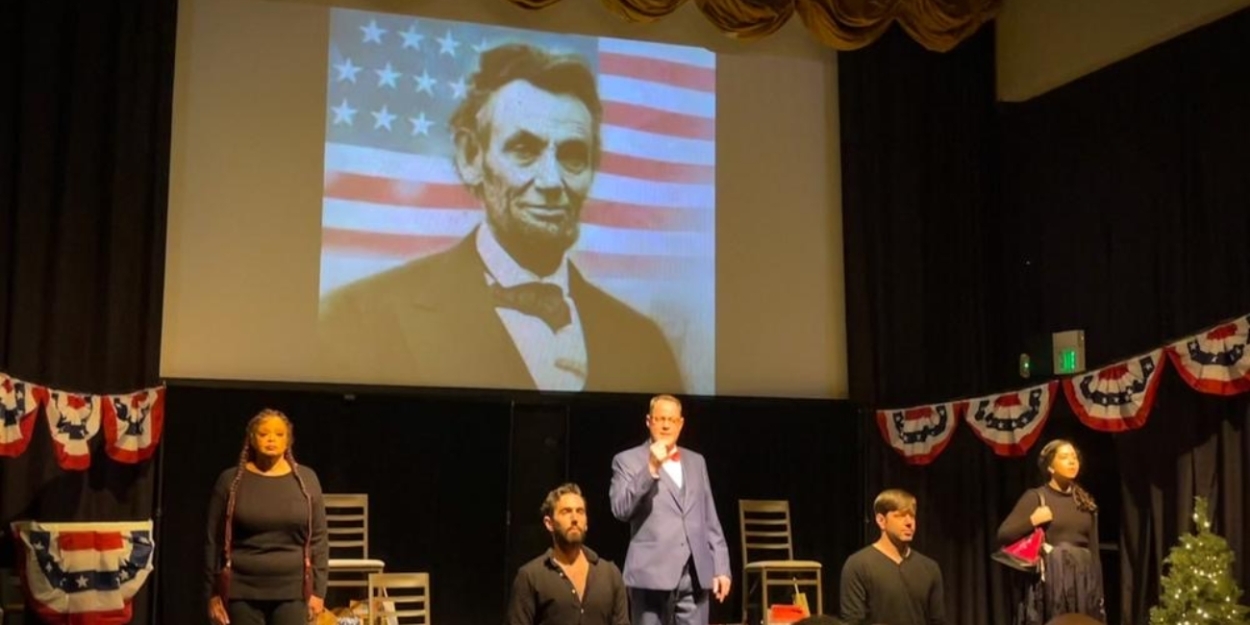 Review: THE LINCOLN DEBATE at The Bent
Bent Theatre Company Has Strong Preview Performances!
Yippee! Palm Springs has a new gay theatre company in the works and if their preview production is any indication, hold onto your hats. The Bent Theatre might just end up being the most in-demand ticket in town.
Their first production was THE LINCOLN DEBATE, written by The Bent's Managing Director, Terry Ray. If the playwright's name sounds familiar, he wrote and starred in the Desert's longest running play, ELECTRICITY. During the Pandemic while most of us were propped up in front of the TV with a slice of pizza in one hand and a beer in the other, Ray started researching the premise that Abraham Lincoln might have had a same sex longterm relationship. Although there are no TMZ photographs of the two men smooching in the moonlight, he managed to find an amazing collection of letters and comments by Lincoln and his contemporaries. It seems that Honest Abe not only worked in a store owned by Joshua Steed but he "cut expenses" by sharing the one double bed upstairs. Lincoln's own words hint that the summer heat was so intense that they couldn't wear even their nightshirts. Hmmmmm.
The play consists of The Guide (Chip Steele), a generic CBS morning type character, who introduces the piece and keeps it moving along. Steele has found a perfect level between dry facts and hyperbole as he presents the facts "without judgement," often sounding like he is winking at us. He makes it feel like he has been doing this a lifetime.
Besides The Guide, there are four actors (Alex Price, Laura Martinez, Renee Poignard and Jason Reale) who play four actors; ie, when the arrive onstage they supposedly don't know why they have been called. Then pretty quickly as The Guide introduces a character, some major, some minor, he points to one of the actors to bring that character to life. And so starts one of the most enjoyable evenings in the theatre that I've experienced in a long time. All five actors are superb, the writing is witty and informative, and The Bent's Artistic Director, Steven Rosenbaum, directed the production to a point where very difficult prop movements and character changes were smooth, slick, and mind-boggling.
The stage is fairly bare - a slightly raised platform halfway upstage with two chairs on it, a speaker's podium down right and red, white and blue bunting strung on both sides of the stage. When entering the auditorium at the Palm Springs Cultural Center, I could see a few random props under the chairs, but somehow the actors had dozens of books, a length of rope, various hats etc. in their hands at just the right moment without leaving the stage and seemingly without looking for them. Like a good magic act, difficult moves looked effortless. There were large projections high up on the upstage wall which included images that were brilliant unto themselves, and also a visual reinforcement of the plot points which were being delivered onstage.
I have had the pleasure of working with Renee Poignard and Laura Martinez, the two ladies in the cast, but in this production it seemed like they had jumped on a trampoline and we caught them at their apex. Each was flexible, credible, and funny. Martinez's primary character was Mary Todd and Poignard's Fanny Henning, the woman whom Lincoln's partner married. They both portray many other characters along the line, and Poignard's turn as a male plantation owner was delightful.
Alex Price's primary character was Joshua Speed, the man who may have been Lincoln's paramour. The actor is new to Palm Springs but I'm sure we'll see plenty of him (well, we get to see quite a bit of him in this play!). And saving the best until last, Jason Reale plays Lincoln. With a dark beard, lanky physique and angular features, when he finally puts the stovetop hat on, he really seems like the president. His resonant bass voice also seems appropriate for Commander-In-Chief, even though Lincoln's might have been a bit reedier. Reale is still somewhat new to the Valley, but it seems like every theatre company has reached out to him and he stays very busy indeed.
The Bent has gone through a rigorous process of applying for not-for-profit status, but was recently green lighted on that. Now, Artistic Director Rosenbaum is hard at work trying to get publishers' clearances so can announce their premiere season. Most likely they will use the theatre space vacated by Desert Rose Playhouse which shut down last year, but nothing is set in stone yet. I for one certainly hope that THE LINCOLN DEBATE is included in that season.