Review: Off Broadway Corona Theater's Production of Yeston & Kopit's PHANTOM is not to be Missed.
A "shlemazel," in Yiddish, is someone who has lots of bad luck - a walking example of Murphy's law. Maury Yeston and Arthur Kopit, whose 1982 show, NINE, won Tony awards for best musical and best score, are unlikely candidates, except that their lovely next musical never made it to Broadway, while someone else got rich(er) adapting the same novel. Mr. Yeston ruefully deems his show, named PHANTOM, "the greatest hit never to be produced on Broadway."
Fortunately for Southern Californians, the Off Broadway Corona Theater (OBCT), is performing PHANTOM less than two hours away from the Coachella Valley. To use another Yiddish word, it is well worth the "shlep" to see this superb production of the Yeston & Kopit PHANTOM.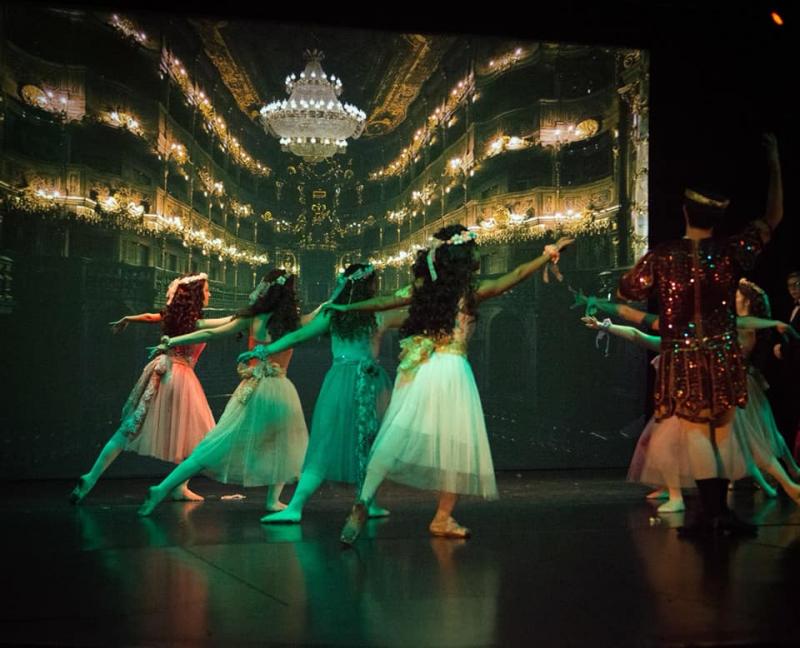 PHANTOM, based on a Gaston Leroux horror novel, is the romantic tale of a man who haunts the bowels of the Paris Opera House. As readers have undoubtedly guessed, that novel is THE PHANTOM OF THE OPERA. The late, great actor and choreographer, Geoffrey Holder, obtained exclusive rights, hired Yeston to write music and lyrics and Kopit the musical's book, and set about raising funds to take the effort to Broadway. However, Andrew Lloyd Webber announced that, as soon as the novel entered into the public domain, he, too, would release a musical about the Phantom. Funding dried up for the Yeston and Kopit version, Webber wound up with a mega-hit, and the moving, operetta-like Yeston and Kopit musical was relegated to regional and community theatres.
The story proceeds in a completely different direction from Andrew Lloyd Webber's tale. Although there are examples of haunting (in both senses of the word) organ pieces, Mr. Yeston manages to make the story haimish and sweet. The detailed back story, told in flashback in Act II, explains that Erik - the Phantom - was born to an unmarried dancer (Miranda Rose) who loved him very much; she lived with her son in the lower floors of the opera house to spare him the world's likely reaction to his damaged face. She died when Erik was still young, at which point company manager Gerard Carriere (James Ellis) took him under his wing. All was calm even after Erik grew up until new owners bought the opera and fired Carriere. The musical starts when the new owners take possession of the opera company.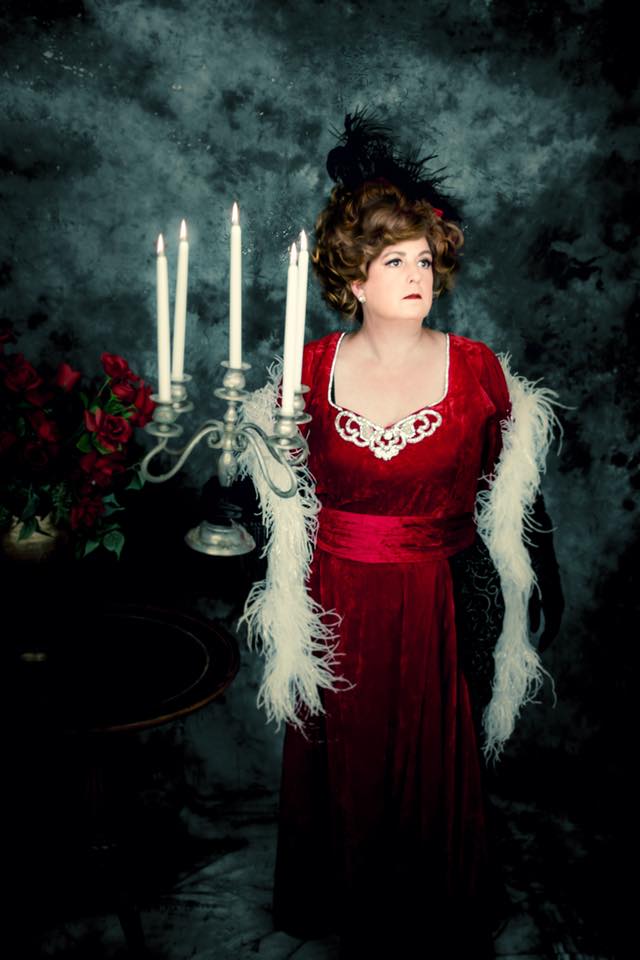 The entire cast is stellar - there are no weak links. The multi-talented Lance Galgon, a professional actor who has been cast as Che in the upcoming national tour of EVITA, perfectly captures Erik's innocence and vulnerability as well as his terrifying transformation into a violent avenger. Mr. Galgon's mellifluous baritone is perfect for the show's sweet ballads, such as "You are Music" and "You are My Own." Although he seemed scratchy on a few of the higher notes, this was certainly not enough to mar his extraordinary performance. Amanda Kalkanis, too, delivers a beautifully sung and acted interpretation of Christine. One of the benefits of the Yeston and Kopit version of the story is that Christine and Erik spend time together as master and student, and later as friends and sweethearts. It is a pleasure to watch the extended interactions between these two charismatic performers.
Carlotta is a villain in this version, but a humorous one - the entire first act is comedic. Jennifer McLoughlin-Hoyt, a professional opera singer, has an extraordinary voice and terrific comic timing as the larger-than-life diva who can't figure out that she is an earlier version of Florence Foster Jenkins. Carlotta's interactions with her adoring husband, played by Ms. McLoughlin-Hoyt's real-life spouse, Robert Hoyt, are hilarious. My favorite scenes are the ones in which Carlotta responds to someone's attempts to sabotage her performances and the one in which she sabotages someone else's.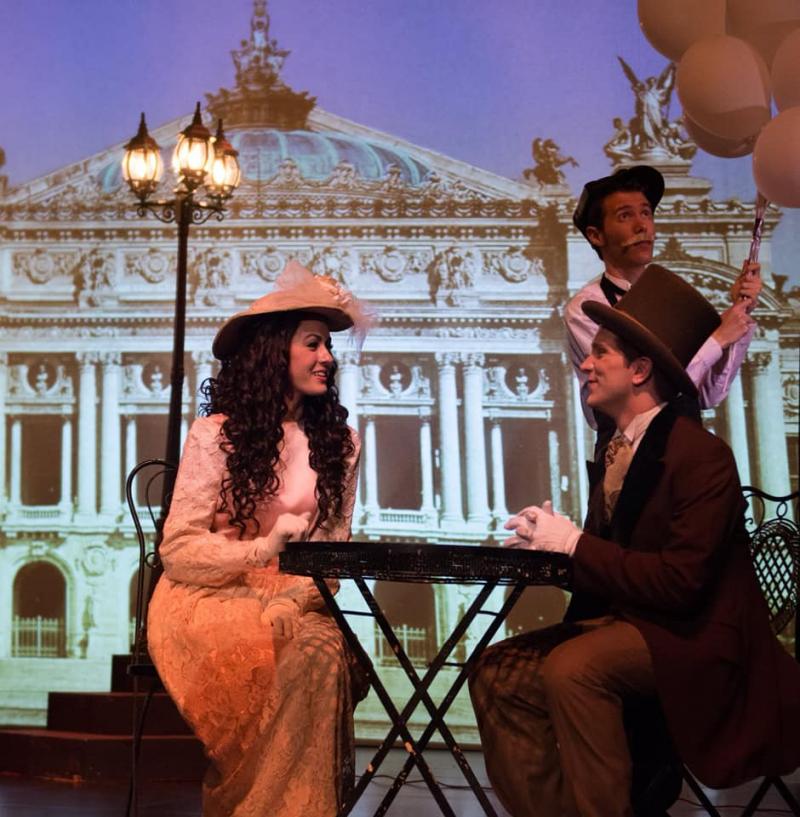 The supporting cast is also excellent. The ballerinas (Alexyia Biggers and Kathryn Rust) and the ballet chorus (Audrey Gall, Kristen Leeper, Rachel Slocum, and Elizabeth Solis) are accomplished dancers, and Michael Milligan's choreography takes full advantage of their skill. The interaction between Gerard Carriere and Erik is touching, and the Raoul character (here named Phillipe, who is Raoul's older brother in the original novel), played by Max Herzfeld, balances heroism with womanizing, at least until he meets Christine, and he decides she is the one for him. Phillipe's three simpering admirers, Flora, Fleure, and Florence (Sarah Christensen, Ciena Fitzgerald, and Lily Bergreen), are a lot of fun to watch as they try to capture his heart. Zachary Thompson, who plays Erik as a child, deserves special mention for his lovely and poignant rendition of Erik's musical prayer in Act II.
The director, unidentified in the program, wisely allows the sets, projections, and the cast to appear familiar to devotees of Andrew Lloyd Webber's musical. For example, Madame Giry (Leah Zimmerman) wears a black dress and hovers around the ballet dancers. Also, the director has eliminated earlier productions' use of a mask that contains bizarre red markings that resemble bloody tears. The side mask and boat are familiar, as is the chandelier crash. Yet this version has its own distinct flavor, both because of the Phantom's gentle nature at the beginning of the musical and the operetta-style music; the music, along with the detailed, lovely costumes, convey the general feel of Paris in La Belle Epoque. David Coe Lamoureux's music direction is top notch. Unfortunately, there is no live music - my one real complaint - but Mr. Lamoureux has succeeded in getting the cast to coordinate perfectly with the pre-recorded tracks.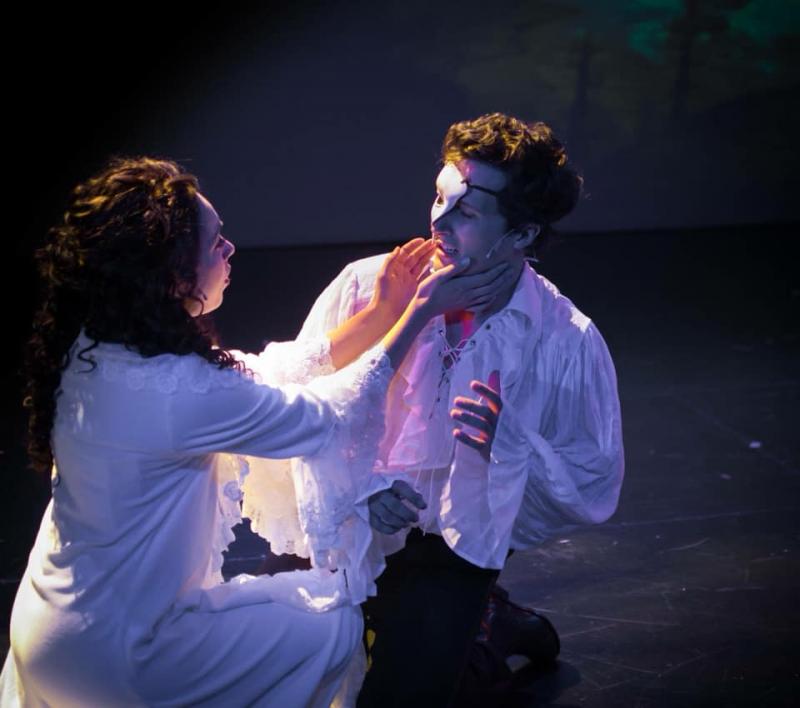 Rarely can audiences watch a community theatre production of any kind with such fine acting, singing, and dancing, and such cleverly designed scenery, including the photographic projections. I won't give away how they manage the chandelier crash, but it's certainly impressive. For Phantom "phans" who love any version, and for anyone who appreciates top-notch musical theatre, OBCT's production of PHANTOM is a must-see.
The rest of the cast consists of Brandon Hill as Jean Claude, Robert Meyer as Inspector Ledoux, Kellen Ford as Joseph Buquet, Jaylen Baham and Fernando Arellano as police officers, Patrick McIver as the opera company tenor, Nathanial Vogel as the Minister of Culture, Michael Milligan as young Carriere, and ensemble members Holly Christensen, Paul Christensen, Kate Hill, Isabella Moya, Laura Richie, Spencer Sharp, Haylee Thompson, Zachary Thompson, Marlisa Yace, Reilly Jimenez, and Matt Hill. The rest of the crew is Nancy Gettinger (scenic, projection and costume designs), Daniel Milligan (lighting and sound design), Kristen Leeper (dance captain), Tyler Jenkins (stage manager), Anthony Rondon and Connor Sharp (technical assistants), Stage Monkey Design and James Kalkanis and Dale Gettinger (stage properties), Enchanted Attic and Paula Bailey (costumes), Rebecca Nunez (costume assistant), Tammi Ford (box office manager), and Careen Talavera (front of house).
PHANTOM will run at the OBC Theater for four more performances: Thursday through Saturday, September 27-29, 2018, at 7 p.m., and Sunday, September 30th, at 4 p.m. All performances take place at the historic Corona Civic Center Theater, 815 W. 6th Street, Corona, California 92882, (951) 264-5794. Tickets are $30 or $20, depending on the row. The company's web site is www.obctheater.com.
PHOTO CREDIT: Nancy Gettinger