BWW Review: Encore Theatre District's BAGGAGE has lots of Laughs.
Encore Theatre District, now in its second season, is one of the Coachella Valley's newest theatre companies. Encore's mission statement dedicates the company to "[i]ntegrating diversity through the performing arts while inspiring surrounding communities."
Encore's current production, BAGGAGE, by Sam Bobrick, will play for one weekend, through Sunday December 2, 2018. I was previously unfamiliar with Bobrick's work, but he is a prolific and award-winning television and motion picture writer, as well as writer of over thirty stage works. I did not particularly like his gimmicks in BAGGAGE of having the characters break the fourth wall to address the audience directly and to treat themselves as living in a play with an as yet-unknown ending. Yet Bobrick knows how to generate laughter, and I defy anyone to keep a straight face while BAGGAGE's nutty characters engage in their antics.
The play's title refers both to the fact that the two main characters meet because they have accidentally switched luggage after a flight, and to the issues they carry from their past that hold them back from forming successful relationships. Bradley (Winston Gieseke) is grieving the breakup of his marriage and Phyllis (Lisa Diaz) tries to mold men to her liking. They detest each other, but nevertheless start dating. The other two characters - Phyllis's obnoxious, pink-haired friend (Tiffanie Patscheck, Encore's artistic director) and Dr. Alexander, a therapist huckstering his books (Thomas Mayer) - bounce in and out dispensing unwanted advice.
The only cast member I had seen before was Mr. Gieseke, and only in supporting parts. His energetic lead performance and boyish good looks point to a future in romantic starring roles. On the night I attended, the first show of the run, some of the other performances were uneven; in Act I, some of the actors seemed to be having troubles with lines and with timing. However, Act II was spot on. I suspect that the Act I difficulties were an opening night problem unlikely to recur.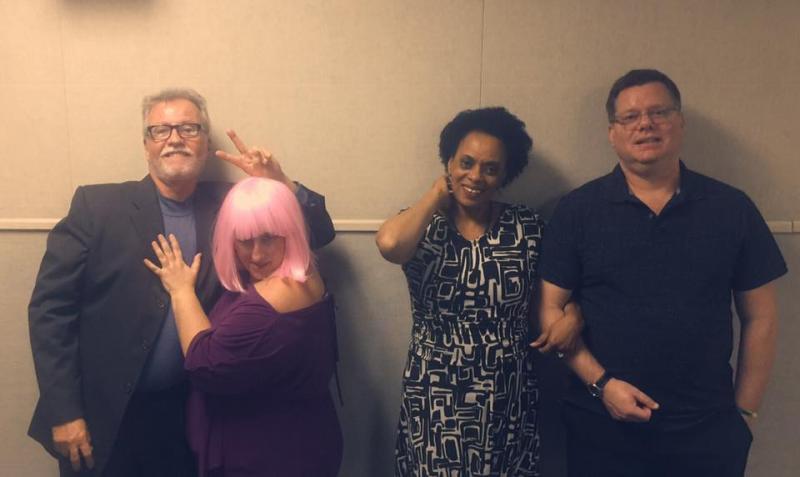 Encore performs in the Black Box Theatre at Palm Springs High School. The venue is set as if it were a football stadium, with no seats in the end zones. As a result, unlike in a theater-in-the-round, the audience has at least a side view of the action. The theater is also small enough that audience members can feel that they are part of the action. BAGGAGE takes advantage of the venue to use imaginative staging, including an especially intriguing method of entry for Dr. Alexander. The large stage area may have turned out to be fortunate for another reason: Ms. Patscheck injured herself the night before the first performance, and had to play her role in a wheelchair, without any major opportunity to rehearse the new staging. Yet, she and director Jeremiah Rhoads improvised in such an effective way that I did not realize that this was a last-minute change until someone told me about the mishap.
Although the opening night performance had flaws, it also had plenty of laughs. As I indicated, I am guessing that the flaws were a one-performance problem.
Performances take place at the Black Box Theatre at Palm Springs High School, 2401 East Baristo Road, Palm Springs, CA 92262. Tickets are $25 at the door, payable by cash or credit card. For more information, contact (760) 999-0052 or encoretd@hotmail.com, or check the Web site at sites.google.com/site/encoretheatredistict/.

All of this year's plays involve broken relationships, in one way or other. The rest of Encore's season consists of:
THE DEAD MONKEY, by Nick Darke (January 31-February 3, 2019). Esteemed local actor Richard Marlow is directing this dark comedy, with an amazing cast. This play explores the broken relationship between a husband and wife as well as the husband himself.
DURANG, DURANG, DURANG, by Christopher Durang (April 11-14, 2019). A festival of one act comedies written by Christopher Durang. Six plays (The Actor's Nightmare, 'dentity Crisis, DMV Tyrant, Canker Sores and other Distractions, Naomi in the Living Room and Women in a Playground) with three different directors, including Richard Marlow and two actors trying their first hand at directing, Brent Anderson and Adrian Fernando "Fernie" Vera. Hilarity for all!
FALLING, by Deana Jent (May 17-26, 2019). A play that boldly explores the reality of a family of a low-functioning autistic young man. When a relative comes to visit, the whole family is thrown out of equilibrium, and each character must find a balance between what is good for everyone and what is good for them. The play asks tough questions about loving someone who is hard to love. A portion of the ticket sale proceeds will be donated to the local Coachella Valley Autism Society.