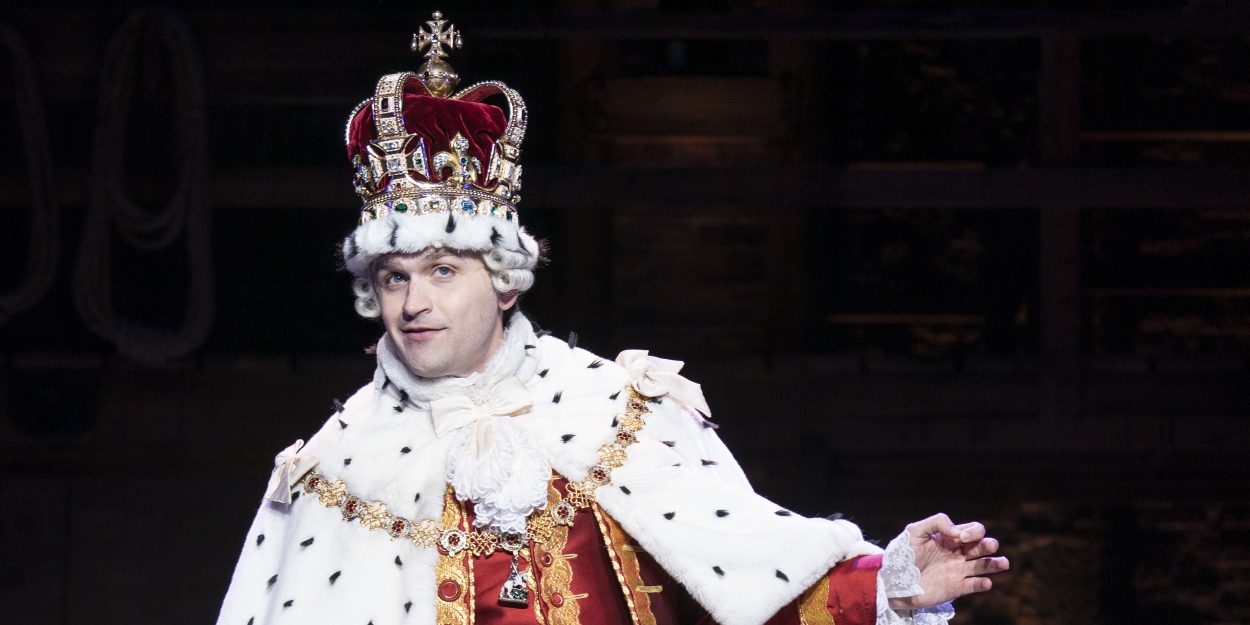 Interview: Neil Haskell of HAMILTON Shares What it's Like Touring Post-Pandemic and Being Part of an Iconic Show
See him as King George III from July 13 to 31, 2022 at Ottawa's National Arts Centre
After two unexpected postponements driven by the COVID-19 pandemic, Broadway Across Canada is finally bringing Hamilton to Ottawa. Neil Haskell, a Hamilton veteran who is currently portraying King George III in the touring production, was kind enough to take time out of his schedule to give us some insight into being on tour post-pandemic and what it's like to be part of such an iconic show.*
I think I can speak for just about everyone when I say that we are so excited to have Hamilton finally coming to our city after multiple COVID delays. How does it feel for you to be back on tour after two years of intermission?
It feels great to be back; it feels amazing to be travelling around the country and seeing everyone's reaction to the show. We have been to some cities twice, before and after the pandemic, so it's interesting to see how things have changed in those cities post COVID. Even our interactions with people backstage are different than they were before, but everybody just seems so happy to be there. The time off was tough for everyone.
What did you do with your unplanned time off?
I stayed with some friends at their house, thinking it was going to be a couple of weeks of vacation and then, suddenly, it was three months later. Then, since it seemed like this was the way the world was going to be for the next while, I had to figure out what I was going to do. I ended up moving to Los Angeles so that I would be able to get outside and do things like go to the beach instead of being cooped up in a studio apartment somewhere. I also figured that there may be more opportunities to work in television and film, since it seemed like those industries would come back sooner than live theatre. It seemed like it would be a great place to be - and it was. I stayed there for a year, and I got to work on a TV episode while I was out there. It, unexpectedly, ended up being a very creative time for me.
Does the production have any special protocols in place, given that COVID is still lurking out there?
Yes, the protocols are set out by our union, and I think they are trying to get them updated every month or so. We are tested two to three times a week and, if we are not onstage, we are wearing masks or shields backstage to protect everyone and keep everyone safe, especially the local dressers who go back home to their families every night. We are so used to it that masking up just feels normal now.
Do you have the time when you're on tour to go out and see some of the cities that you're in or are you too tied up with rehearsals and performing?
Yes and no. It depends on the city and how long we are there. The longer we are in a city, the more time we have. For example, if we are in a city for two weeks, we only get one day off, which is the second Monday we're there. We usually perform Tuesdays through Sundays and then Mondays are travel days. So, if we are there for two weeks, the first Monday is a travel day, the second Monday is a day off, and then the next Monday we are travelling on our "day off" to get to the next city. If it is beautiful and warm outside and there is a park nearby and I don't have rehearsal, I'll try to get out and just wander around to try to explore the city.
Do you have a favourite city to tour in?
I like so many cities for different reasons, but Atlanta was nice because we were there for three months, and I was able to really explore the city. Philly was nice because we were there for two months. Any city that we were in for more than a month I like because I feel like I can get to actually see it.
And there are the unexpected finds too. We were in Des Moines, Iowa, and there was a farmers' market every Saturday - probably one of the biggest farmers' markets that I have ever been to. It felt like the local farmers brought all their produce there and it was just so cool. Finding these cool things in unexpected places is awesome.
You've had various roles in Hamilton and over the course of your career - which one is your favourite and why?
In Hamilton, it is definitely King George. I started as a swing when the show opened, so I covered six different ensemble parts. A year later, I moved into the Charles Lee track, and I did that for a couple of years and it was so much fun. Playing Luke in Altar Boys was also super fun - those guys became like brothers to me. It was an awesome cast to be part of.
Your role in Hamilton is kind of split up during the show and I've read that Jonathan Groff would read literature with his down time. What do you do with your time offstage?
This might sound weird but, currently, I'm reading a lot of finance and economic books. I've been on a kick of wanting to learn about why the market has been declining and why the economy has been teetering. So, I'm just curious and I want to take in as much information about that as I can.
What is it about the role of King George III that you find the most challenging?
When I was playing this role before the pandemic started, I would tell cast members that I was so happy to be playing this role now because I would not want to be doing this role after they release the original cast version that was taped. And then, cut to the pandemic, and they ended up releasing the filmed version on Disney+.
Prior to the pandemic, as far as I know, they had no intention of releasing it. They would have put it into a vault and held onto it for ten years. I can't speak to decisions as to why it was released, but I guess maybe they didn't want to lose steam during the pandemic. Anyway, I had told people that once audiences see that version, they are going to have expectations.
Coming back to the show post-pandemic, I was afraid that people were going to come into the theatre and boo me because I wasn't Jonathan [Groff]. Living up to their expectations was scary and it was something I really had to get past. Jonathan was incredible, as were all the other people who have played the king, and it felt like there were some big shoes to fill. You don't want to misstep and disappoint anyone.
On the flip side, now that people have seen the filmed version and they think they know what the show is, if we make choices that are different from what they expect, they can walk away happily surprised. But, yeah, getting past that was really challenging for me.
What is your favourite number from the show (and don't worry; you can pick your own!)?
No, no [laughs]! When I was dancing the show, the "Yorktown" number, which takes place during the Battle of Yorktown, was the time to really push and give it everything, which was really fun. But my favourite feeling - the number that brought me the greatest joy - it may sound a bit weird, but right after the song, "Burn", we walk out, and Philip starts singing "Meet the latest graduate of King's College! I prob'ly shouldn't brag, but, dag, I amaze and astonish" [from "Blow Us All Away"] and we're walking behind him doing this cool, groovy, step. But it smells like a campfire on stage, because Eliza has just been burning papers and the smell makes it into a whole sensory experience while we are doing this great step sequence. So that is my favourite moment on stage.
What do you think it is about Hamilton that makes it so popular and so iconic that everyone wants to see it and that people go to see it over and over again?
I think it resonates with a lot of people because everyone can relate to the person who came from nothing and became a hero. But, at the same time, he wasn't perfect; he was a majorly flawed person. It makes people believe that they can grow and move past their mistakes and do amazing things. Also, all the characters that are represented in the show are so individualized and unique. Some have a goofier side; some have a stronger side - I think that Eliza is actually the strongest character - but they all have their individual characteristics that make them interesting.
Do you think Hamilton will endure on Broadway, the way that Phantom and Chicago have?
I hope so. That is the dream, to have a show become one of the staples on Broadway and to have audiences plan their trips around seeing the show, the way they do with Chicago or The Phantom of the Opera, for example. I hope it will be around for a long time.
What message do you want audiences to take away with them after they have experienced Hamilton?
I think that I would like audiences to take away the fact that you can be successful no matter what your background is, and that people can use their inner strength to overcome seemingly impossible obstacles.
---
See Neil Haskell as King George III in Hamilton, performing in Ottawa from July 13 to July 31, 2022, at the National Arts Centre.
*Note that this interview has been edited for length and conciseness.