Lyric's Uneven FREAKY FRIDAY Provides Some Family-Friendly Fun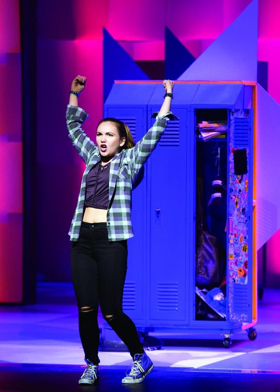 No matter how large the cast, some shows really rest on the shoulders of just one or maybe two characters and the actors in those roles. They are called upon to carry the show and make it a success, or not, regardless of everything else happening around them. In Lyric Theatre's current production of Freaky Friday, two powerhouse performances are well worth the price of admission, even if the rest of the show is highly uneven and often just average.
Based on a 1972 book, Freaky Friday has also been made into well-known movies, in 1976 and 2003. The plot is simple and straightforward, and filled with potential. One day, a busy working mom and her rebellious teenage daughter magically switch bodies. As they try to solve the problem and get things back the way they're supposed to be, they are forced to live out one whole day as each other. The teenager, now in the body of her mother, must deal with the trials and tribulations of being a career woman who is trying to plan and execute her own perfect wedding. Meanwhile, the mom, now in the body of a high school student, must navigate that world and all it's complexities. That's really all you need to know about the plot. Everything else that happens exists primarily to set these two up in situations that are filled with drama, surprises, hilarity and, of course, important life lessons.
With a book by Bridget Carpenter, the musical's plot is especially contrived. That may be true of the source material and previous movies as well, and not Carpenter's fault. There is a silly magical hourglass that is just a plot device and doesn't get any backstory or explanation, even though there is a hint of a potentially interesting story behind it. A high school scavenger hunt is also silly and kind of ridiculous, it only exists so there's an excuse for a bunch of people to be out searching for an hourglass at all hours of the night. There are a few subplots that pop up now and then and briefly crate some drama, tension or higher stakes, but they are quickly dispatched.
Of course, people shouldn't go to see this for the plot, which it's probably best to just not think too much about. You should go for the music, though, and the musical performances. With music by Tom Kitt and Lyrics by Brian Yorkey, there are some fantastic musical numbers and very memorable songs. "Biology" is a hilarious and kind of beautiful ode to teenage love as told through the experience of having a crush on your lab partner. "Busted" is another great moment as parents and children sing about their sudden revelations about each other. Every time the mom, Katherine, and daughter, Ellie, sing together, it's musical gold, such as "I Got This" and "Somebody Has Got to Take the Blame." For the most part, the music is upbeat, toe-tapping and fun, with a pop or rock feel, although there's a touch of other genres, such as the bluesy "Bring My Baby (Brother) Home," which is another musical highlight.
As with any musical, not every song is great, of course. "Watch Your Back" seems unnecessary and long and, again, just exists as a plot device, mostly. While there have been many songs extolling the virtues of women, "Women and Sandwiches" has to be one of the worst ever written, even if it is meant to be silly and tounge-in-cheek. The overly long and dull "Go" really should follow it's own advice and just go, right out of the show, it completely stops the momentum of act two. Act one could also use some cutting, there are a couple of scenes that really drag and go on too long, with sections that could easily be edited out.
The unevenness of the music, with both hits and misses, carries over to Michael Baron's direction as well. Pacing is all over the place, with some moments taking way too long and others feeling rushed. Some of the ensemble work could be better, there are major drops in energy any time the two leading ladies are off stage for a moment (which is very rare, thankfully). And there are some moments both funny and dramatic that just don't land the way they should.
On the other hand, Baron has brought together two actresses who both give tour de force performances, which is the real reason you should see this show. As Katherine Blake, Jennifer Teel has the heaviest lifting to do, transforming herself into an awkward, confused, insecure and uncertain teenager stuck in the body of an older woman. Teel is perfection in this role, laugh-out-loud funny in one moment and heartfelt and touching in the next. She earns everything that happens to Katherine through a believable and truthful performance that is a pleasure to watch. She also is a stunning vocalist, with a powerful and pitch-perfect voice.
Celeste Rose is no less spectacular as Ellie and her performance of a mature woman trapped inside a teenage body is just as fantastic. Like her costar, she gives a fully committed and believable performance, finding truth in this fantastical, science-fiction-like situation. Her singing voice is also equal to that of her costar and she is clearly highly talented as both a singer and an actress. These two have such great chemistry on stage, the show kind of suffers a little when they are not together. If they could star together in every musical, that would be great, I would happily buy a ticket to watch them together on stage in anything.
They are, of course, supported here by a large ensemble, with varying degrees of success. If Kristin Chenoweth and Amy Poehler had a baby, that baby would grow up to be the hilarious and very talented Maggie Spicer, who often steals the scene as Katherine's assistant, Torrey. The always fabulous Mateja Govich is underutilized here, but that's not his fault. His role as Katherine's fiancee, Mike, is woefully underwritten, almost non-existent. Govich does a great job anyway, though, every time he is given anything to do. Noah Waggoner is adorable as Ellie's kid brother, Fletcher, and Sean Watkinson does a nice job with the extremely shallow and cardboard-cutout character of Adam, the popular boy at school who Ellie has a crush on. His scene with Waggoner is a really nice moment, even if it includes that aforementioned terrible sandwich/women song.
Lyric brings it's usual high level of technical skill to this production, filling the Civic Center's stage with lights and set pieces, which may not be a great thing, in this case. Katie Sullivan's scenic design features a large number of big, rolling set pieces, covered with random geometric shapes in all sorts of random colors, some of which seem really unnecessary. It's a case where less would have been more, and there are some really long scene changes that would benefit from something a little more simple. Helena Kuukka's lighting design also has it's distracting qualities, with lots of colorful blinking or flashing lights that don't add anything to the production or serve a purpose other than being a bright flashing light. Kudos, though, to Courtney Strong for some very nice prop design work.
While the show is big on lights and sets and spectacle, that's another example of something to just not think about too much and not a reason to consider seeing this show. The reason to see it is the performances of the two leads, which may or may not be enough reason, depending on your own personal tastes and opinion. It is also a family-friendly two hours of time which everyone in the family will likely enjoy, while perhaps even learning something about being ourselves, accepting each other, and the power of familial love.
Freaky Friday runs through July 1st at the Civic Center Music Hall at 201 North Walker Ave in downtown Oklahoma City. Remaining show times are Saturday the 30th of June at 2:00pm and 8:00pm and Sunday the 1st of July at 2:00pm. Tickets may be purchased through Lyric's website at www.lyrictheatreokc.com or by calling the box office at 405.297.2264.
Pictured: Celeste Rose as Ellie Blake. Photo by KO Rinearson
Related Articles View More Oklahoma

Stories

Shows