VIDEO: Broadway and Regional Performers Sing 'With a Little Help From My Friends' as a Fundraiser for The Bail Project
Performers include Ben Bogen, Miche Braden, Tristen Buettel, Erinn Peet Lukes, Julia Hoffmann and more.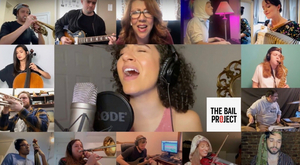 Cast members and musicians of Broadway and various regional productions came together to record a socially distanced version of "I Get By With a Little Help From My Friends", originally recorded by The Beatles, and famously covered by Joe Cocker. This video serves as a fundraiser for The Bail Project, a critical tool to prevent incarceration and combat racial and economic disparities in the bail system. The video features various characters, costumes, and even puppets to bring joy and laughter in this challenging time.
Watch below!
This project was produced by Sean Driscoll and spearheaded by Video Editor, Julia Hoffmann and Music Director / Audio Engineer, Nick Wilders, with additional music assistance from Jonja Merck and Spanish translation by Belen Moyano.
The talented singers and musicians include: Joel Bauman - Trumpet/Trombone (Cabaret - National Tour); Ben Bogen - Vocals (Frozen - Broadway, Jersey Boys - National Tour); Miche Braden - Vocals (Postmodern Jukebox); Tristen Buettel - Vocals (Jersey Boys - Off-Broadway / National Tour, Ever After - World Premiere) Ashley Everhart - Saxophone (Only Time Off-Off-Broadway); Jason Farcas - Drums; Michael Herlihy - Guitar (Chicago - National Tour); Julia Hoffmann - Violin/Vocals (Once, Rockin' Road to Dublin, Cirque Musica: Holiday Wishes - National Tour); Erinn Peet Lukes - Vocals (Thunder and Rain); Marc Malsegna - Guitar (Jagged Little Pill, Frozen, Pretty Woman, School of Rock - Broadway); Belen Moyano - Vocals (Assistants the Musical - Off-Broadway); Jarrett Murphy - Bass; Jen Perry - Vocals (Kinky Boots, Mamma Mia! - Broadway); Sarah Statler - Accordion (Indecent, Buddy, The Buddy Holly Story - Regional); Nick Stephens - Trumpet (Big Apple Circus, Marie, Dancing Still - Music Assistant w/ Ahrens/Flaherty); Erin J. Reifler - Trombone (Cyrano, Oratorio for Living Things - Off-Broadway); Raquel Reigns - Vocals; Tim Riven - Vocals (Evita, Bloody Bloody Andrew Jackson, Hair - Regional); Juan "The Beast" Rodriguez - Vocals; Skeletor - Vocals (Karaoke Gun Show, @skeletoreoke); Abbey Vensel - Vocals; Nick Wilders - Music Director / Piano (Emojiland - Off-Broadway; Jersey Boys, The Sound of Music - National Tour); Marza Wilks - Cello (Coachella 2019 with Gryffin, cellist for Johan Lenox, Adelphi Quartet); Rob Young (Batman) - Vocals (Romeo in Romeo and Juliet - Gotham City Country Club's Youth Theater) - Phylicia Freeman - Vocals.
Donate HERE.
The Bail Project, Inc. is a non-profit organization designed to combat mass incarceration by disrupting the money bail system a?' one person at a time. They believe that paying bail for someone in need is an act of resistance against a system that criminalizes race and poverty and an act of solidarity with local communities and movements for decarceration. Over the next five years, The Bail Project will open dozens of sites in high-need jurisdictions with the goal of paying bail for tens of thousands of low-income Americans, all while collecting stories and data that prove money bail is not necessary to ensure people return to court. They won't stop until meaningful change is achieved and the presumption of innocence is no longer for sale. For more information, please visit https://bailproject.org/mission/.