Japan Society Presents AKUTAGAWA Puppet Theater, February 23-25
Renowned traditional Kuruma Ningyo puppeteer Koryu Nishikawa V and accomplished puppet artist Tom Lee Peer with live music by Yukio Tsuji.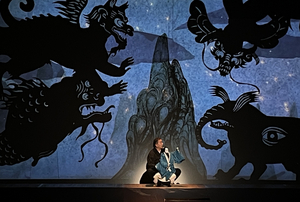 AKUTAGAWA is a stage portrait of Ryunosuke Akutagawa, father of the modern Japanese short novel and best known for In a Grove, the basis of Akira Kurosawa's landmark 1950 film Rashomon.
Told through the traditional puppetry style kuruma ningyo blended with dynamic video images, AKUTAGAWA is an amalgam of five of his famous short stories -Rashomon, Hell Screen (Jigokuhen), The Dragon, Toshishun and Kappa - that explores the trajectory of the author's life and works. Co-created and performed by the headmaster puppeteer of kuruma ningyo Koryu Nishikawa V from Tokyo and NYC/Chicago-based contemporary puppet artist Tom Lee, with music/sound composed and performed by NYC-based Yukio Tsuji, AKUTAGAWA will have three performances only from February 23 - 25 at Japan Society (333 East 47thStreet).
AKUTAGAWA represents the culmination of an international collaboration between three noteworthy artists. Koryu Nishikawa V (Tokyo), is the headmaster of the 160-year puppet company Hachioji Kuruma Ningyo, the company known for the style of kuruma ningyo ("puppetry on wheels" or "cart puppetry") invented by the first Koryu Nishikawa in the early 19th Century. In this unique technique, puppeteers perform while sitting on a wooden box with three wheels ("cart"). Tom Lee (Chicago) is an American theater and puppet artist recognized for performing in War Horse on Broadway and Madama Butterfly at the Metropolitan Opera. He has also collaborated with established puppet artists such as the late Lee Breuer, Dan Hurlin and Doug Fitch, and currently serves as co-director of the Chicago Puppet Studio and Chicago Puppet Lab. Composer/musician Yukio Tsuji (New York), is a resident composer of La MaMa Experimental and an innovative musician/sound-maker who has collaborated with many major theater directors, including Estelle Parsons, Ellen Stewart, Jerome Robins, Julie Taymor, Sir Peter Hall, John Dexter, Andre Serban and Elizabeth Swados.
Thursday, February 23 at 7:30pm-Followed by a MetLife Meet-the-Artists Reception
Friday, February 24 at 7:30pm-Followed by an artist Q&A
Saturday, February 25 at 7:30pm
Tickets are $30 / $24 Japan Society members.
Tickets can be purchased online at https://cloud.broadwayworld.com/rec/ticketclick.cfm?fromlink=2220465®id=2&articlelink=https%3A%2F%2Fwww.japansociety.org%2Fevents%2Fnote-to-a-friend%2F?utm_source=BWW2022&utm_medium=referral&utm_campaign=article&utm_content=bottombuybutton1 or by calling the Box Office at 212-715-1258 (M-F 11:00am - 6:00pm). Japan Society is located at 333 East 47th Street, between First and Second Avenues (accessible by the 4/5/6 at 42nd Street-Grand Central Station or the E at Lexington Avenue and 53rd Street). For more information, call 212-832-1155 or visit http://www.japansociety.org