Review: THE ENCHANTED REVOLUTION Brings Fanciful Fun and Modern Mythos to Theater for the New City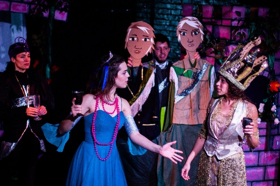 The Enchanted Revolution -- written, directed by and featuring the multifaceted creative enchantress, Charlotte Lily Gaspard for Midnight Radio Show -- is 80 minutes of magic, with a six-person cast creating a modern fairytale for the whole family from another dimension in a basement black box theater located in the heart of the East Village at Theater for the New City.
Gaspard is the fanciful mastermind behind Midnight Radio and "Twilight in the Garden" series of free outdoor performances for all ages in community gardens across NYC, all created and crafted at the CSpot -- her converted auto body shop turned abode, theater, rehearsal space, prop and costume factory in DUMBO, Brooklyn.
The Midnight Radio Show contributors are a collective of artists across all fields -- from designers to musicians to puppeteers, actors and poets -- who lend their talents to modern-day myths and poignant, relevant fantasies. Their work is evocative of American vaudeville and the thriving Off-Off Broadway scene in NYC in the happening 1960s-70s developed and made iconic by legendary DIY theatrical innovators and provocateurs such as La Mama, Caffe Cino and The Living Theater. Imagine Julie Taymor or The Bread and Puppet Theater on a shoestring budget while losing none of the enchantment and transformative power. Shadow puppets, paper mache creations, cardboard cutouts and mask work are a major part and add greatly to the ensemble of the production.
The Enchanted Revolution takes place in a magical realm where scientists explain the three worlds of fire, water and woodlands, and the enchanted and earthly inhabitants of each terrestrial terrain. The set (designed by Andrea Solk with lighting design by Anna Schultz) is comprised of pink cardboard castle pieces and a spacecraft/music booth where the striking figure of Jessie Davis -- clad in an otherworldly concoction of magenta sequins and a fuchsia coif evocative of a rose-colored Ziggy Stardust (the colorful costume concoctions are compliments of Al Malonga) -- takes her place behind multiple keyboards and sonic technologies and acts as DJ/Narrator as well as the forbearer and foreteller of the future to guide the players both in song and story.
The story follows the feisty and courageous Princess Yazmaya (a delightfully innocent yet spirited Mariah Lotz) on her journey to a foreign land where she acquiesced to marry a cruel king in order to save her family, kingdom and attempt to implement positive changes while there. But her new husband, King Momment (one of the many humorous and/or intriguing characters embodied by Gaspard) is a lecherous, spoiled and petulant man, more interested in partying with his courtly ladies (masterfully puppeteered, amongst others, by Shai Ben Dov) or groaning and moaning -- best demonstrated in the song "Momment's Moment" portrayed with lovable lamentation -- about the ever-looming presence of his advisor and sorcerer K'Badmashi (in a brilliantly snaky and gender-bending role performed by Lisa Rochlin), than attending to his new bride's needs. Fortunately, Davis' sultry vocals, aptly referred to as "future soul" along with original music by Davis, Ezra Bloom and the theme song by Sabrina Chap, aide Yazmaya's apprehensions as she finds her footing.
Luckily, she encounters General Coelu (Malik Work) who masquerades as a loyal subject but is really an instigator of the revolution. The two exchange promises (and forbidden glances as lovers) to take down the tyranny of the imbecile king and his villainous henchman K'Badmashi who has imprisoned the mythical, magical creatures known as the Imwyn by capturing and enslaving the Phoenix via sorcery and bad black magic. Malik Work -- as the general -- delivers an impressive original speech evocative of equal parts Shakespeare and slam poetry in a soliloquy that examines his quandary and conflicted feelings. The audacious duo ends up foiling the malicious ploy and saving the day.
So, all's well that ends well -- and why shouldn't it be? This is a fairytale after all. But don't let the light-hearted approach or fanciful, family-friendly themes fool you -- this tale is a timely and contemporary as it is freewheeling and fun.
The Enchanted Revolution runs from November 8th-18th at Theater for the New City. For tickets and more information about the show and Midnight Radio Show: www.midnightradioshow.org/enchanted-revolution.html
Photo Credit: Anna Kuzmina for H+ | AK47Division