Review: AMERIKE - THE GOLDEN LAND at Folksbiene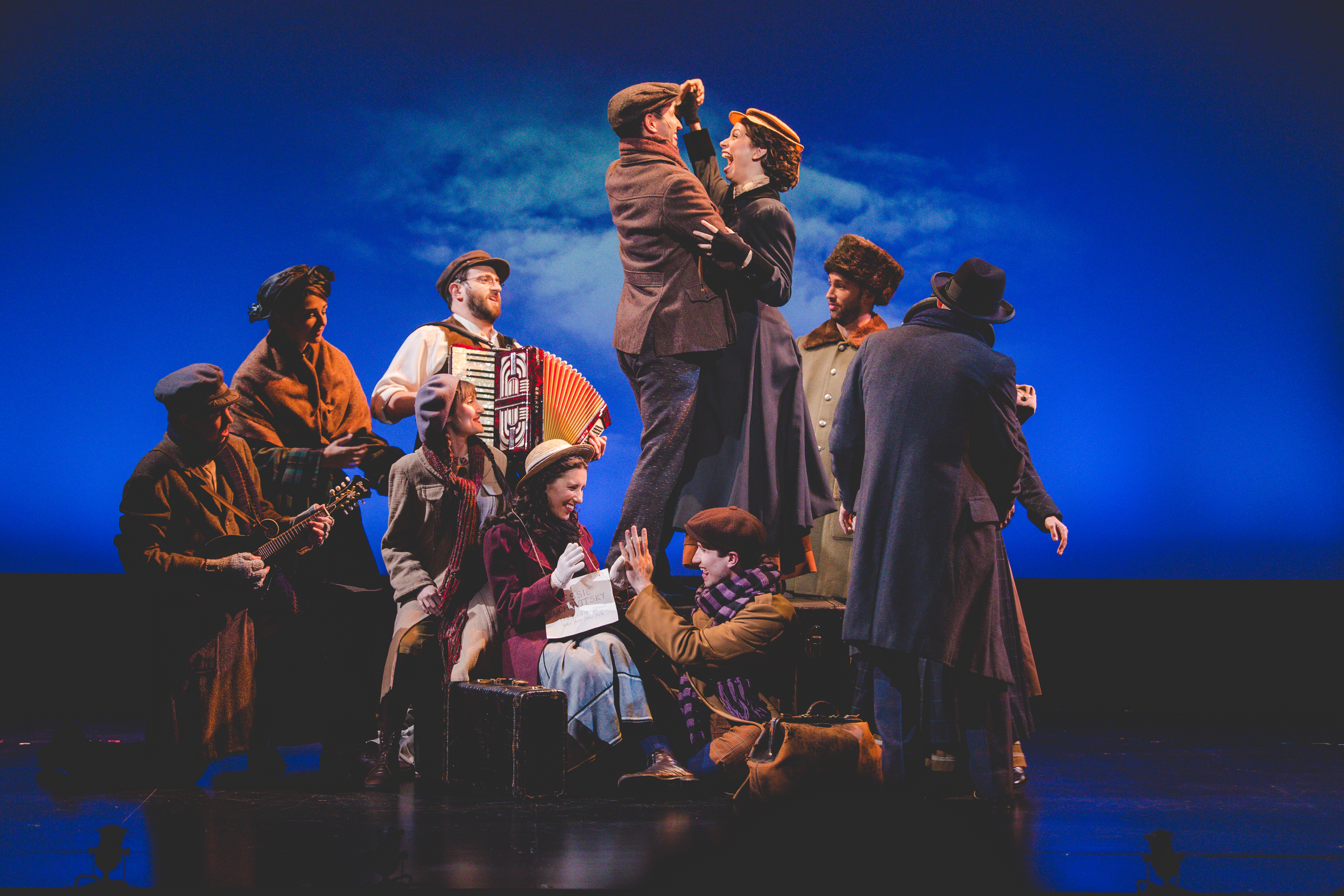 103 seasons and going strong - and not just because of nostalgia.
The National Yiddish Theatre Folksbiene has reimagined "Amerike - The Golden Land", the 1984 musical by Zalmen Mlotek and Moishe Rosenfeld, appropriately running near Ellis Island. Weaving incredible stories with fantastic songs, multimedia and choreography, the show creates a dynamic portrayal of the Jewish people who immigrated to the United States in the late nineteenth and early twentieth centuries, much like my own grandparents.
"Once upon a time, before the second world war, I lived in Poland, a city, the small city, they used to call it Komarov, Poland."
This is how you grandfather begins every one of his tapes. On each crackling audio cassette, he recounts an idyllic world of " very good families, lovely people " - a world he can never get back, but can recreate verbatim on his tapes to himself, "This was mine people - good people." And every member of my family will tell you how my grandpa sang "The Yiddishe Mama" over and over again and any possible chance.
My mother and I often bond over the stories we remember of him, which were mostly the stories of HIM telling stories. It's a world that we long for, but feel its distance, not only after my grandfather passed away, but in his distant gaze, when he was right at our kitchen table, sorting socks.
But seeing Amerike, The Golden Land, at the National Yiddish Theatre Folksbiene at the Museum of Jewish Heritage, brought everything back for us. Not only did we remember the joy that filled my grandfather's life, even after surviving unimaginable circumstances after fighting as a partisan in Europe, but we also felt like we were actually IN the world that my grandfather always sang and spoke about - a world sensed, but never seen.
This beautiful production brought it to life with joy/oy, zeal, and spectacular live music. The play, though set in the nineteenth and early twentieth centuries, is more relevant than ever. A story of immigration, survival, resilience, building new lives and finding the joy in whatever life brings you through the wonders of song, dance, and perseverance is so badly needed in our world today.
Besides a great history lesson tracking the Jewish immigrant experience from the late 1890s through the 1940s, let's take a step back, just to say, this was a jam-packed, unforgettable evening of non-stop entertainment. I believe that you would need to see this show several times (and if you can, please do!) to truly absorb every element. First of all, there are the captions above your head. If you don't know much about Yiddish Theatre, the play is mostly done in Yiddish. However, that should be the last thing to intimidate you. The revival, which runs through August 6, is almost entirely performed in Yiddish with English and Russian supertitles.
The original impetus, as Mlotek and Rosenfeld explain in their program, was to tell stories about the readers of The Forward, the workers, and organizers, and "to give our characters that authentic sound, the special idiom, the unique attitude of Yiddish. The result of our labors yielded the new production."
These labors paid off. I would have had no idea that this new, larger cast of 12, mostly had had no prior contact with the Yiddish language! And from the roaring applause, laughter, and warmth in the crowd who couldn't seem to get enough, I don't think the audience had a clue either.
Bryna Wasserman does a fabulous job directing a seamless piece with so many moving parts. Wasserman joined the National Yiddish Theatre Folksbiene almost four years ago. With decades of experience behind her, she helped revamp and revitalize NYTF.
So, what exactly is "Yiddish Theatre?" And why is this production for everyone?
Yiddish theatre typically involved variety of performers, including cantors, preachers, jesters, and instrumental musicians, engaged Jewish audiences. The National Yiddish Theatre Folksbiene is the longest continuously producing Yiddish theatre company in the world. Their main mission is to celebrate the Yiddish experience through the performing arts by transmitting the rich cultural legacy in exciting new ways that bridge social and cultural divides.
Amerike is a beautiful piece of theatre. It's everyone's story. It's a collection of stories of an immigrant people as they strive to build a new life while continuing the traditions that made them who they are. With a score that weaves in beloved popular songs of the day, the show recreates an authentic New York City soundscape-from the Lower East Side to the outer-borough neighborhoods where the Jewish population gravitated. The stories it tells are based on the lived experience of real immigrants who faced the heart-wrenching challenges of leading a life they knew to begin again in an unfamiliar land.
Come if you are nostalgic about the Jewish immigrant experience settling in NYC, and walk away with more than nostalgia, but theatre that will keep you thinking and feeling for weeks to come. Amerike is funny, profound, with great writing, and jaw-dropping (literally) singing. The theatre alone is gorgeous, in a beautiful museum (with a great cafe, LOX, right upstairs!) housing a first-class cast and orchestra in a lovely setting. The night was filled with great songs, easy to read supertitles, forming a perfect 90-minute show.
Even not knowing much Yiddish, I found the story easy to follow, and the rapid pace of the montage-like stories created compelling theatre.
See it if you are interested in musicals, the immigrant experience, if you enjoy lively and spirited entertainment, and enjoy a talented cast.
See it because we all need a reminder of theatre's potent ability to not only make us think, make us feel, but make us sit and hear stories that stick with us the rest of our lives.
And...see it just to hear Brother Can You Spare a Dime - a riveting duet that singlehandedly stopped the show. And those are just two of the great voices singing beautiful music that tells the history of the Jews in New York.
See it to be transported to Ellis Island, the Lower East Side, the Triangle shirtwaist factory fire, union protests, two world wars, the Holocaust, the migration to Harlem, an adaptation of "King Lear," a confrontation with Ivy League admissions quotas and the founding of a Jewish state.
See it for a great set, to sing along no matter how hard you try not to, and for the funniest weather report ever!
Amerike - The Golden Land tells the stories of an immigrant people as they strive to build a new life while continuing the traditions that made them who they are. Today, more than ever, we need this reminder - The stories of our past can provide the greatest insights into how we should cultivate our own resilience in the face adversity. And with a score that weaves in popular period songs heard on the radio and in the theatres along Second Avenue, a script of perspectives from real-life immigrants collected by Mlotek and Rosenfeld -did I already mention the choreography? - see Amerike for an important reminder that will leave a smile and a song in your heart.
Amerike - The Golden Land
Performances: through August 6, 2017
at the Museum of Jewish Heritage
Tickets $35 - $60
See: http://nytf.org/events-calendar/.
or call OvationTix at 866-811-4111
for groups please call 212-213-2120 Ext. 204
By
Moishe Rosenfeld
and
Zalmen Mlotek
Directed by Drama Desk Nominee
Bryna Wasserman
In Yiddish with English and Russian supertitles.
Amy Oestreicher is a PTSD specialist, artist, author, global TEDx speaker, survivor, award-winning actress, and playwright, currently touring Gutless & Grateful, and developing FIBERS, a play to honor her family's survival through WWII and immigration to New York.