Abingdon Theatre Company Announces Selections For The VIRTUAL FESTIVAL OF SHORT PLAYS
The festival is set to take place February 23-24, 2023 at 7PM EST via Abingdon's YouTube channel.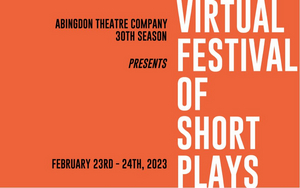 Abingdon Theatre Company has announced the selections for their third annual Virtual Festival of Short Plays. The company continues to be committed to creating opportunities for all voices to be heard. With this in mind, they have announced their selections for the festival and shed light on stories written by BIPOC playwrights. The festival is set to take place February 23-24, 2023 at 7PM EST via Abingdon's YouTube channel which can be found here.
After reading the wonderful submissions and careful consideration, the selections for this year's Virtual Festival of Short Plays are Soup Kitchen Saintz by Cris Eli Blak, The Reverend Dr. Paul(i) Murray by Ada A., Miles to Go by Alexis Krysten Morgan, and Threat Assessment by Maximillian Gill.
Cris Eli Blak is an emerging Black playwright. He is currently the Artist-in-Residence at The State University of New York - Oswego and the recipient of the Emerging Playwrights Fellowship from The Scoundrel & Scamp Theatre. He was a resident playwright with Fosters Theatrical Artists Residency, Paterson Performing Arts Development Council and La Lengua Teatro en Español/AlterTheater Ensemble; the recipient of the Michael Bradford Residency from Quick Silver Theatre Company; and was in the inaugural class of fellows for the Black Theatre Coalition. He continues to aim to tell authentic and unapologetic stories of people of color in America.
Ada A. is a Catholic playwright. A graduate of the University of Chicago, she was a 2021 National Young Playwright in Residency at Echo Theater Company in Los Angeles. She was, also, the inaugural artist in residency for Prop Thtr's Nest Residency in 2021. She was a 2022 Semi-Finalist for Black Theatre's Future of Playwriting Prize. Recent works include Tokens of Promise (2022 BAPF Semi-Finalist), developed as part of Goodman Theatre's Future Labs and Victory Garden Theater's IGNITE Chicago. Good Years (2021 BAPF Semi-Finalist), Peking Apples (National Young Playwrights Residency). Her one-act play, The Reverend Dr. Paul(i) Murray, was commissioned and produced by Valiant Theatre in Chicago; it was later produced at the Overtime Theater in San Antonio. Ada is a proud artistic associate of Prop Thtr.
Alexis Krysten Morgan is a playwright, educator, and advocate who desires to use her art to create healing spaces for communities of color and individuals with exceptionalities. She has been a fellow with Company One Theatre in Boston, MA, and TC Squared Theatre Company in Cambridge, MA. Her work includes CONCRETE DREAMS, THE POLITICS OF MARRIAGE, KNOW WHO YOU ARE, and REPAST which were produced by TC Squared. Other works including SHOW ME and ACTS OF JOY were presented and commissioned as part of Company One's series. Her play, FOLLOWING THE RULES was part of Boston's Theatre Marathon's festival. Most recently, her television pilot, BY THE WAYSIDE, made it to the 2nd round of Sundance's 2021 Episodic Lab.
Maximillian Gill was born in India and received his master's in creative writing in California. He is currently based in New York. His work has been staged by a number of companies and festivals including the Liverpool Arab Arts Festival in Liverpool, the Hollywood Fringe Festival in Los Angeles, Theatre West in Los Angeles, the New York Fringe Festival, and the New York City Children's Theater. His short film about an Indian country-western singer premiered at the Marina Del Rey film festival in 2022. Much of his work can be read on New Play Exchange.
Artistic Director Chad Austin shared, "Abingdon has stayed true to its mission for thirty years, shedding light on emerging artists. I am thrilled to continue the legacy with our Virtual Festival of Short Plays: stories about the human experience that reflect our social, political, historical, and cultural diversity."
It is Abingdon Theatre Company's mission to produce and develop brave, new American work by emerging and established artists. Abingdon's Virtual Festival of Short Plays is set to provide a platform for underrepresented voices across the country to submit their new works for development and outreach in the New York theatre community.
Directly following the festival on February 23rd, Abingdon Theatre Company will be premiering the first look at their short dance film, It Cries Too Loudly. It Cries Too Loudly was conceived, directed, and choreographed by Lebanese American, Dolly Sfeir. After another tragedy befell her country of Lebanon, Sfeir investigates the split nature of her relationship to her home: an urge towards escapism and a passionate devotion to her people. This film was conceived and created in a week's time during the height of the Covid-19 Pandemic. It was shot safely within the span of 3 days.
The film was produced by Abingdon Virtual, with executive producer Chad Austin, and cinematography and editing by Abingdon Theatre Company's current Artist-in-Residence, Pierre Marais. Among top accolades, Abingdon Virtual's premiere film garnered the 1st Place Award at the Wild Dogs International Screendance Festival and Best Cinematography at the Eastern European Film Festival. It Cries Too Loudly features performances by the 2022 Princess Grace Foundation Honoree, Omar Roman de Jesus, as well as Ian Spring and Annalee Traylor.