Synetic's Award-Winning A MIDSUMMER NIGHT'S DREAM Returns, June 30- July 24
The two-time Helen Hayes Award-winning production delights audiences of all ages.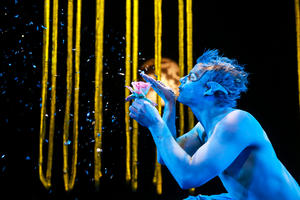 Synetic Theater, the home of American Physical Theater and movement-based storytelling, announces the return of its acclaimed adaptation of William Shakespeare's A Midsummer Night's Dream, directed and choreographed by company co-founders Paata and Irina Tsikurishvili.
The production runs June 30 through July 24, 2022, and tickets are available now at synetictheater.org/midsummer2022.

This playful adaptation of Shakespeare's timeless comedy feature's Synetic's trademark wordless storytelling. This fantastical, darkly playful game of love, mistaken identity, and the supernatural was honored with nine Helen Hayes Award Nominations when it was first produced in 2010, taking home the award for Outstanding Ensemble and Outstanding Resident Play. Since then, the production has performed to great acclaim in 2013 and 2015, and toured Mexico for the 2014 Festival Internacional.
"This summer is a perfect moment to sprinkle some of Puck's fairy dust and give our audiences some real magic," remarked director Paata Tsikurishvili. "There's an entire new generation of Washingtonians that haven't yet met Synetic, and our current audiences are clamoring for wonder and joy. This Midsummer is a crowd-pleasing, awe-inspiring representation of the Synetic aesthetic. "
Tsikurishvili continued, "For those who have yet to experience a Synetic show, let's put it this way: there's really nothing like it. But, if you like Cirque du Soleil or dance theater, you'll love Synetic's production of A Midsummer Night's Dream."
Directed by Paata Tsikurishvili, choreography by Irina Tsikurishvili, set, costumes, and properties design by Anastasia Rurikov Simes, sound creative by Irakli Kavsadze, original music by Konstantine Lortkipanidze, and lighting design by Andrew Griffin.