CATS Comes to ASB Waterfront Theatre Next Month
Performances run 15-17 July 2022.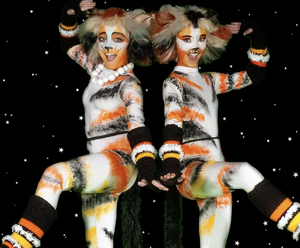 Based on the universally popular poetry of T.S. Eliot, Cats tells the story, in song and dance, of the annual gathering of Jellicle cats at which time one special cat is selected to ascend to the Heaviside layer.
Cats follows the journey of a tribe of Jellicle cats who come together once a year to pick which cat will be chosen to be reborn to a new Jellicle life and ascend to the Heaviside Layer. We are introduced to a number of cats who tell us their stories and explain why they should be the ones chosen.
All cats are welcome to participate in the Jellicle Ball - except for one, who is shunned due to her age and physical appearance. She tries to join the ball a number of times but the other cats make it known her presence is unwelcome.
Finally, she returns as the ball comes to a close, and a cat is going to be chosen. This time the cats realise that despite her appearance, she too is worthy of love, kindness, and respect. The cats then decide that she is the one who should be reborn, and she ascends to the Heaviside Layer.
Cats is about accepting one another despite our differences. A true musical theatre phenomenon, Cats ran for 21 years on the West End and more than 18 years on Broadway.
Children and adults alike will be transfixed by the human-sized felines performing on stage. Stunning music, energetic choreography, imaginative costumes, and unique cat make-up create a visually and musically spectacular experience for all ages.
Come along and be transported into the fantasy world of Cats and enjoy all the magic this wonderful theatrical production has to offer.
Performances run 15-17 July 2022.