Review: HANNA at Dolphin Theatre, Onehunga, Auckland
Directed by Jennifer Ward-Lealand and Performed by Cassandra Woodhouse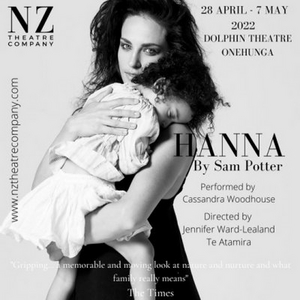 I'm beyond grateful that I was able to see NZ Theatre Company's New Zealand premiere production of Hanna currently on at the Dolphin Theatre in Onehunga.
Written by award-winning playwright Sam Potter and adapted for the New Zealand audience this one-woman performance is stunning. It's one of the best performances that we have seen. My husband talked about it all the way home to the north shore. We were both wired the whole drive.
We were both spellbound so much so that we were merged in the story.
I could have been sitting on a bed of nails - I wouldn't have noticed. (I wasn't of course, The Dophin Theatre has great facilities!)
Premiering in London in 2018, and proudly presented by NZ Theatre Company in its Auckland premiere, Hanna is the first for the company, whose aim is to bring professional productions into community theatre spaces.
A mix-up of babies in a maternity ward explodes the lives of two families who become entrenched in the issues of racial identity, economic privilege, the lottery of birth and the deeper meaning of what 'family' really is.
Director Jennifer Ward-Lealand's expertise and creative cleverness breathes through the performance of Cassandra Woodhouse who captivated the audience for the entire 90-minute performance. Woodhouse is sensational. No one was in their seats - they were with her as she mesmerised us on an emotional roller coaster story that no one wants to be confronted with let alone a 25-year-old sweet, clever but naive young woman.
The partnering of these two is a beautiful theatrical synergy that has developed this piece into something very special. They're the real deal, world-class and right here, on our doorstep.
Going to see this play is a must. There are only two performances left so do what you need to do to get there.
Go see it. You won't be sorry. If you really can't make it this time there is an opportunity to see it at the Baycourt Theatre, Tauranga on 3rd June and The Pumphouse Theatre, Takapuna on 31st October 2022.


Hanna
Dolphin Theatre Spring Road Onehunga
Bookings: https://nz.patronbase.com/_DolphinTheatre/Productions/HANN/Performances