Interview: Ethan Hardy Benson of JESUS CHRIST SUPERSTAR at Saenger Theatre
Now playing at the Saenger Theatre through January 15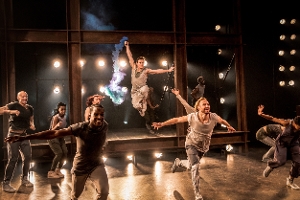 The iconic musical phenomenon JESUS CHRIST SUPERSTAR is celebrating 50 years with a new touring production in North America, and is currently running at the Saenger Theatre in New Orleans.
Originally staged by London's Regent's Park Open Air Theatre, this reinvention of the Andrew Lloyd Webber classic is helmed by Timothy Sheader (Crazy for You, Into the Woods) and choreographer Drew McOnie (King Kong, Strictly Ballroom),
Appealing to both theatre audiences and concert music fans, this production pays tribute to the historic 1971 Billboard Album of the Year while creating a modern, theatrical world. Featuring award-winning music by Webber and lyrics by Tim Rice, JESUS CHRIST SUPERSTAR is set against a series of events during the final weeks of the life of Jesus Christ as seen through the eyes of Judas. Reflecting the rock roots that defined a generation, the legendary score includes "I Don't Know How to Love Him," "Gethsemane" and "Superstar."
BroadwayWorld.com sat down with company member Ethan Hardy Benson (ensemble, First Priest, Peter the Accuser) to talk about his love for SUPERSTAR, how the show is celebrating 50 years and honoring its rock opera roots.
BroadwayWorld.com: This is your national tour debut, correct?
Benson: Yea, it's been surreal, honestly. In the show, I understudy a few roles, and one of them is Jesus. I remember five or six years ago being with my best friend Riley; we would be in my grandmother's house and singing out to Jesus's "Gethsemane," his big song, back when we couldn't hit the notes or anything like that. So, it's been surreal to have that moment with him just dreaming about this thing, and now it's actually come to fruition to be able to sing a song like that in front of 2,000 people. It's just unreal sometimes.
BWW: Tell me about the current production. Are you still understudying for Jesus?
Benson: This current production is based on the Regent's Park Open Air Theatre production of JESUS CHRIST SUPERSTAR, which won the 2017 Olivier Award [for Best Musical Revival]. So, we had that creative team come to New York and launch this tour with us, so we got to work with them. I play the tenor priest, I'm in the dance ensemble, and then I cover Jesus, Peter and Pilate. I've gone on for Jesus and Peter, but I have yet to go on for Pilate, so we'll see if I ever make that debut.

BWW: What drew you to audition for the show?
Benson: One of my "special abilities," I think, is my high range. And this is just one of those dream rock opera shows that anyone who sings up to there would want to be part of this production. "Gethsemane" is probably one of the most famous rock tenor songs. It's definitely a song I listened to all the time growing up and listening to famous people singing it, especially like Ted Neeley. So, that's what drew me to the show. I've known about this music for as long as I can remember, really. It's not a golden age musical, but it has that feeling where some of the music in this show was popular during its time. I think the concept album reached maybe number one on the charts in a few countries. So, it has that global aspect to it, like it's not just musical theatre; it's greater than that. Which is fun because whenever we perform it, a lot of times people in the audience were original JESUS CHRIST SUPERSTAR heads in the 70's when it came out, and this is the 50th-anniversary tour, so they're able to live out remembering when they first heard this music. We definitely rock out with them during the show. So that's probably one of the most special parts about it and why I wanted to be a part of it.

BWW: How does the show celebrate its rock opera roots, and how might it tell a familiar story in a new way?
Benson: This production is heavily influenced by the original concept album by Andrew Lloyd Webber and Tim Rice. We call it the brown album because of the original record's color. And we celebrate that because it added a new character into the show, which was not originally in the album because this character is fully a dance company member. Never once do they sing or speak or say any words, and they share the music through their body, which I think is very cool to conceptualize music in such a way. It's a rock show, and to bring in this character that uses music to instead move their body instead of moving their voice, I think brings a new light, especially for people who have listened to this music for the last 50 years. To celebrate that record of it, each song kind of drifts straight into the next song just like a record would... there are times for applause, but it's just about the momentum and moving forward and how you would have experienced the original concept album.

BWW: Since this is the 50th anniversary, are there other ways this production presents a fresher take on an old classic?
Benson: Definitely the choreography. Not many productions use choreography in the way that this one does, especially with how the ensemble members influence and, in some cases, move and carry Jesus and Judas through the story. It shows how influential people can be and how in our society now, things can be so heavy on one side or the other. It shows those quick changes that weren't significant when this originally came out. Still, it brings to light current things happening in our political and social climate that wasn't really seen before in the show.

BWW: So, it will appeal to not only the long-time fans but also draw in newer ones as well.
Benson: I absolutely agree with that. Some people said it's the best production they've ever seen come to their touring house, which has been very nice. It's been a lot of people's first musical they've ever seen, which is also exciting because it's not like your traditional musicals like with a book and a script and lines and scenes and things like that. It's nice that they're getting another sense of what a musical can be, especially for the younger generation who will start writing and creating their own shows. There's not this rigid structure that you have to take with the musical, and you can just let your imagination go wild.

BWW: What's your favorite part of the show to perform?
Benson: Honestly, my favorite part when playing the priest would be our first song. The priests' numbers are very different from what anyone has ever seen of them before, and that makes it very fun to perform every night, especially when we turn the song on its head after playing it as you would normally see it done and then getting people's reactions and getting to dig and play with this new direction of it.

BWW: In three words or less, what is the message of JESUS CHRIST SUPERSTAR?
Benson: This is out of the box, but I would say nothing is forever.

BWW: Anything else you'd like to add?
Benson: I would like to say that, especially with this show being so physical and very hard on our bodies, I just want to extend my gratitude to our swings, understudies, stage managers, and crew members who work every night to make this show happen.