BWW Review: SATCHMO AT THE WALDORF --Ninety Minutes with a Legend--at Le Petit Theatre
Most people can conjure up a snapshot of Louis Armstrong's jovial smile in their minds, or recall that moment when you stopped what you were doing to watch "The World's Greatest Trumpeter" perform on live television, or simply marveling at his original brass solos, his raspy angelic voice, and improvisational skat skills. What most people don't know is that the most beloved and legendary New Orleanian of all time, affectionately known as "Satchmo," has come home again. For the next two weeks, he is the subject of a performance that gives audiences a rare look into the man behind the horn himself. Terry Teachout's, Satchmo at the Waldorf, now playing in the heart of the French Quarter at Le Petit Theatre, depicts Armstrong's humanity at age seventy. The one-man, three-character play all happens backstage in the dressing room of the Empire Room at the Waldorf, Astoria Hotel in New York City in 1971. The story was inspired by hundreds of hours of never-before heard tape recordings of the artist's own words, that will take you on an emotional journey of his life, his career, his struggles, and the things that made his heart beat the most.
Satchmo comes to life on stage as he is portrayed by another famous New Orleanian, Barry Shabaka Henley, a veteran actor with 25 years of stage, screen, and film credits that define the career of a man who is capable of successfully pulling off such a complex roll. (Henley's Acting Bio) Drama Desk, Obie, and Olivier Award winner, Henley, will wow you as he radiantly delves into the heart and mind of the jazz legend, as well as portraying the other two men who both shaped and shook the man, Joe Glaser and Miles Davis. Henley effortlessly glides between the three characters, and the seamless staging transports your mind to another time and place making each moment hypnotically authentic.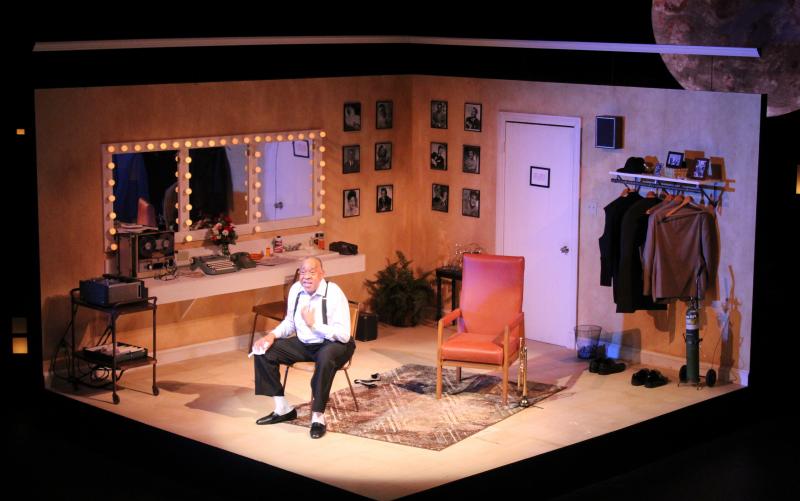 "Great job 'Shabak!" I heard Director Maxwell Williams affectionately shout out as the final dress rehearsal ended Wednesday evening to roaring cheers from the small crew. I couldn't help but feel an overwhelming sense of luck. Somehow I just got to spend an hour and a half with Louis Armstrong? No really, that's what it felt like! How did this happen? I don't know if it was the glorious moon outside the window of his dressing room that put me in a trance, or was it the New York skyline glowing about, or perhaps the insatiable passion that Henley brought to the stage. This is an opportunity NOT to be missed by fans of music, theatre, or life for that matter! Henley's performance was riveting from the start as it opens with him on the floor sucking on a life-saving oxygen mask, to the unwelcome end, when I audibly sighed as this endearing man I just got to know, disappeared forever into a hallway lined with old Chicago bricks. "Satchmo at the Waldorf offers a revealing glimpse behind the curtain at the inner life of the icon that was Louis Armstrong. It's one of the great joys of doing plays at Le Petit Theatre that we get to explore the lives of New Orleans' most important artists and cultural ambassadors, and I'm simply thrilled to welcome the great Barry Shabaka Henley back to his hometown in a tour de force performance." says Le Petit Theatre Artistic Director, Maxwell Williams.
First time playwright, Terry Teachout, is an award-winning Wall Street Journal Theatre Critic, Author, Biographer, and Librettist who was the first person to have access to hundreds of hours of reel to reel tapes recorded by Armstrong during his lifetime. Teachout refers to Satchmo at the Waldorf as a work of fiction, freely based on fact derived from his 2009 biography, Pops: A Life of Louis Armstrong, hailed by the New York Times as "eloquent and important" and chosen by the Washington Post as one of the ten best books of 2009. Produced in several large markets already, New Orleans seems a most fitting city for this story to be told in light of the figure's triumphant rise during a tragic era in the deep south. A man whose childhood was mired by the struggle of simply "being black in the Twentieth Century," a term coined by W.E.B. Du Bois in his 1903 publication Souls of Black Folk. "The problem of the Twentieth Century is the problem of the color-line," and his prophetic wisdom, no doubt, defined the tattered thread in the shining fabric of Armstrong's career.
The play gives you a glimpse of the man behind the public persona as you follow his life born into the chaotic aftermath of emancipation and the Jim Crow Era that boiled to an apex in the sixties. The captivating dialogue takes you through Armstrong's fatherless childhood in the crime-ridden neighborhood dubbed "the battleground," where his own mother was a well-known prostitute, as well as the trauma of getting locked up in a boys home at 12 years old--an incident which he positively dubbed as "a case of bad luck turning into good luck." He describes hard work that earned him the first cornet position in the institutions' military-like brass band, and the beginning of his musical career. He describes the compassion of the Karnofskys, a Jewish immigrant family who employed him, and also offered him meals regularly and helped him procure his first instrument. That experience is what led him to feel so comfortable trusting his lifelong friend and Jewish manager, Joe Glaser. Henley morphs into Glaser's character so effortlessly, you honestly forget it's him. It was thrilling to see the opportunities Glaser opened up for the artist, but also coil-worthy when he spits out the hard truth, "If a spade want to play the big time, he got to have a white manager, or he ain't goin' no where, no how." His relationship with the mob-connected, Glaser is both heart warming and heart wrenching as the story unfolds. Armstrong describes the early difficulties of being a "colored" man who can't get served in a restaurant, or even stay in a hotel room while they're on the road touring. Watching Henley's powerful performance as he laments about those days, set against the iconic Waldorf hotel, certainly makes one pause for inward reflection.
Fellow musician and biggest critic was the college educated, Miles Davis, a third character Henley also masters, emerges as the lead voice who chastises him for his lack of formal musical training and his perceived indifference to the civil rights movement. Throughout the show, Armstrong honestly addresses the harsh accusations of being called an "Uncle Tom," and a clown, as well as defending his musical choices, why he smiled so big, the pronunciation of his name, and even examines the inner turmoil he felt when he realized "Harlem" was no longer in the audience. It was evident that the criticism deeply hurt the musician, and speaking up about the Arkansas Nine was too little too late in the eyes of those such as Davis, even though his involvement may have forced Eisenhoswer's hand on the issue.
Armstrong's lifelong relationship with Glaser, up to the reading of his will, is at the center of this real-life drama, as well as his relationship with his fourth wife, Lucille, but most importantly, his greatest love of all--his music! He explains the originality of his music was the result of a melting pot all its' own, born out of multiple forms of music that he claims entered in singularly and "came out Satchmo!" He credits his manager with his fame, especially the commercial success of one of the greatest sources of his critics, Hello Dolly, a light-hearted moment in the show that will no doubt make you heart dance.
Through it all, Armstrong insists it was his love of music and making people happy that was the force that drove him. He touts old fashioned hard work, perseverance, and good luck to his success. This play highlights his incredible work ethic, continuing to perform up until his death. He left an indelible mark on the world without purposely trying to do so. He was the first African American to be on the cover of Time Magazine, and the first to knock the Beatles out of the #1 spot on the charts. According to Glaser, Satchmo, was not only "The World's Greatest Trumpeter," he was "a good boy with a good heart." He could play in the back room of a mob bar in Chicago and hold his own with the Philharmonic Orchestra. He was an unwitting fixture who emerged during a time of great change and great confusion. He was--most of all--a man who found happiness in an unhappy world. He told a story every time he played and beautiful music came out because of it. He chose to focus on the good, even when his hometown and the people he cared about let him down. He dreamed of the garbage from his old neighborhood just as much as he dreamed of having his name up in lights. I wonder what he would think of his name literally etched in stone at the International Airport, named for New Orleans finest son-Louis Armstrong.
DON'T MISS THIS SHOW!
For TICKETS to performances of Satchmo at the Waldorf visit:
616 St. Peter St.
New Orleans LA 70116 | 504.522.2081
Recommended ages 12 and up for strong language.
Performances are: Friday, Oct 5. 7:30 PM, Saturday, Oct 6 7:30 PM, Sunday, Oct 7 3:00 PM, Thursday, Oct 11 7:30 PM, Friday, Oct 12 7:30 PM, Saturday, Oct 13 7:30 PM, Sunday, Oct 14 3:00 PM, Monday, Oct 15 7:30 PM
TheaterPLUS events during the run of Satchmo at the Waldorf:
Behind the Curtain: Sunday, October 7, 2018 Join members from the creative team for a discussion immediately following the show.
Book Club: Sunday, October 14, 2018 1:00 - 2:00 pm POPS by Terry Teachout . Le Petit Theatre is partnering with Octavia Books this year for a book club. Purchase the books at Octavia Books and enjoy a 20% discount. More information at www.lepetittheatre.com.
Industry Night: Monday, October 15, 2018 7:30 pm $25. Industry night is offered one Monday during each production to help the theater community be in the audience for a performance - all seats are $25.
Bike Night: Thursday, October 18, 2018 FREE valet bike parking with Le Petit Theatre and Bike Easy 7:00 pm
Student Matinee: Friday October 19, 2018 10:00 am If your school is interested in attending a matinee performance, call (504) 522-2081
Le Petit Theatre's season continues with A Christmas Carol opening December 7, 2018, A Gentleman's Guide to Love and Murder opening January 18, 2019, Baby Doll opening March 15, 2019 and The Pianist of Willesden Lane opening on May 10, 2019. Subscriptions and Single tickets are available weekdays from 12 - 5 pm at the Box Office (504) 522-2081 or online anytime at www.lepetittheatre.com.
Written by: Terry Teachout
Directed by: Maxwell Williams
Set Design: Hannah Lax
Lighting Designer: Joshua Courtney
Costume Designer: Laura Faye Sirkin-Brown
Sound Design: Matt Jackson
Stage Manager: Joey Vreeland
Assistant Stage Manager: Katie Bandit
Audio Engineer: Jamie Doyle
Light Board Programmer: Mandi Wood
Light Board Operator: Tova Steele
Angelle Albright has spent her life in the theater, not on the stage though, but rather as faithful member of the audience. She fell in (read more...)