BWW Previews: Bet Your Bottom Dollar On ANNIE at Slidell Little Theatre
There's nothing more endearing than a little girl and her dog, especially when it comes to a red-headed orphan who reminds kids of all ages that positivity is the only road to resilience! Slidell Little Theatre is opening its' 55th season with the timeless classic, Annie, based on the popular comic strip by Harold Gray. Adapted for the Broadway stage in 1977, Annie was the winner of seven Tony Awards, and continues to be a worldwide phenomenon today. The sun has definitely come out on this entire cast, especially two remarkable actresses, Elizabeth Burris and Piper Hall, who share the title role of Broadway's favorite belting ragamuffin. Despite their marked star quality, there is another salient stray who is commanding equal respect-Annie's beloved dog Sandy! The four legged character, portrayed by rescued pup, Jen-Ai, once declared unredeemable, is stealing hearts on and off the stage. The golden's trainer, Margaret Cranwell say the script is not much different than their own life story, and is excited about the affect her beloved may have on audiences. Whether human or K-9, the talent in this production is awe inspiring, and the relationship between the two may require a few tissues. Their genuine affection definitely pulls you into the theme of what it means to value someone or something, all the while highlighting the meaning of family love, however that is defined for each of us.
When it comes to family, Slidell Little Theatre (SLT), has been bringing the community together through music, drama, and laughter since 1963. Director, Larry Johnson, a product of the SLT's renowned children's program, Young Actors Theatre of Slidell (YATS), is proud to have been introduced to the stage in such a supportive atmosphere. Johnson says Annie was his very first main stage show, and the reason he fell in love with theatre. "It was a turning point in my life when I just knew this was home base for me. I'm privileged to have grown up in a great environment with such a supportive community that is like a real family." School teacher by day, Johnson is passionate about working with youth on and off the stage. As a director, Johnson is thrilled to be able to give these kinds of opportunities to young people, and strives to do whatever is possible to make them reach their full potential."I grew up with that kind of teaching, so everything I do with them, I went through myself," says Johnson. "Annie has such a great message, and it is the perfect show to stress the importance of working really hard for what they want in life and then discovering that it will pay off." Johnson, whose last project was The Addams Family this past season, loves working with kids of all ages, but welcomes the change to work with a mostly young cast. "As adults, we sometimes lose the ability to be playful and lose the willingness to take risks. I love working with children because they are still willing to put themselves out there, and even if they slip up momentarily, they keep going."
When it comes to landing the iconic lead of Annie. Burris, a 9th grader at Christ Episcopal School in Covington, and Piper, an eighth grader at Boyet Junior High in Slidell, were both extremely excited about the opportunity, yet notably humble at the same time. "Scores of girls showed up!" says Johnson. "Both these girls stood out against a pretty rigorous process, but in the end, I'm looking at two kids who both deserve it. In a community environment, why not give them both the shot, because in two years, neither one will be able to do it anymore. With nearly a dozen shows, and a roll with such demanding vocals," Johnson said, "this was ideal."
It was refreshing to see how the girls supported each other, and you could feel the family atmosphere among the rest of the cast. Full of poise, the excitement was palpable as each shared what is was like to land their dream roll. "It is truly something to be in love with the character and the songs your whole life, and then to be presented with the opportunity to play her. It is something I am super excited about." exclaimed Burris. Hall added, "The excitement is flowing through me; it makes me happy all the time and it feels so good to just being with the entire cast that has become another family to me." Johnson went on, "I am super proud of this entire cast, and all of the orphans brings their own special vigor to the stage, and it's exciting to see budding new talents on the horizon."
The beloved book and score by Tony Award winners, Thomas Meehan, Charles Strouse and Martin Charnin, features some of the greatest musical theatre hits ever written, including the classic Tomorrow--a song, Johnson says, that never grows old. "I think people come to the show eager to hear kids sing," said Johnson. "Especially a song like Tomorrow, and I also believe they enjoy watching a young performer rise to the occasion at the same time. They come feeling like they know the song already, but after hearing it again, they will find themselves in a moment of inward silence and will walk away with a warm feeling and a smile on their face." On finding the deep meaning of the song, Burris said, "I kind of pull on real life experiences, remembering no matter what happens, to always stay happy, because things work out in the end. We know that the sun will come out and tomorrow will be a better day. It's kind of always been my motto!" Hall said, "For me singing that song to Jen-ai has been where all the happiness and emotion is for me. I mean, the whole point of the song is Annie singing to Sandy, so working with the live dog has been pretty special and inspirational."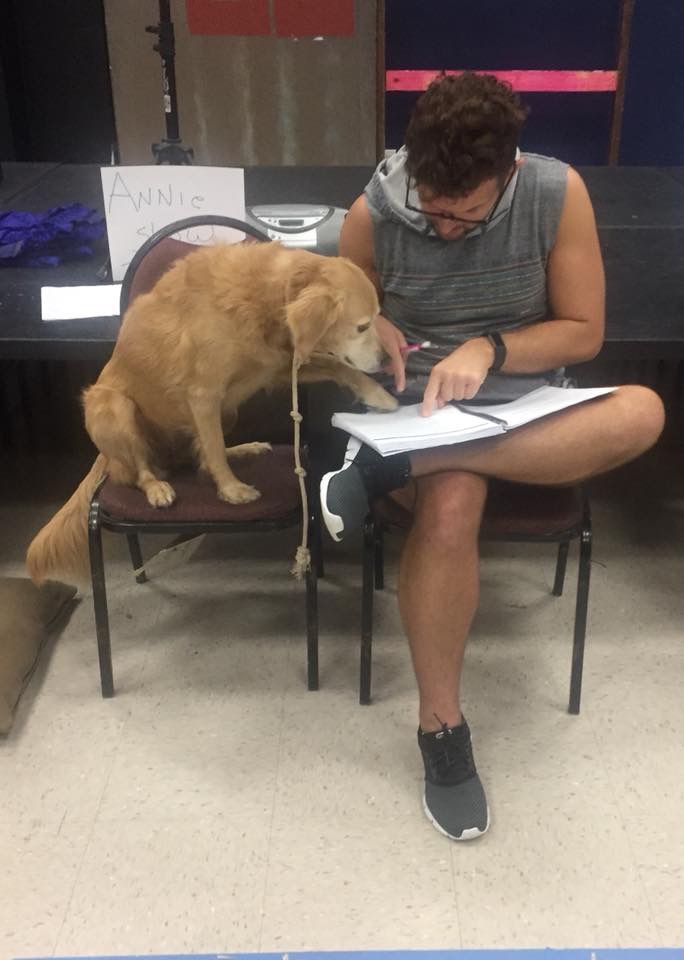 According to Cranwell, adopting Jen-ai changed the trajectory of her whole life. After being cast out of a window when the golden was only a few days old, she was told she couldn't be saved. Cranwell fought for the life of a dog who couldn't even walk on a leash, chased cars, and was referred to as worthless. "You know, people throw out orphans like they're not worth anything all the time," said Cranwell "but when someone just loves and believes in them, suddenly their life can have purpose." She went on,"I lost my parents at a young age, and grew up with my own version of a Miss Hannigan. My golden retriever was like a mom to me, so I have always been passionate about dogs." Cranwell's passion also extended into helping veterans recover from harmful depression when she realized that service dogs like Jen-ai could make a difference. The role from service dog to actress just sort of happened, she explained. "A fews years back, Jen-ai actually modeled for another dog playing Sandy in Arkansas via Skype, and so we were both already familiar with the script," she chuckled. "When someone suggested Jen-ai to Johnson, it was like a miracle of nature's timing." "Everyone is in love with Jen-ai," says Burris."Everyone who meets her wants to take her home. There's a lesson in there!" she said proudly.
Most are familiar with the popular story set in New York City after the Great Depression. The spunky Annie, abandoned at an orphanage run by the cruel Miss. Hannigan, Joshua Brewer is determined to find her parents, so he runs away in search of them. Adventure after adventure ensues as she greets everyone she meets with her optimistic attitude. Police return Annie to the orphanage just as Millionaire do-gooder, Oliver Warbuck's Joshua St. Cyr sends his private secretary, Grace Farrell Melanie St. Cyr to choose Annie as the lucky orphan who gets to spend the holidays at his mansion. Warbucks is taken with Annie and asks to adopt her, but she politely declines desiring still to reunite with her real parents. Warbucks sets out to help her by offering a reward, but when Hannigan and her crooked brother Rooster Stephen Rhodes and his girlfriend Lily Tara Brewer hear about the reward, they spin an evil plot that gets foiled with the clever help of Warbucks, Grace and even President Franklin Delano Roosevelt.
Any art form that gets us thinking about the world we live in is a great thing. Literature has always been intrigued with orphans, and maybe us observers as well, mostly because it is hard to imagine ourselves in that situation. Burris said, "I have such a close relationship with my parents, and not having all those wonderful memories with them kind of sinks in when I'm on stage with the orphans pretending." Most impressively, both girls said they mostly stayed focused on the message that good always wins, and when you have resilience and a positive attitude, you win! Little Orphan Annie is a winner for audiences, not just because of its' sunny optimism, but because in the end, we learn that we still need the love of others around us to support us.
You can show your support for local theater during Annie's show run from August 24, 2018 - September 9, 2018 at Slidell Little Theatre, located at 2024 Nellie Drive Slidell, Louisiana. Tickets can be purchased online at www.slidelllittletheatre.org Ticket prices are $17.50 to $28.00 See Slidell Little Theater's Facebook page for details about special event dates including Red Dress Fridays, Meet & Greet Autograph Matinees and Sundays with Sandy. You may contact the ticket office at (985) 643-0556 or by emailing boxoffice@slidelllittletheatre.org
You can also check their website for upcoming shows and auditions this season.