Click Here to Visit the College Center

Blogs are the opinions of the authors and do not necessarily reflect the opinions of BroadwayWorld. BroadwayWorld believes in providing a platform for open and constructive conversation.

Student Blog: Summer Fun: Why I Joined The BWW Student Blogging Program
How to add some Broadway into your life as we all countdown the days till the reopening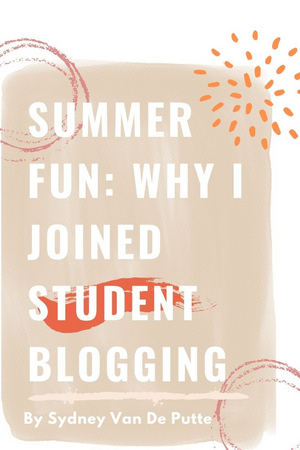 The Broadway shut down is an event that will go down in history, along with the rest of 2020 of course. Being a theatre kid, I thrive on watching and partaking in performances. Looking back on early 2020, it was going great.
I had just finished staring as Donna in my High School's production of Mamma Mia. There was a little two week break in the middle of my senior year because this sickness was going around. Then it hit the fan. One thing after another got canceled, like we all know. I was fortunate enough to see one last Broadway show the day it shut down. It was the Riverdance 25th anniversary at Radio City. That was the last of theatre for almost an entire year.
We all know how the rest of the year went, solitary for the most part. A new school year came into the picture later along the line. My first year of college, The New School in New York City, online like everything else of course. With the need for performance in my veins, I took as many classes as I could pertaining to the world of theatre. Online school and having a full time job at the same time is a lot of work. Work work work work, then nothing. How was I going to fill the time?
Then I saw a post on Instagram about this program. It had all I wanted. Broadway, writing, something to fill my time. So here are a few reasons why you should apply for the next "season":
1. Flexible schedule
One of the great things about this program is that you only need to post twice a month, minimum. You can post more if you want and anytime you would like. With a full time job, this is a great plus and you even have the option to continue during the school year as well!
2. Creative freedom
There aren't that many limits when it comes to posting either. You can post about your school, the courses you're taking, playlist getting you through it, pretty much anything you'd like.
3. Exercising Skills
I don't find myself writing that much outside of school or that weird middle of the night inspiration. I have never written in this kind of format before, so it is something new. For those who have, it is a way to work on your skills in your off time writing about theatre.
4. Resume Building
Helloooooooo!!!! Writing for a popular blog, yes! Throw that on the resume. This is experience that makes someone stand out in the job line up. A great way to not only get an upper hand but also have fun.