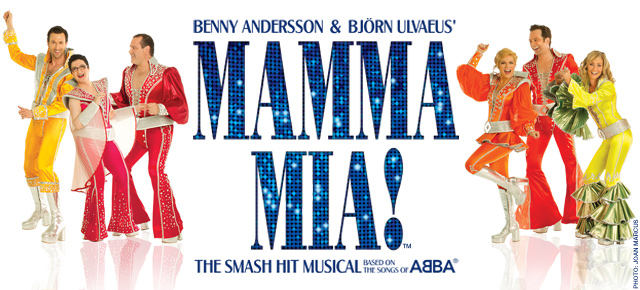 Click Here for More Articles on MAMMA MIA!
BWW Reviews: MAMMA MIA 'Takes a Chance' on Milwaukee at Marcus Center For The Performing Arts
Most musical theater ends with a simple curtain call with the audience expressing their appreciation for the performance they had attended. Mamma Mia, though, ends with and explosion of music, bringing the audience to it's feet for an encore where the cast invites the audience to sing and dance along. Friday Night at the Marcus Center for the Performing Arts, we certainly did.
As many reviewers and critics have said - Mamma Mia is a feel good musical, especially for those who grew up listening to ABBA music. The overture starts with a medley of memorable ABBA songs, exciting the audience for things to come.
In this production, Sophie (played by the strong voiced and charismatic Chelsea Williams) is a 20 year woman about to marry her true love. Sophie has been raised on a beautiful Greek island by her single mother, Donna Sheridan. Donna (portrayed with a great deal of heart, soul, and humility by Rebecca Mason-Wygal) is a spirited, independent "flower child" who moved to the island and built a hotel after having Sophie. Sophie secretly invites three men; Sam Carmichael (played with great vocal prowess by Jeff Drushal), Bill Austin (portrayed with heart and style by Michael Colavolpe) and Harry "Headbanger" Bright (acted by the hilarious Mark A. Harmon) to her wedding after concluding that one of them might be her father.
In the days leading up to the wedding, Sophie's guests begin to arrive. As they arrive, more details of Donna's youth begin to emerge, especially when her friends Tanya and Rosie arrive to share stories of "Donna and the Dynamos" their "girl power" band. When Donna finds the three potential fathers have arrived, it sets off a series of memories, emotions, and fears that add to the stress of her only daughter's upcoming wedding.
The story is interspersed with many of ABBA's most memorable and successful songs which help build, guide and inform the story. "Honey, Honey" is sung early on in the show, when Sophie tells her friends and bridesmaids about having invited her potential fathers to the wedding, while remind them excerpts from Donna's journal from the year of Sophie' s birth. Later, when Donna finds the three men on the island, she panics, breaking into "Mamma Mia". One of ABBA's most popular songs, "Dancing Queen" also makes an appearance when Tanya and Rosie try to convince Donna that she still is the same woman she was in her youth, though her circumstances have changed.
For me, Tanya and Rosie were involved in the most entertaining and memorable moments in this production. Bailey Purvis, as Tanya, completely stole the show. Her Tanya was took pieces from many iconic woman characters, including Patsy from the British television show "Absolutely Fabulous", Elle Woods from "Legally Blonde" and a little bit of Anna Nicole Smith. Her performance of "Does Your Mother Know", when Tanya shoots down some of the younger mean on the island who were hitting on her was hilarious and brought levity back to the show after Donna and Sam's emotional "SOS". Rosie, portrayed by Sarah Smith with a comedic style and sense added so much depth to the role, had a wonderful breakout performance during "Take a Chance on Me" when she tries to convince Bill that maybe being single is not the way to go. She drags him around the stage, teasing and coaxing him that she might be the one for him, finally convincing him to take a chance on her.
Overall, this performance was heartwarming, fun, and invigorating. When you leave the theater, you leave with a song in your heart and some extra steps in your feet.
Mamma Mia plays throughout the weekend with two performance on Saturday, February 21, and two on Sunday, February 22. Tickets are available in person at the Marcus Center Box Office at 929 North Water Street, Milwaukee, by phone at 414-273-7206, or online at marcuscenter.org or ticketmaster.com.
Photo Credit: Mamma Mia! North American Tour 2014 by Joan Marcus