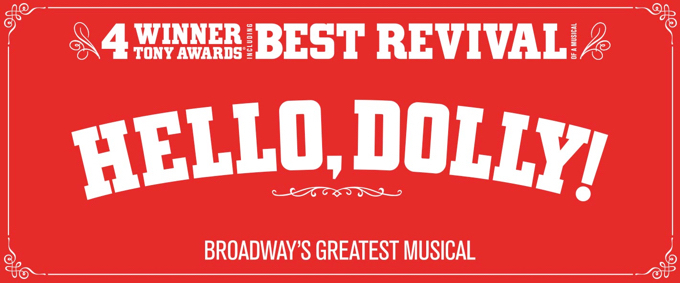 Click Here for More Articles on HELLO, DOLLY! on Tour
BWW Review: 'It Only Takes a Moment' to Know That HELLO, DOLLY!, Betty Buckley and the Audience Are Having a Musical Theater Love Affair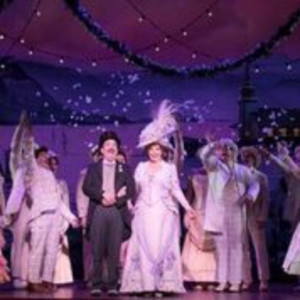 It was apparent on reviewer's night of "Hello Dolly," which is starting its national tour in Cleveland, that many of the audience, which was awash in red clothing, had heard of the "wear David Merrick red" to productions of this script. David Merrick red?
Merrick was often referred to as the "Abominable Showman." One of Broadway's greatest producers, he often came up with gimmicks to get attention for his shows.
Merrick replaced the front curtain of the theatre in which his "Hello Dolly" was to play with a red one of a particular rouge hue. In addition, the lead character, Dolly, in her most spectacular scene of the show, makes an entrance coming down a staircase in the Harmonia Gardens Restaurant wearing a red gown, a dress which became the traditional costume choice for all future Dolly's.
There have been lots of famous women who have played Dolly including Carol Channing, Pearl Bailey, Ethel Merman, Bette Midler, Ginger Rogers, Betty Grable, Phyllis Diller, Molly Picon, Eve Arden, Ann Southern, Michelle Lee, Lanie Kazan, Tovah Feldshuh and, even Betty White, who appeared in Ohio's Kenley Players production in the summer of 1979. Barbara Streisand played Dolly in the film version of the show
The newest Dolly is Betty Buckley, who leads the staging in Cleveland, the starting site of the show's newest reincarnation and the kick-off point for its national tour.
Buckley, won the 1983 Tony Award for Best Featured Actress in a Musical for her portrayal of Grizabelle in "Cats." Her rendition of "Memories" is a classic of the American Musical Theatre. She also played Norma Desmond in "Sunset Boulevard" and appeared in "Triumph of Love," "1776," "Pippin," and "The Mystery of Edwin Drood." For a number of years, she starred in the ABC-TV series "Eight is Enough."
Buckley is so perceived to be such a national draw that her name appears in the program and advertisements above the title of the show, an honor rarely bestowed upon a performer.
"Hello, Dolly!,"which has lyrics and music by Jerry Hermanand a book by Michael Stewart, is based on "The Matchmaker," a 1954 play by Thornton Wilder, a rewritten version of his 1938 play "The Merchant of Yonkers." The musical was first produced in 1964, winning the Tony Awardfor Best Musical.
Interestingly, though most think of Carol Channing as Dolly Levi, the role was originally written for Ethel Merman, who decided not to do the part. The role was then offered to Mary Martin, who also declined. Eventually, Channing was hired and made the role not only hers for life, but made the show an international hit.
You'd never know it due to its amazing long-running Broadway runs, revivals, and local and international productions, but the show had rocky out-of-town tryouts. Major changes were made to the script and score. Even the name of the show was changed. Originally entitled "Dolly, A Damned Exasperating Woman" and then," Call on Dolly."Merrickfinally settled on "Hello, Dolly" and musical theater history followed.
The story centers on a meddlesome widow who, out of need for money, and her natural exuberance for controlling others and searching for a satisfying life, turns to matchmaker, striving to bring romance to others as well as herself.
The memorable score includes such hits as It Takes a Woman, Put on Your Sunday Clothes, Before the Parade Passes By, Elegance, and It Only Takes a Moment. It is filled with joyous dancing and lots of audience pleasing show-stoppers notably "The Waiters' Gallop" and the title song.
The touring production, under the direction of Jerry Zaks, who directed the recent Bette Midler Broadway version of the show, is very enjoyable, with many highs and few okays.
The scenery, mainly colorful curtain drops, which are needed to facilitate easy moving from theatre to theatre on the tour, set the right moods. A full-operational massive horse and carriage and a locomotive brought extended applause.
Santo Loquasto's costumes are period correct and spectacular, adding appropriate visual stimulation to the goings on.
Warren Carlyle's choreography is creative, often spectacular, though, at times, seemingly a little repetitious with repeated dance movements.
From her first entrance, which was met with thunderous applause, Buckley "had" the audience. She delighted, playing much of the show toward the viewers, and waving and teasing people close to the stage apron. Her voice was strong, her movements appropriate for the choreography she was given.
Lewis J. Stadlen, as Horace Vandergelder, the focus of Dolly's matrimonial interest, was excellent in the role. He displayed just enough huff and puff and underbelly vulnerability.
Nic Roleau, who recently finished a long run in "The Book of Mormon," delighted as Cornelius Hackl, the 33-year old boyish clerk in Vandergelder's store. He has a lanky, free-moving, charming Tommy Tune-like image.
Many probably saw Jess LeProtto (Barnaby Tucker) on "So You Think You Can Dance." He has a long theatrical resume including Broadway's "Newsies" (in which I found him commanding many of the dance routines in the show). He sings, dances and clowns with infectious ease.
Analisa Leaming was charming as Irene Molloy, Vandergelder's intended, who winds up with Cornelius. Kristen Hahn was adorable as Minnie Fay, Irene's shop assistant.
CAPSULE JUDGMENT: The sold out opening night audience got what they came for: Betty Buckley, enthusiastic dancing and singing, spectacle in the form of wonderful costumes and special effects, some laughs, and lots of wonderful music! Not all theater is intended to tell philosophical and meaningful ideas. Sometimes it is just nice to go and enjoy, feel warm and happy, and appreciate the joys of life! See "Hello Dolly."
Part of the Key Bank Broadway series, "Hello Dolly" runs through October 21, 2018 in the Connor Palace, in the PlayhouseSquare complex. Next up in the series is a newly conceived version of "Les Miserables" from October 30-November 18, 2018.
For tickets call 216-241-6000 or go to www.playhousesquare.org.