BWW Review: IRVING BERLIN'S WHITE CHRISTMAS Brings Musical Theater Joy to the Holiday Season

If there is a musical theater moment more joyous that what occurs at the top of Act Two in Irving Berlin's White Christmas, then we must respectfully demand it be performed in front of us as quickly as possible. Certainly, we recognize there is much joy to be found in musical theater and we admit we've experienced more than our fair share over the last 40 years spent reviewing and critiquing such onstage exploits, but sitting in the audience at Tennessee Performing Arts Center's Andrew Jackson Hall - six years to the day we last found ourselves awash in the nostalgia and sentimentality so abundant in this particular holiday favorite - we simply couldn't recall anything more engaging or more entertaining than watching Jeremy Benton and Kelly Sheehan, backed by a cadre of 12 other fleet-footed dancers, tapping their hearts out to "I Love a Piano," while musical director Michael Horsley and his orchestra provide the expert accompaniment.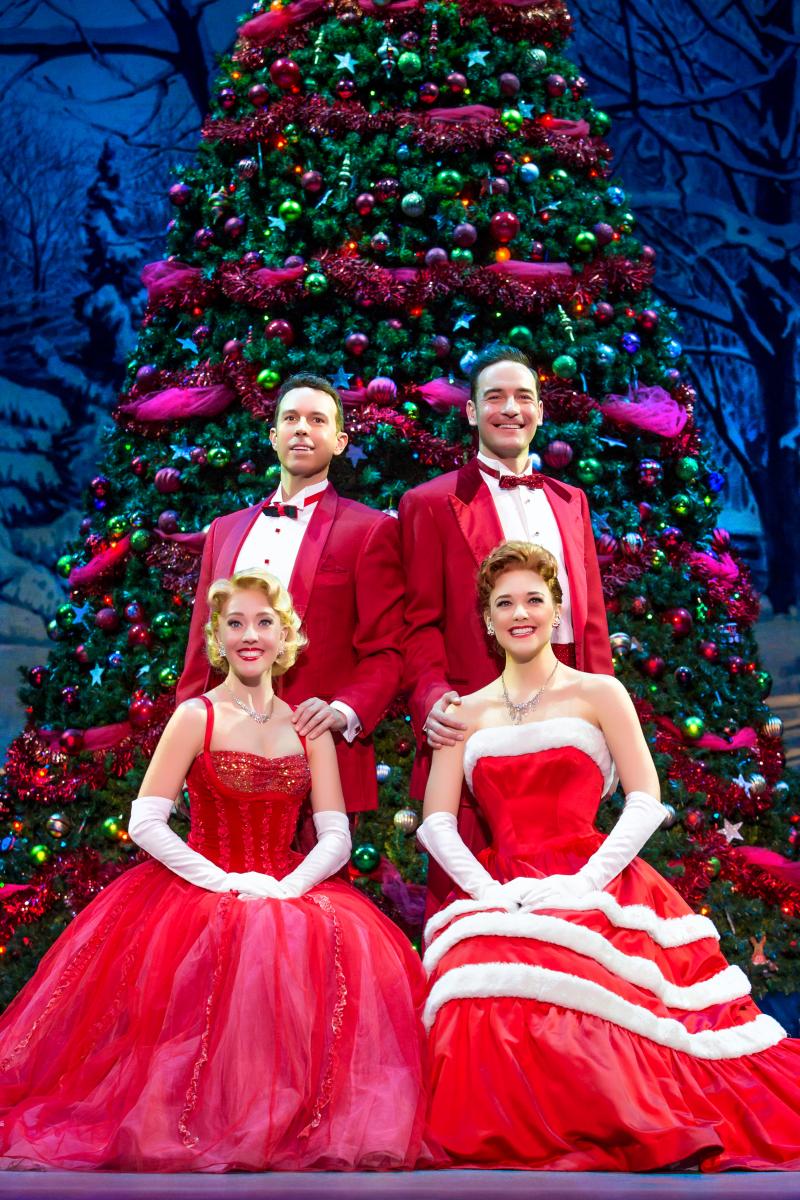 The fact that Irving Berlin's White Christmas, at its outset, features an equally impressive tap (set to a medley of "Happy Holiday" and "Let Yourself Go" that takes place during a fictionalized performance on the beloved Ed Sullivan's eponymous TV show way back in the day), or that the show concludes with another stirring performance (this time to "I've Got My Love to Keep Me Warm" that showcases the considerable talents of the chorus performing an Ice-skating tap), is not lost on me. Instead, it transports me - accompanied by 1,500 or so other folks seated all around me on opening night - to a snow-covered, red-and-green tinted, tinsel-bedecked and twinkling-lighted realm in which everyone is wonderfully thoughtful and kindness carries the day...the people are all charming, fresh-faced and attractive...and the entire spectacle is performed to a score of Irving Berlin standards.
In other words, for two-and-a-half hours, my fellow audience members and I found ourselves in a Christmas-scented fantasyland, the kind of holiday setting we all long for but so seldom get to enjoy. Thanks to the smart direction and spectacular choreography of Randy Skinner, the show moves at a brisk pace and the dancing is enough to make you want to pull your own tap shoes out of mothballs.
To cut to the chase, may we recommend you secure your tickets now so that you, too, may enjoy the warmth and magic of Irving Berlin's White Christmas, which continues at TPAC through Sunday, November 18, to start your holiday revelries off on the right - rhythmically tapping - foot. The production is filled to overflowing with all manner of seasonal delights, enough witty repartee to get you through a complete slate of cocktail parties through the end of 2018, and buoyed by a number of winning performances that bring the iconic characters from the 1954 film version (that featured Bing Crosby, Danny Kaye, Rosemary Clooney and Vera-Ellen) to life with style, grace and an over-abundance of talent.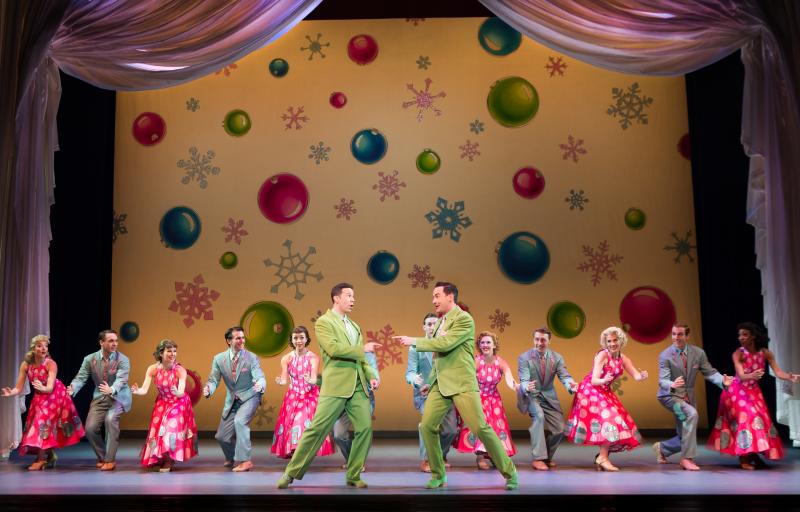 Irving Berlin's White Christmas tells the story of two song-and-dance men and their female counterparts who come together during one particularly unseasonable winter ski season in 1954 to help save the bacon of an inspiring leader who's played a significant role in their lives. It's a tuneful, feel-good show that's certain to lift your spirits and, quite possibly, reaffirm your faith in the human spirit in the process.
Certainly, we've seen Irving Berlin's White Christmas before - in addition to the 2012 tour at TPAC, the show has been mounted by countless regional, academic (including an especially memorable 2015 production from Belmont University Musical Theatre) and community theaters since it first bowed on the stage of The Muny in St. Louis in 2000 and had its Broadway premiere in 2008 - and only two weeks ago we were left with many of the same post-show emotions after a performance of the similarly themed Holiday Inn at Crossville's Cumberland County Playhouse.
But in this fractious day and age, during which we find ourselves on edge and on alert 24/7, there is nothing better than a show by the master of American musical theater to transform and transport us to a land of theatrical magic and romantic make-believe. It's sure to fuel you through the writing of hundreds of Christmas cards and the baking of dozens of cookies destined to be consumed on Christmas Eve by the big man in red himself.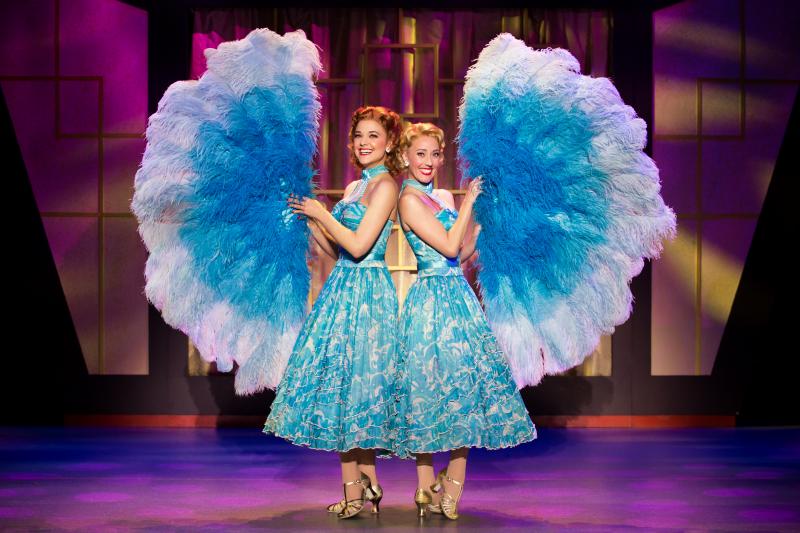 And it is likely to insulate you from the slings and arrows of recalcitrant relatives during next week's Thanksgiving dinner with the folks at home. White Christmas is like the very best holiday gift you could find under the tree on Christmas morning - and it all comes from the prodigious, prolific and dedicated efforts of a Jewish man born in Imperial Russia who ultimately came to personify the term "American musical theater." Irving Berlin lived to be 101 during his lifetime and his impact on American music continues to reverberate well into the 21st century. (That said, isn't there some way to interpolate "Alexander's Ragtime Band" into White Christmas or Holiday Inn? A grateful public, in the person of one theater critic, awaits...)
While Berlin's gorgeous melodies and heartfelt lyrics continue to delight, equally noteworthy about the 2018 edition of Irving Berlin's White Christmas is the assemblage of star power who propel the production toward the theatrical heavens. Led by Springfield, Tennessee's favorite tap-dancing son, Jeremy Benton in the role of song-and-dance man Phil Davis (assayed by Danny Kaye in the movie) and Tony Award winner Karen Ziemba (whose list of Broadway credits are nothing short of amazing) as innkeeping busybody Martha Watson, the 2018 rendition is refreshed and reinvigorated, sure to leave audiences feeling as if they're seeing the charming spectacle for the very first time. Casting Franklin, Tennessee's own Conrad John Schuck as the gruff and beloved General Waverly is like a lagniappe served up after a particularly satisfying holiday dinner, providing that "something extra" that's unexpected but thoroughly appreciated.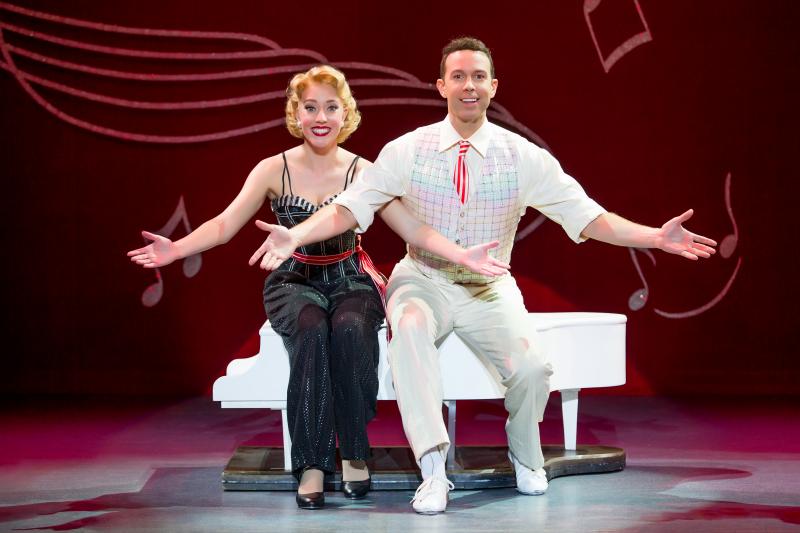 Benton, who grew up enthralled and inspired by the exploits of the stars of movie musicals, proves himself the equal of his dancing idols and his second act performance with Sheehan to "I Love A Piano" elicited a thunderous ovation at the number's conclusion (that the man found himself spending the day in a hospital emergency room dealing with a knee injury - a fact unbeknownst to audience members - only reaffirms his musical theater bona fides and makes his opening night performance all the more extraordinary) virtually bringing the show to a standstill while the dancers onstage basked in the unadulterated ovation during which the love flowed from both sides of the footlights. Benton, however, proves himself equally adept as a romantic, if witty, leading man, sparring with co-star Sean Montgomery (as Bob Wallace) and wooing his Judy Haynes (Sheehan), easily moving from one scene to the next with his bright smile leading the way and his self-assured performance providing the foundation for his portrayal.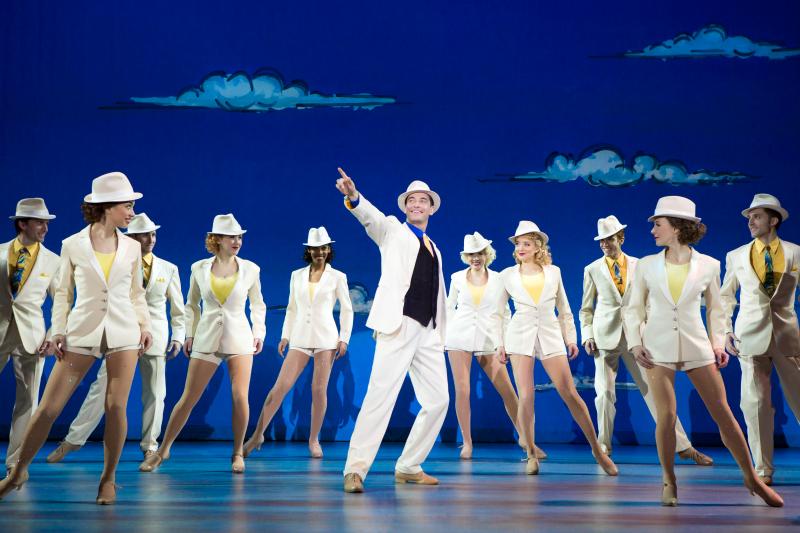 Similarly, Montgomery shines as the show's leading man, moving about the stage as if he owned it and displaying the self-confidence of a matinee idol. Perhaps most intriguing about his performance is how effectively Montgomery is able to capture the requisite period feel, sounding for all the world as if he were a contemporary of the great crooners of old. "Blue Skies" gives him the spotlight to show off his own considerable skills as a song-and-dance man. His onstage chemistry with the gorgeous Kerry Conte, who plays his love interest Betty Haynes, is palpable and in only a few brief scenes, the pair is able to telegraph to their audience the emotions of their budding relationship, thus ensuring its authenticity. Quite frankly, Conte looks as if she has stepped right out of a bandbox, circa 1954, and she is stunning in all of her costumes, particularly the black gown she wears to perform "Love, You Didn't Do Right By Me" at Manhattan's Regency Room. In that number, she clearly makes an impact, creating an indelible picture that is beautifully haunting. Montgomery's contrapuntal "How Deep is the Ocean" creates a perfect blending of musical theater fireworks and romantic intrigue.
Sheehan's Judy Haynes practically defines the term "gamine" with her pert and playful nature, going toe to toe with Benton in their book scenes and giving him a real run for his money when they dance. Effortlessly and gracefully, Sheehan recalls many of filmdom's greatest female dancers, performing with tremendous energy and a magnetic stage presence.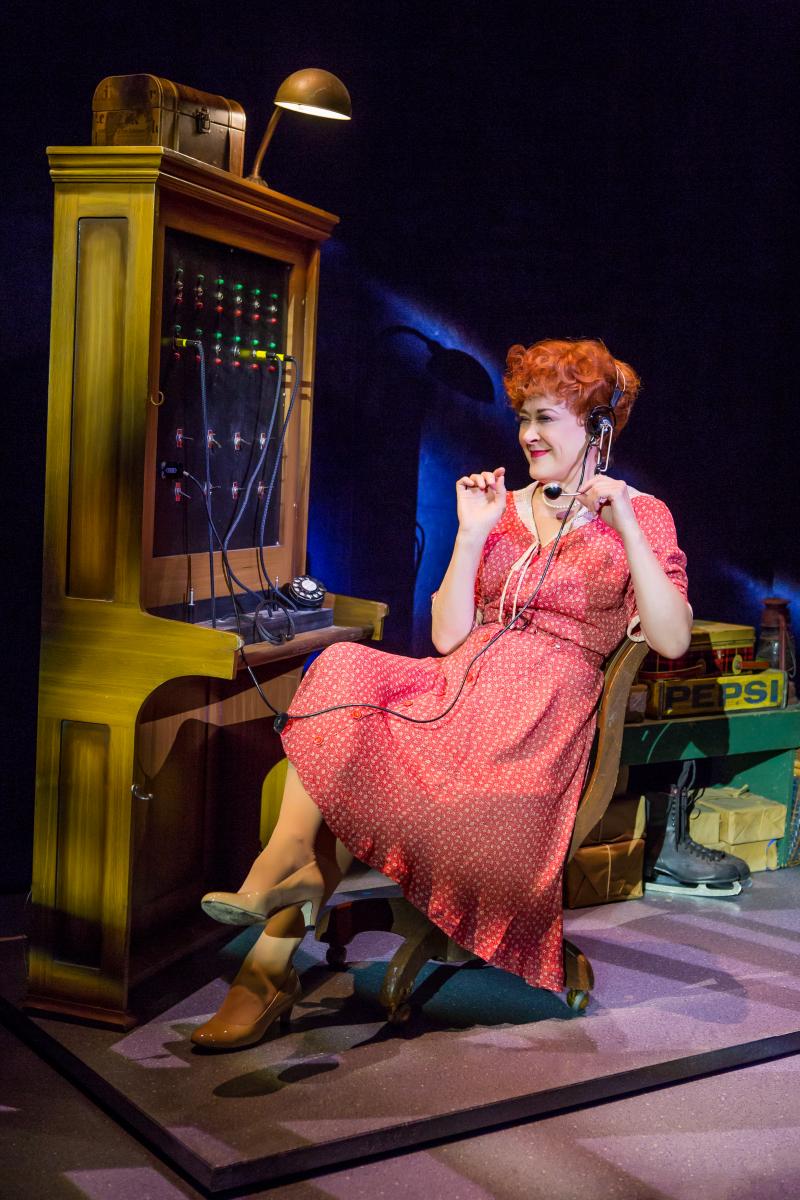 As the doyenne of the fictional Columbia Inn, Karen Ziemba very nearly steals the show away from her coterie of capable co-stars, proving yet again why she is Broadway royalty. Her easy onstage persona belies her character's clarion voice, making "Let Me Sing and I'm Happy" a highlight of the first act and, likewise, her trio with Conte and Sheehan on "Falling Out of Love Can Be Fun" proves one of the shining moments of the second act. Of course, it doesn't hurt that she looks like a million bucks in the show's finale. Schuck is terrific as General Waverly, proving the perfect foil for Ziemba's Martha and playing the inspirational leader for the two ex-GIs played by Montgomery and Benton. And someone may as well go ahead and plan a revival of Annie and cast Kyla Carter in the title role - her performance as the precocious Susan Waverly proves her more than equal to the task.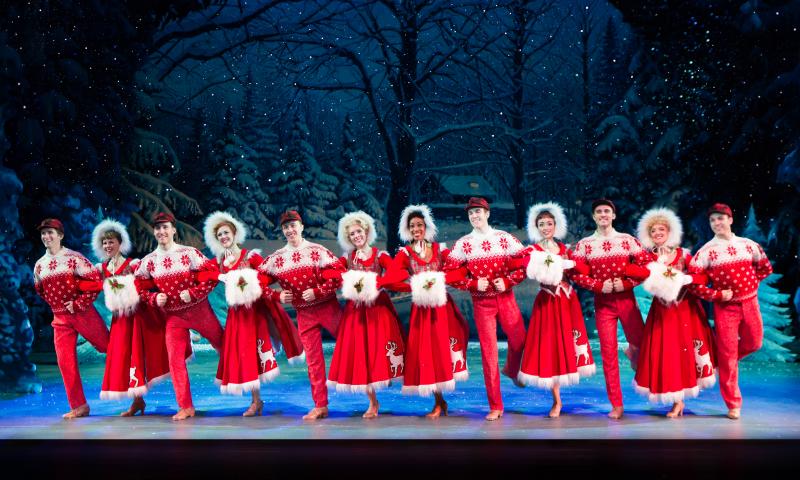 Anna Louizos' scenic design provides the ideal setting for the expected musical hijinks and Carrie Robbins' costumes ensure every cast member looks their very best, no matter which role or character they're playing at any given moment, while Ken Billington's lighting design is lovely, even if opening night proved challenging in the show's early going.
With seven more performances at TPAC through Sunday, there's no reason to deny yourself the wonderful and calorie-free holiday confection of Irving Berlin's White Christmas. With the chill winds of mid-November blowing outside, there's nothing better to warm your heart and to start off your season of holiday celebrations with the golden glow of nostalgia.
Irving Berlin's White Christmas. Music and lyrics by Irving Berlin. Book by David Ives and Paul Blake. Directed and choreographed by Randy Skinner. Musical direction by Michael Horsley. Presented by the national touring company at Andrew Jackson Hall, Tennessee Performing Arts Center, Nashville. Through Sunday, November 18. For tickets and other details, go to www.TPAC.org or call (615) 742-4040. Running time: 2 hours, 30 minutes (with one 20-minute intermission).
Production photos by Jeremy Daniel Photography