Review: LES MISERABLES at Place Des Arts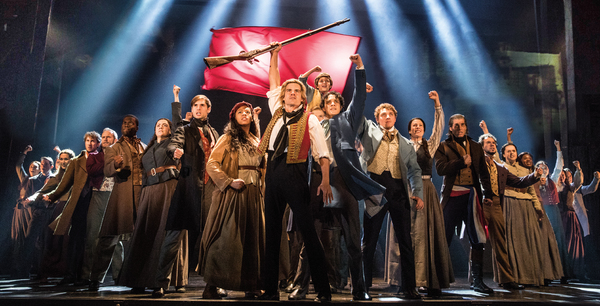 The touring production of Les Misérables has officially opened in Montreal at Place Des Arts, coming from its highly praised, two-and-a-half year run on Broadway. The show opened February 7th, at Salle Wilfrid-Pelletier to eager spectators ready and willing to immerse themselves in early nineteenth century France, iconic songs, invigorating ensemble numbers and stunning sets. Expectations were high and excitement was palpable.
The musical, based on Victor Hugo's classic novel of the same name, has remained one of the longest-running musicals of all time. It is the 5th longest-running musical on Broadway earing a series of accolades, including 8 Tony Awards and 5 Drama Desk Awards. Since opening in London in 1985, Les Miz has been viewed by millions of people in 45 countries and 350 cities. The show has been translated into 22 languages, further propelling its global success, and in 2012 a film version, starring Hugh Jackman, reintroduced this compelling story to dedicated fans as well as novices all over the world. The film was a smashing success, resulting in Academy Awards for Best Picture, Best Actor, Best Supporting Actress, Best Production Design, Best Costume Design, Best Make-up and Best Sound Mixing.
The story of Les Misérables begins in 1815 with Jean Valjean, a French peasant, who is released from prison on parole. His crime? Stealing a loaf of bread for his family. His time? 19 years of hard labour on the chain gang. After his release, an act of mercy by a hospitable bishop inspires Valjean to strive for a new life, leading him to break his parole and engage on a life-changing journey. Javert, the authoritarian police inspector, never far behind, makes it his life's mission to find and recapture the former prisoner. Valjean manages to adopt new identities, gain financial independence and lead a somewhat honest life. After one of his former factory workers, Fantine, tragically dies, Valjean vows to find her daughter, Cosette, and care for her until the end of his days.
Javert's relentless chase of Valjean spans a 20-year period, introducing a variety of characters along the way and highlighting tumultuous times in France. In 1832, after the death of former Commander and Parliament member Jean-Maximilien Lamarque, civil unrest ensues in the streets of Paris. Lamarque was a strong advocate for human rights and perceived favourably by the French people, particularly the poor. His death sparks an anti-monarchist uprising that results in rebels barricading the narrow streets of Paris, fighting the French army and National Guard. Student resistance leader Enjolas and his friend Marius are at the center of the fight, along with the strong-willed Éponine and feisty Gavroche. All are dedicated and determined to fight for their beliefs, even if the result is death. Les Miz portrays the complex and difficult times of early nineteenth century France as well as universal themes of dogged perseverance, grit, loss, redemption and most of all love.
Cameron Mackintosh's production of Alain Boublil and Claude-Michel Schönberg's Les Miz maintains some of the changes implemented since the 25th Anniversary production. Most notable are the scenic projections based on Victor Hugo's paintings, designed in this production, along with the set, by Matt Kinley. In the original, as many hard-core Les Miz fans will never fail to recall, there was a revolving stage that supported the movement between settings and scenes, the passing of time and the conflicts at the barricades. Despite this loss, Kinley's designs still offer effective transitions, romantic notions and haunting moments. However, regardless of the appeal, it still doesn't quite replace the wow factor offered by the revolving stage. Perhaps a merging of approaches, the ultimate Mega Miz if you will, could include a combination of projections and a rotating stage. One can dream.
The set impresses consistently with its dingy streets and Parisian high-rises contrasted by the lovely and romantic house front and gate of Valjean and Cosette's home. Kinley explored intriguing vertical heights that keep the transitions between scenes engaging and dynamic, offering visual treats on all planes of the stage. Paule Constable's lighting compliments both the projections and set beautifully, creating an overall cinematic atmosphere that closely resembles the movie-musical version. The music, with original orchestrations by John Cameron and new orchestrations by Christopher Jahnke are, as expected, absolutely captivating.
Directors Laurence Connor & James Powell lead an incredibly talented cast and run a tight ship with a crisp running time of 2 hours and 55 minutes. The transitions between scenes were swifter than in the original, smoothly taking audiences from one scene to the next and keeping the storyline flowing quickly. However, this approach sometimes left little room for reflection and rushed the plot. The cast however makes it work with passionate ensemble numbers and incredible solos.
Among the many star performances, Allison Guinn charms and delights as the hilarious Madame Thénardier. Josh Davis impresses as the righteous Javert, offering an exceptionally rousing rendition of "Stars". Nick Cartell is outstanding as Jean Valjean and elicits an outcry of support from audience members after his deeply moving rendition of "Bring Him Home". This production was met with a well-deserved, enthusiastic standing ovation.
Les Misérables runs at Place Des Arts, 260 boulevard De Maisonneuve Montréal, Québec H2X 1Y9 from February 7th to February 11th.
Tickets can be purchased at:

Creative Team
Producer: Cameron Mackintosh
Book & Original French Text: Alain Boublil
Original French Text: Jean-Marc Natel
Book & Music: Claude-Michel Schönberg
Lyrics: Herbert Kretzmer
Original Orchestrations: John Cameron
New Orchestrations: Christopher Jahnke
Additional Orchestrations: Stephen Metcalfe & Stephen Brooker
Additional Material: James Fenton
Original Adaptation: Trevor Nunn & John Caird
Directors: Laurence Connor & James Powell
Set & Image Designer: Matt Kinley
Costume Designer: Andreane Neofitou & Christine Rowland
Lighting Designer: Paule Constable
Sound Designer: Mick Potter
Musical Staging: Michael Ashcroft
Projection: Fifty-Nine Productions
Maggie Owen is a writer, educator, and performer residing in Montreal, Quebec. Although born in Maine, Maggie spent most of her childhood and adolescence in Europe and Asia, where her passion for t... (read more about this author)