AN ODE TO LIFE Comes to Place des Arts This Month
Performances are January 31, February 1. 2. 3. 4, 2023.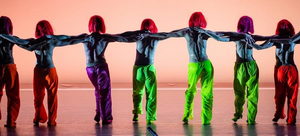 For its 11th visit to Danse Danse, the Marie Chouinard company presents «M», an ode to life and a great gift for the 25th anniversary of the Montreal-based presenter!
Backed by a soundtrack whose raw material is the breath of 12 dancers, the latest opus by a choreographer of boundless inspiration.
In a protean body of work, a vast field of research encompassing, in a single creative impetus, dance, poetry, drawing, photography, cinema, installation art and new technology, throughout her career Marie Chouinard has never stopped listening to the vital pulse of the body.
More than 30 years after Les trous du ciel, her first ensemble work and a key milestone in a remarkable odyssey, Chouinard returns to a choreographic exploration that begins with the breath and the voice.
From micro-movements, from an impulse that stirs the lungs and the bones: the awakening of emotions, the delirious mechanics of being "living men and women" are set in motion.