TAKE3 Comes to the WYO Next Month
The event is on Friday February 10 at 7pm.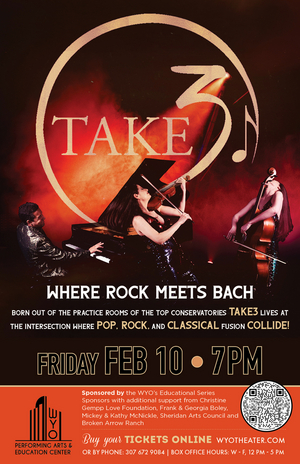 Take3 ignites the WYO stage Friday February 10 at 7pm. With a flair for the wild and unexpected, the genre-defying trio, TAKE3, brings the refinement of a rigorous classical music background and infuses it with rock-star charisma. Trained at the world's top conservatories, TAKE3 has expanded their repertoire from Bach and Beethoven to Bieber and The Beach Boys.
Known for their infectious and down to earth onstage personalities, this threesome leaves their indelible mark on captivated crowds around the country performing their arrangements of top pop hits, Americana, and their signature classical mashups. And their sure to make their mark at the WYO February 10 - don't miss it!
TAKE3 is sponsored by the WYO's Major Season Sponsors: Ron & Kris Butler, Scott Davis & Mary Ludemann, E.C. & Edith Gwillim Memorial Fund, Kim & Mary Kay Love, Mars Charitable Trust, Gary & Susan Miller, Joe F. & Roberta H. Napier Foundation, Ramada Plaza by Wyndham Sheridan Hotel & Convention Center, Sheridan Media, Thickman Family Foundation, The Welch Foundation and Wolf Creek Charitable with additional support from Christine Gempp Love Foundation, Frank & Georgia Boley, Mickey & Kathy McNickle, Sheridan Arts Council and Broken Arrow Ranch.