EVERLY BROTHERS EXPERIENCE Comes to the WYO
Experience The Everly Brothers in a whole new way at the WYO February 17.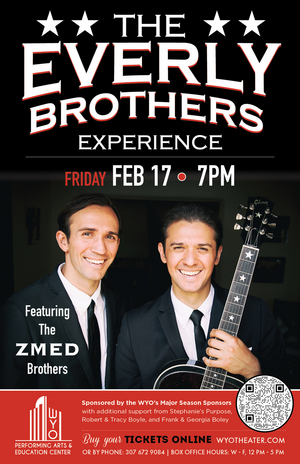 Experience The Everly Brothers at the WYO Friday February 17 at 7pm. Featuring the Zmed Brothers, The Everly Brothers Experience pays rock & roll homage to the pioneers themselves, Don & Phil Everly.
Since 2016, brothers Zachary and Dylan Zmed along with their partner and drummer Burleigh Drummond, have celebrated the pivotal music and history of The Everly Brothers legacy with enthusiastic crowds all across the US and over-seas in prestigious venues. They say, "the music of the 50's and 60's are nostalgic for us, our parents raised us on it, and we feel that the Everly's contribution is greatly overlooked, especially by younger generations. Our aim is not to impersonate but to do our best in honoring the aesthetics of their iconic sound and in honoring the important role they played in pioneering the rock n' roll movement, all while having a little fun sharing our own personal story."
The Everly brothers career lasted over half a century, recording 21 studio albums and selling more than 60 million records world-wide. The Brothers had over 30 billboard top -100 singles and influenced countless legendary artist that came after them.
Experience The Everly Brothers in a whole new way at the WYO February 17!
The Everly Brothers Experience is sponsored by the WYO's Major Season Sponsors: Ron & Kris Butler, Scott Davis & Mary Ludemann, E.C. & Edith Gwillim Memorial Fund, Kim & Mary Kay Love, Mars Charitable Trust, Gary & Susan Miller, Joe F. & Roberta H. Napier Foundation, Ramada Plaza by Wyndham Sheridan Hotel & Convention Center, Sheridan Media, Thickman Family Foundation, The Welch Foundation and Wolf Creek Charitable with additional support from Stephanie's Purpose, Robert & Tracy Boyle and Frank & Georgia Boley.