Farmington Players Presents WAIT UNTIL DARK By Frederick Knott
Theatre lovers get ready for an intriguing psychological thriller with an explosive ending.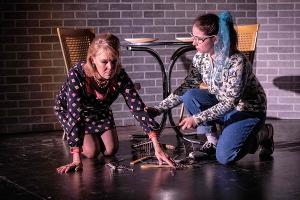 Theatre lovers get ready for an intriguing psychological thriller with an explosive ending. Wait Until Dark runs February 3rd-18th at the Farmington Players Barn in Farmington Hills, Michigan.
The play was first performed on Broadway in 1966. The story focuses on Susie Hendrix, a blind housewife from Greenwich village, who lost her eyesight in a car crash. On a train back to New York, a stranger hides a drug-filled doll in Susie's husband's luggage. Violent criminals later show up at her apartment to retrieve it, terrorizing the sightless Susie as she turns to a young neighbor for help to fight back.
Barbie Weisserman of Farmington Hills plays Susie. She prepared for the role by living out certain scenarios with her eyes closed and by walking with the same type of glasses and white cane used by the blind. "I had an eye-opening experience ... of the vast different world that a blind person lives in," says Weisserman.
While Weisserman understands nobody with sight can truly experience the pressures a blind person copes with all day long, she did get a sample of what it's like, to live in darkness at least for a short time. "I have done my darndest to work without looking, which means needing things in exact particular positions at all times," she says.
Other characters include: Two small-time con men recently released from prison: Mike Talman played by Tim Timmer of Wayne, and Sgt. Carlino, played by Dave Reinke of Novi. As they ransack Susie's apartment looking for the doll, they cross paths with a ruthless Harry Roat Jr. played by Lance Alan of Farmington Hills. He blackmails the crooks into conning Susie to turn over the doll. There's also Susie's photographer husband Sam Hendrix, played by Barn regular Bob Hotchkiss of Bloomfield Hills; and Gloria the lonely girl upstairs (Ellie Haenick of Rochester Hills), who helps Susie with errands and trips her up by moving things around in her apartment. Rounding out the cast are two police officers (Jeff Graham and David Anderson both of Farmington Hills.) They visit the apartment to question Susie and the neighbors.
Weisserman says working with her cast members "who can push you to such emotional extremes is amazing." She adds the magnitude of the emotional gamut Susie encounters is quite an "intriguing challenge."
Wait Until Dark runs February 3rd-18th in Farmington Hills, Michigan. Tickets are available now at www.farmingtonplayers.org or at the box office: (248) 553-2955.
Based on current medium levels of transmission of Covid-19 in Oakland County, and the prevalence of other respiratory illnesses, face masks are recommended, but not currently required at the Farmington Players Barn Theatre. For More information see our Health and Safety Guidelines at farmingtonplayers.org