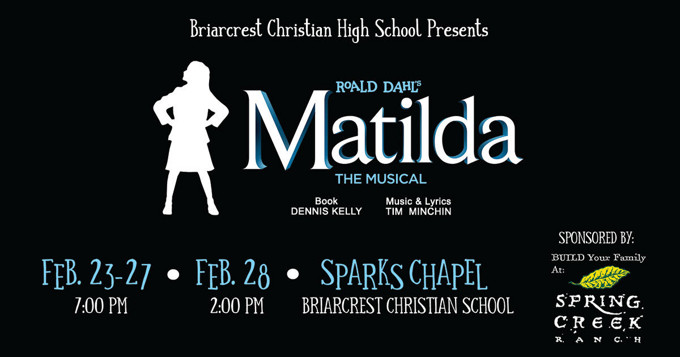 Matilda at Briarcrest Sparks Chapel
Dates

2/23/2021 - 2/28/2021

Theatre


76 S Houston Levee Rd
Eads, 38028
Facebook Instagram

Tickets Info

school age free, adult prices vary
Phone: 901) 765-4600




Updated Performance Schedule because of Snow Days!
Tues, Feb. 23 @ 7pm GOLD
Weds, Feb. 24 @ 7pm GREEN
Thurs, Feb. 25 @ 7pm GOL
Fri, Feb. 26 7pm GREEN
Sat, Feb. 26 @7pm GOLD
Sun, Feb. 27 @2pm GREEN
The link to buy tickets: https://briarcrest.ticketleap.com/matilda-the-musical/dates
If you have an order that includes a free ticket, please contact Brenda Taylor to process that order at 901-751-6421 or bmtaylor@briarcrest.com. Currently purchased tickets are good for any date, just bring them with you.