BWW Review: OTHER PEOPLE'S HAPPINESS at TheatreWorks
Adam Seidel's new play OTHER PEOPLE'S HAPPINESS premiered this weekend at TheatreWorks, and runs through Jan 29. Under the direction of Leah Bray Nichols, this play won the 2015-16 NewWorks@TheWorks Playwriting Competition, and it explores the idea expressed in the title.
The show opens with a mature couple John (Gordon Ginsberg) and Sara (Jeanna Juleson) enjoying a little vacation. After a life of raising kids and pursuing busy careers, it's nice to have a bit of time alone. Together. Maybe they can rekindle some love from a time when they were young and carefree.
Well, John sure wants to, wishing aloud they could re-visit sweet days of yore. Unfortunately, Sara has other ideas. She's indifferent to her husband's entreaties, his memories. In fact, she announces she's taken a boyfriend. Now, for the first time in years, Sara's really enjoying life, she claims, and having the greatest sex. John replies with snarky comebacks, but seems unusually calm, his fishing pole barely moving.
After this nuclear blast, the play unfolds as John and his adult children try to make sense of what Mom has done, what she's has become. But they have their own love struggles. Daughter Fran (Jacquelyn Skoog) is a model of brittle competence running the family business, but she's stuck on a boyfriend who won't return her calls. Their son Joel (StanDrew Parker), a struggling artist, loves a painter who has found commercial success and suddenly finds Joel not so interesting. All these dreams of romance are under siege. Reality is threatening everyone.
Of course, Mom (Sara), whose actions seem so outrageous, might point the way forward. She's taken her own path, broken all the rules, struck out on her own to find happiness. Or is she only a selfish bitch, as her daughter claims, hell bent on destroying the family? Similarly, will the kids figure out a way to untangle their own love knots? Wrangling over these questions is the essence of this play.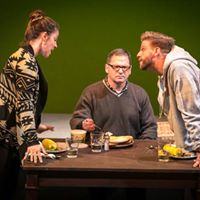 So, OTHER PEOPLE'S HAPPINESS kinda works as a study of sacrifice and happiness, and it's effectively executed on stage in a nice, clean production. But the story left me longing for more risk, more action, more consequences. Mom is the only one who does anything 'wrong', but we don't actually see that. The family members scream and curse, but the real agitators remain off-stage. We never meet Mom's lover, a shirtless Greek poet who smells like fish. What a pity. We're never introduced to Fran's cold, faithless beau; and we never meet Joel's boyfriend, the artiste who is traveling to Paris for his one-man show, without Joel. And when the play tries to reach deeper to some ancient, family transgressions (You were never there for me!), it lacks context and is less convincing. So, my vote would be for more showing, less telling, in this script. Otherwise, the fairly well drawn characters make their points effectively, leaving you with some good, hard questions to consider.
Austin McLellan