Midcoast Youth Theater Presents ANNIE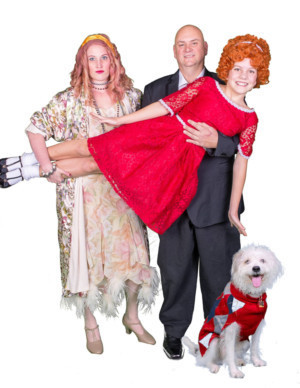 Take one scruffy dog, a cast of 50 adorable children, and many adults with a heaping dose of talent and well-known songs with messages of hope and love and what do you get? You get Midcoast Youth Theater's (MYT) newest production, Annie the Musical!
Set in the 1930s Depression in New York City, you will meet Annie who is a fiery, young orphan girl who dreams of finding her parents one day. The orphanage is run by the tyrannical Miss Hannigan. Annie runs away and rescues a friendly stray dog, but is caught and taken back to the orphanage. Her hopeless situation changes when she is selected to spend the holiday at the residence of a wealthy industrialist, Oliver Warbucks.
She quickly charms the hearts of the staff and even the seemingly cold-hearted Warbucks cannot help but learn to love this wonderful girl. He offers a reward to help find Annie's parents but Miss Hannigan's conniving brother, Rooster, and his girlfriend plan to impersonate Annie's parents to get the reward for themselves. President Roosevelt is on hand to lend a hand and together they discover the plot.
The director, Tammy Holmes, along with musical director, Courtney Babbidge and choreographer Curtis Brothers have put together one ear and eye appealing show that will leave you tapping your feet and humming the shows classic tunes "Maybe", "Tomorrow", "NYC", "Easy Street" and "Never Fully Dressed without a Smile".
Annie, based on the book by Thomas Meehan, with music by Charles Strouse and lyrics by Martin Charnin includes a cast of over 80 members ranging in age from 4-70 from Brunswick, Topsham, Harpswell, Bath, Freeport, Gray, Edgecomb, Gardiner and other surrounding areas. Annie is set to hit the stage at Brunswick High School's Crooker Theater for five performances on Thursday Dec. 13 at 7:00 pm, Friday, Dec. 14 at 7:00 pm, Saturday, Dec. 15 at 2:00 pm and 7:00 pm and Sunday, Dec. 16 at 2:00 pm. Advanced tickets are $12 for adults, $10 for seniors/students and $5 for children under 5 and can be purchased online at www.midcoastyouththeater.org or can be purchased at the door for $15.00 ($5 for children under 5). Don't wait until "tomorrow" to get your tickets! Midcoast Youth Theater thanks its generous show sponsors Midcoast Humane; Water's Edge; and Coastal Maine Pediatric Dentistry!
FMI on Midcoast Youth Theater visit www.midcoastyouththeater.org.
About Midcoast Youth Theater (MYT):
MYT is a non-profit organization providing equal opportunities for all children to perform in full-length musicals, without regard for past experience or financial resources. We produce two multi-age shows (in the spring and fall) and four youth-only shows in the summer divided by age groups. Our mission is to empower youth through a safe, nurturing theater experience, to build life skills with teamwork, creative problem solving, public speaking, risk taking and tolerance, while enhancing self awareness and self esteem.
Photo: Brittany Blakemore (Miss Hannigan), John Rankins (Warbucks), holding Annie (Emerson Harris) and Sandy (Jimmy - owned by the Hertz family and auditioned with seven other dogs to win the role of Sandy).
Related Articles View More Maine

Stories

Shows
More Hot Stories For You