Review: Dance, Dance, DANCE: MSMT's SATURDAY NIGHT FEVER
With the immortal songs of the BeeGees, mesmerizing disco dancing, and a cast of unforgettable characters, the musical version of Saturday Night Fever offers an inherently compelling theatrical experience. Maine State Music Theatre's new production does all that and more: it brings freshness, originality, and strong dramatic narrative to the work, all the while that it envelops the audience in its pulse and passion. This production is white-hot, warm, funny, and genuine.
Based on the legendary 1977 film starring John Travolta, the 1998/99 West End/ Broadway adaptation by Robert Stigwood and Bill Oaks is presented here in the recent North American version written by Sean Cercone and David Abbinanti which includes the original Bee Gees songs along with additional new music by the likes of Abbinati, David Shire and others. The stage version removes many of the darker overtones, much of the sex and violence, and all of the profane language of the film, but it still adheres closely to the architecture and dialogue of the original movie and fleshes out the characters with additional scenes and songs. And when this tightened, enhanced narrative is underscored and overlaid with dazzling dancing, the result is another hit show.
Director/choreographer Mark Martino has an affinity for these boisterous, exuberant big dance shows set to well-loved pop scores - his previous MSMT productions of Mamma Mia! and Grease were knockouts - and he brings to Saturday Night Fever the same lively sense of complex, textured choreography that proves rousing and exhilarating. His dances have scale and composition, kinetic energy, wit, and sheer visceral appeal. Moreover, he has worked hard in this show with its gritty characters and unlikely pair of protagonists to add dramatic intention and believable context to the story, and he and his cast understand the Italian-American, working class context intimately. The big numbers like "Stayin' Alive" and "You Should Be Dancing" proves show stoppers, as does the final mega mix.
Music Director Jason Wetzel (Ben McNaboe, Assistant) conducts the nine-person orchestra with a primal fierceness that goes to the heart of the rhythmic content, just as he is able to shape a sensitive ballad like Annette's "If I Can't Have You" or Stephanie's "What Kind of Fool." Charles S. Kading's sets provide the graffiti covered, bleak gray world of Bay Ridge, dominated by the Brooklyn Bridge as well as the shabby working class interiors and the gaudy glitz of the Odyssey nightclub, and by utilizing a special turntable manage to keep the flow of action smooth. Michael Barnett's lighting design contributes effectively to making the location shifts and mood changes, delivering the memorable shimmer of such moments as the dance contest. Michael Bottari and Ronald Case designed the 1970s costumes, which were coordinated for this production by Ryan Moller (Gerard James Kelly, wigs); they are quirky and sometimes droll but they remain real, never giving way to caricature. Patrick LaChance creates a balanced sound design, artfully moving between the underscored disco music and the musical theatre songs. Mark Johnson (Assistants Amy Bertacini, Laura Scott) efficiently provide the stage management,.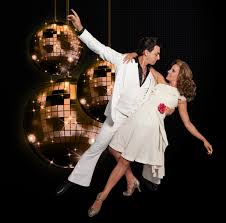 This is a show that requires two very strong leads and quite a few equally strong supporting actors, but then it is also very much an ensemble work. MSMT's production achieves a remarkable sense of cohesiveness where every character is a finely etched individual capable of solo moments and collaborative power. As the central couple, Jacob Tischler and Alexandra Matteo bring charisma, chemistry, and triple threat skills. Both capture completely the dead-end, Brooklyn, Italian-American dialect, mannerisms, and attitudes, and both are exceptional dancers. Tischler's Tony is a rudderless young man, vulnerable, unable to envision a way out, tinged with despair that he hides in his flamboyant behavior and in his passion for dancing. There is something heart-rending in his searching and liberating in his one form of escape- dance. When Tischler lets loose, he tears up the dance floor in what is truly a star turn and belts out a song effectively. A lithe, graceful dancer, Alexandra Matteo underscores Stephanie's posturing airs with equal vulnerability; we know from the start she, too, is seeking something else beyond this world, and when she and Tony make that journey together, the show gains real drama.
In the small but crucial role of Pauline (an addition to the stage version), Christina Carlucci projects the provincialism and helplessness of the girl while making a strong vocal impression her numbers, "Jive Talk" and "Stuck.". Mariah MacFarlane's Annette is beautifully sung and genuinely touching. As Tony's quartet of friends, Anthony J. Gasbarre III (Joey), Casey Shane (Double J), Nic Casula (Gus), and Drew Carr (Bobby C.) put nicely individualized faces on the dead-end lives these young men lead, and Carr's emotional dilemma is wrenching. Tony's family is played by another quartet that speaks to the luxury casting MSMT has brought to this production with Michael Gorman as Frank Sr., Susan Monitz as Flo, Frankie Paparone (as Frank Jr.) and Siobhan Kelly as Linda. Rounding out Tony's Brooklyn circle, Kelly Liz Bolick (Connie) Regan Danel Ogle (Doreen), Carissa Gaughran (Maria), Bria Jene' Williams (Shirley), Dan Bob Higgins (Cesar), and Michael Olaribigbe (Chester) all contribute believable characterizations and electric dancing.
Some of the most iconic musical moments are provided by the strong voiced duo of Michael Buchanan as Monty and Courtney Daniels as Candy, who make the disco scenes on fire. The rest of the ensemble - (Buddy Reeder, Matty Rickard, Michael Peter Deeb, Jake Hartman, Caleb James Grochalski, Michael Olaribigbe, Alec Duffy Talbot, Jessie lawyer, Lauren McDonald, Melaina Corey Rairamo, Elisabeth Christie, and Stevie Ann Mack) shines especially as dancers.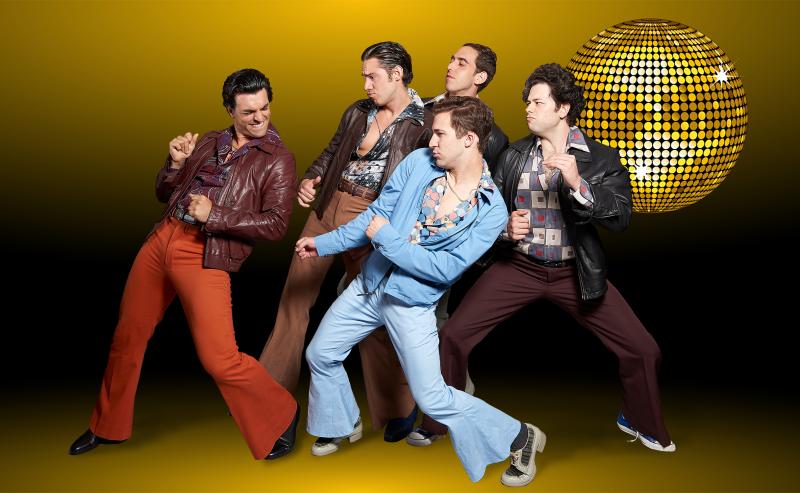 For some, Saturday Night Fever offers an opportunity to revisit a past era, to rekindle nostalgia, to revel in the music and dance of the period. For others, it is the chance to spend time with a cast of colorful characters whose raw, edgy lives are not without aspiration and even, ultimately, hope. And, if these were not enough reasons to celebrate MSMT's fine production, there is another one. This production of Saturday Night Fever, the third in the season's main stage lineup, showcases several of the company's incredible strengths: stylistic versatility, a first-rate creative team and casting from top to bottom of the roster, sophisticated production values, the daring to tackle large scale work and the amazing ability to make this all coalesce into an exciting, energetic live theatre experience.
Photos courtesy of MSMT, photographer, Aaron Flacke
Saturday Night Fever runs at MSMT's Pickard Theater from July 18 - August 4, 2018. www.msmt.org 207-725-8769