Review: Timeless Laughter: Dan Goggin's NUNSENSE Delights in Portland
It is so seemingly simple and yet so irresistibly infectious. The thirty-five year-old show envelops the audience in a haze of nostalgia and a cocoon of laughter that makes for a delicious theatrical evening. And in this delightfully fresh, colorful, exuberant, and touching co-production presented by Maine State Music Theatre and Portland Stage, Dan Goggin's original Nunsense story makes clear why this musical has remained a timeless phenomenon.
Three and a half decades after Goggin first served up this this sweet, silly tale about the Little Sisters of Hoboken at the Cherry Lane Theatre in Greenwich Village, the show proves hard to resist. There is the zaniness to the plot - just crazy and quirky enough to produce rollicking laughter, but retaining that kernel of human truth that makes the connection with the audience. Then, too, there, are the colorful characters - five wacky nuns who, beneath those classic habits, are genuine, down-to-earth women with foibles and dreams. And it is this very humanity and accessibility that makes them so endearing and makes the audience care about their story.
And that story is all the more entertaining because it is told in song and dance. Goggin's songs are catchy and clever, and his lyrics are witty. The music references a wide range of styles from classical to country to soul and musical theatre, as befits each individual character. Performed by the three-person onstage band under the direction of Ed Reichert, who brings his customary virtuosity to the piano, (with Patrick Q. Kelly, keyboard, Michael Caliandro, drums), Nunsense sparkles and sings.
A veteran of numerous stagings, Teri Gibson directs/choreographs the production with a sure hand, an ample supply of tongue-in-cheek humor and sure-fire pacing. She draws highly individualized performances from each of the five cast members, who take turns having their moments to engage the audience.
Anita Stewart encases the production in a set evocative of the institutional interior of a school gymnasium/auditorium of 1980s vintage - painted dull green with relatively bare walls, a plain proscenium stage, and polished wooden floors dominated by three upstage crucifixes and amplified by vintage props such as the lunch counter from older Nunsense productions. Gregg Carville reinforces the familiar feeling this décor conjures up with his clean, crisp lighting, while Devon Medeiros creates a nicely balanced sound design. Stage Manager Shane Van Vliet (Assistant Stage Manager Andrew Hesselbart) keeps the action running smoothly.
The acting ensemble has strong connections to the material, having played these characters in Nunsense 1 or some of its sequels. Mary Stout portrays an endearing Mother Superior - feisty, stern on the surface, but motherly and warm within. Her scene where she gets high is hilariously played, and she commands the stage in "Turn Up the Spotlight." Tamara Anderson makes an imposing Sister Mary Hubert, the mistress of novices, who has a biting sense of irony that serves to keep her explosive joie de vivre in check. She leads the sisters with soulful gusto in both act finales, "Tackle That Temptation with a Time-Step" and "Holier Than Thou." Kimberly Chesser gives Sister Robert Anne the right combination of Brooklyn street-wise, as well as vulnerability and silliness as she reveals her unrequited dreams of becoming a star of the stage in her let-loose number, "I Just Want to be a Star." Krista Kurtzberg's Sister Mary Leo, the nun who aspires to be a ballerina, brings down the house dancing her parody of Dying Swanballet in toe shoes, winged wimple, and hiked up habit. Jeanne Tinker owns the role of Sister Mary Amnesia, having played it all over the country, and she brings to Portland her gentle, confused, timid sister who is battling a memory loss with such touching openness and fluttering mannerisms as to immediately win the hearts of the audience. Her vocal range is impressive with both operatic and Nashville turns. Her "So You Want to be a Nun" is one of those genuine introspective moments in this frothy tale that grips the heart. n when she unleashes her country singer fantasy in " I Could Have Gone to Nashville," she brings down the house and her transformation that follows proves the joyful catalyst to concluding the plot.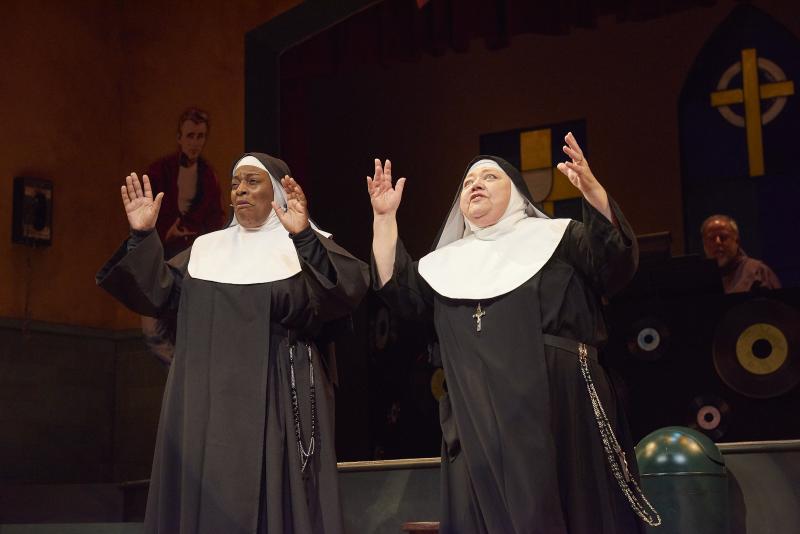 Dan Goggin makes a brief but welcome appearance in the opening number and has graciously remained with the production throughout rehearsal and the run, serving as production supervisor and artist-in-residence with audience talkbacks. His presence and that of this closely-knit troupe is no small part of the overall success of the show, as are also the unerring musical theatre expertise supplied by MSMT and the excellent production values of Portland Stage.
Nunsense marks the third co-production between these two Maine companies, and what promises to be a successful run - (it has twice been extended now to September 9) - will hopefully spur MSMT and Portland Stage to continue this collaboration into the future. Like The Irish and How They Got That Wayand The All Night Strut before, these shows offer an opportunity to experience musical theatre in a different, more intimate setting, to reach new audiences in both communities, and to fulfill one of the primary missions of live theatre: to entertain and to touch the heart.
Photographs courtesy of MSMT & Portland Stage, Aaron Flacke, photographer
MSMT 's and Portland Stage's co-production of Dan Goggin's Nunsense runs from August 14 - September 9, 2018 at Portland Stage, 25 Forest Ave., Portland, ME www.portlandstage.org207-774-0465