BWW Review: The Taffetas Sing the Soundtrack of a Sweeter, Kinder Time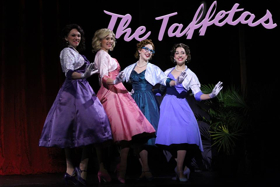 One of the many missions of theatre is to entertain, to provide a fantasy escape from the often harsh realities of our contemporary world, and given the horrifying headlines of late, the delightful confection that is The Taffetas offers a welcome retreat into nostalgia for an era that was - at least as we remember it - surely sweeter, simpler, gentler. Rick Lewis' revue imagines a quartet of winsome, homespun singing sisters from Muncie, Indiana, who take the audience on a musical journey through the "fabulous fifties" at the same time that they offer a glimpse into the lives and dreams of four young women of the era. The result is a polished, stylish, tongue-in-cheek romp that leaves the audience joyful, amused, and more than a little envious of a time gone by.
Using the conceit of a television show that serves as a talent try out for Ed Sullivan, the girls perform well-known songs and medleys of the decade, grouped thematically and arranged in tight four-part harmonies or sung as solos and duets solo with backup. The arrangements by Rick Lewis are skillfully woven together, sometimes using a lyric to connect cleverly from one song to another or at others making an uncanny harmonic bridge - both of which create juxtapositions that are as fascinating as the fluid transitions.
The lineup contains hits like "Sh-Boom" "Mr. Sandman," "Mockin' Bird Hill," "You Belong to Me," "Where the Boys Are," and the programming allows for contrasting moods and diverse styles from doo-wop to catchy dance rhythms to tender ballads and upbeat whimsy. Medleys are cleverly constructed with the sequences on travel - "You Belong to Me," "Around the World in 80n Days," "I Love to Go a Wandering," and "Volare") - or heartbreak - ("I'm Sorry, "Ricochet," "Cry," "Smile.") The musical numbers are punctuated by spoofs of 50s advertising and by an amusing sequence where the girls answer fan letters on the air - all of which lends some framework to the piece and reminds us what early television was like.
Directed and choreographed lovingly and mischeviously by Raymond Marc Dumont, the revue moves seamlessly and gracefully from song to song, each of which Dumont gives a credible human context and fleshes out with simple, but fluid choreography that adds a sparkle and charm to the piece. What he does best is to give The Taffetas a cohesive context and a sense of backstory in the relationships. We believe these four girls are individual personalities - sisters with their camaraderie and closeness, their rivalries, their idiosyncrasies, and their essential bond.
The four stars of the show - Natalie Bellamy as Kaye, Rebecca René Kelley as Peggy, Tracy Sokat as Cheryl, and Sara Sargent as Donna - are all company interns this summer. They have youth, beauty, innocence, charm, ebullience, and wit, and while coalescing as a perfect ensemble, also they each bring strong talents to bear on their vocal and dance interpretations. Bellamy handles the belted songs with a presence that demands attention. Sargent 's large, darker timbre helps her achieve a seductive earthiness in many of her numbers. Sokat sings with a lovely, pure lyric soprano that glistens with youthful innocence, and she melts the heart in a ballad like "The Three Bells," while Kelly not only vocalizes with lyric elegance, but she proves herself a fine stylist with keen attention to lyrics and context.
The three on stage musicians - Mark Fredericks on percussion, John Lawson on bass, and Music Director Evan Cuddy -(Curtis Reynolds, Assistant Music Director) on keyboards - play the score with idiomatic ease, immersing the audience in the melodic and harmonic language of the time.
The physical production is also apt and attractive, especially given that because it is a Monday night concert and a traveling work, it is, of necessity, performed within the confines of the current main stage show, Newsies. That said, the technical crew - also interns - have used drops and props (Morgan Ochs) to completely hide the Newsies set and create the ambiance of a television recording studio. Parker Damm's lighting design contributes to evoking the glow of the cameras and lights and the shimmer of these aspiring young performers, while Sound Designer Nate Dickson's blend of stand mikes and head mikes creates a perfectly balance. Maggie Drake's wigs complement local costume designer, Jonna Klaiber's outfits for he girls: four colorful, cronolined, taffeta swing dresses that move with the music and suggest the "femininity" so prized in its day. And Stage Manager Christina Woolard keeps the pace tight and the tech and performances on track.
Each year, MSMT's interns create from scratch their own production, but this year, they will have built two such projects - The Taffetas and the upcoming Theatre for Young Audience's Alice in Wonderland. That they are able to do so with such professionalism is a tribute not only to their significant talents but also to the rigorous training they receive at MSMT. This production of The Taffetas would be an exhilarating evening in the theatre no matter the credits, but knowing it is the work of dedicated young artists who are passionate about what they do, makes the success all the more delicious. Then, too, MSMT's Artistic leadership is to be congratulated for the incremental way it has grown this concert series in the last five years, taking it from a handful of unrelated single events to a stand alone subscription series (beginning next year) that is as fully staged as the main stage constraints will allow, thematically and musically, related to the main stage season, and governed by the same uncompromising standards of excellence that MSMT sets in all its work.
That this production of The Taffetas has had a life beyond these two performances at the Pickard - a series of community performances throughout the area - is a further testament to the positive and embracing outreach of this remarkable company.
Photographs courtesy MSMT
The Taffetas runs August 14 for two performances at MSMT's Pickard Theatre, 1 Bath Rd., Brunswick, ME, and will also be performed at the Franco-American Center in Lewiston on August 25, in free concerts on the Brunswick Mall on August 23 and at the Harpswell Bandshell on August 22. For more information, contact MSMT at 207-725-8769 or www.msmt.org