BWW Review: MURDER FOR TWO Delights With Hilarity at Theater At Monmouth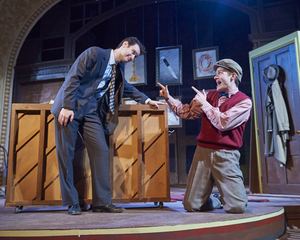 The Theater at Monmouth is spicing up its 50th anniversary season with Joe Kinosian and Kellen Blair's wacky whodunnit, Murder for Two. The musical murder mystery is an outrageously funny ode to both the mystery and comedy genres. Under the direction of Adam P. Blais, Monmouth's rendition is an unpredictable laugh fest that keeps the audience guessing and the cast hopping.
Murder for Two draws inspiration from mystery writers like Agatha Christie and comic greats like the Marx Brothers. As an added touch, set designer Daniel Bilodeau gives a nod to the mystery board game "Clue." The intriguing set features oversized renderings of the weapons cards from the board game, playfully suspended above the stage.
The musical has a deceptively simple plot that requires a complex execution. When legendary American novelist Arthur Whitney is murdered on the eve of his surprise birthday party, beat cop Marcus Moscowicz seizes the opportunity to investigate the murder and realize his dream of becoming a detective. All he has to do is discover who the murderer is before the real detective shows up to take over.
As the double-edged title suggests, it's a two-man show. Quinn Corcoran stars as Marcus and Robbie Harrison co-stars as everyone else. Both actors remain onstage for almost the entire 90-minute marathon performance. They act, sing, dance and play piano, and they do so without breaking a sweat.
Harrison is a marvel to watch perform as he takes on the personalities of 10 different characters. He's an actor with a multiple personality disorder as he flips back and forth between them, adopting unique mannerisms, voices, character traits and props for each one. His characters include the murder victim's wife, a prima ballerina, a psychiatrist, three half-pint boys from a boys' choir and a married couple. The audience roared with laughter at the matinee Saturday when a fight broke out between the married couple that culminated with Harrison pretending to make out with himself. The fast-paced exchange between the polar-opposite husband and wife highlighted Harrison's delightfully manic delivery.
Corcoran isn't 10 characters, but his single characters has more than enough issues of his own. Marcus has notoriously bad taste in women, for starters, and an invisible partner to boot. Seeing him interact with his partner, a hat and coat, was a source of amusement for the audience Saturday. Corcoran's comic style is subtler than Harrison's, but still highly effective, and his boyish portrayal is cleverly disarming.
Both actors are clearly talented piano players and vocalists, and both get to showcase their talents throughout the musical. They frequently play the piano together and effortlessly trade places. Harrison has the added challenge of singing as multiple characters, including one delusional character who thinks she sings with perfect pitch.
Murder for Two is stacked with funny lines and over-the-top comic situations that get the laughter flowing and keep it coming. In the hands of the Theater at Monmouth's cast, the ridiculous is sublime and so much fun. There are also plenty of twists and turns in this madhouse detective story to keep the audience wondering until the very end.
All photographs by Aaron Flacke.
Murder for Two runs at the Theater at Monmouth, 796 Main St., Monmouth, until August 16th. www.theateratmonmouth.org, 207-933-9999
Related Articles View More Maine

Stories

Shows