BWW Interview: Megan Lione is Enlightened by RAGTIME at Ogunquit Playhouse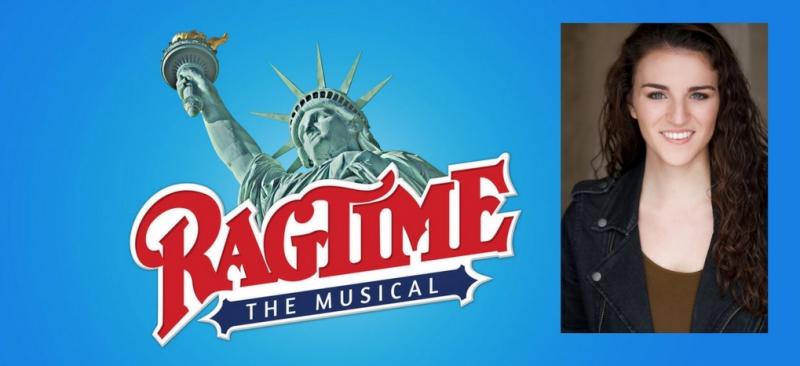 Stephen Flaherty's catchy and powerful melodies and Lynn Ahren's poignant lyrics "It was the music of something beginning, an era exploding, a century spinning. In riches and rags, and in rhythm and rhyme. The people called it Ragtime." can be heard at Maine's very own Ogunquit Playhouse running now until August 26th.
I was lucky enough to sit down and chat with ensemble member Megan Lione to talk about how the story of Ragtime is more important than ever, as it is a piece of theatre that discusses diversity, inclusion, and love. Lione says "The cast is incredible, all ages and backgrounds. It's really amazing."
Tell us a little bit about where you're from and where you went to school.
I grew up on Long Island, and then I went to Wagner College where I got my BA in Theatre Performance, I had some really wonderful opportunities there. I've been singing since I was seven, it's one of those things that I've always done, I can't even remember when it started. [Laughs] Earlier this year I auditioned for Anthony Daniel, who's the casting director for The Ogunquit Playhouse early in the season, and then I saw he was looking for more actors so I went in and auditioned for him again, but this time with Seth (who's the director of Ragtime). A couple weeks later I got an email saying they were interested, which was incredible.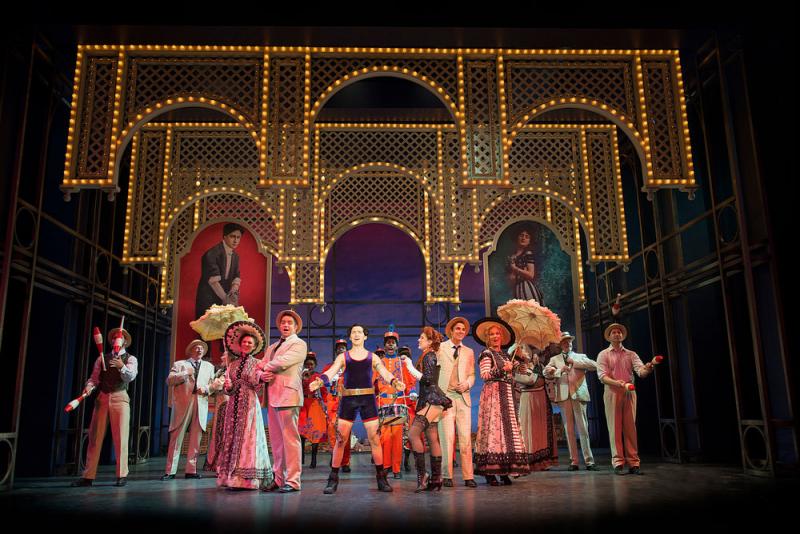 Lione front left with the parasol
What role do you play in Ogunquit's "RAGTIME"?
I'm in the ensemble, so I play an Immigrant, a New Rochellian, I cover almost all of the white tracks in the ensemble. We have 34 people in the cast, which is huge for regional theatre. It's the largest cast Ogunquit has ever had, to my knowledge. So there's the Harlem ensemble and everyone who's white plays the Immigrant and New Rochelle ensemble because already having 34 actors is huge. That being said, I don't think the sound of the show suffers in anyway.
How was the rehearsal process?
It was awesome. We rehearsed two weeks at the New 42nd Street Studios, did the full 10am-6pm days. The show came together very quickly. We were able to get one run of the show done in New York before traveling to Ogunquit. It was a lot of exploring the space because when they were staging it, the creative team didn't want to copy the original; with putting us in clumps at the prologue. There was a great collaboration during the process that created this beautiful staging. If you've ever seen the original Tony Awards performance, you know how they have the clumps in the prologue pinwheel? They recreated that moment, but we're not in clumps, we're in line/triangle formations, but everybody's mixed together. They explained to us that it was staged that way because America was this melting pot, yes everybody was divided, but the division actually showed more when we were all mixed together. Isn't that relevant to today? Everyone's always together; when they're on the subway, walking down the street, but the division shows more in those circumstances because of people's body language and how they live in the world. So the creative team really worked on highlighting that, which I think works really well, it enhances the tension for each individual. And then at the end, we stand in our 'groups' and have that iconic moment.
What's your favorite part of the show?
The opening is glorious, it is by far one of my most favorite Musical Theatre numbers of all time. It's so poignant in America culture that existed in 1902 to American culture in 2017 and that's what makes telling this story every night the best experience possible. That number feels so important every night. I also really love "Atlantic City" just because it's a number where you can be larger than life, as we're recreating a silent film set during the turn of the century. But also on a darker level, "Till We Reach That Day' has always had this energy I can't describe. As news comes out today, the show becomes more and more pinnacle in regards to the story we're telling in Ogunquit, Maine. Audiences are receiving it really well. I see people in the audience, how engaged they are; leaning in their seats, reacting, and clapping before we even finish the number. I look around to the people on stage and think about how they relate to what we're singing differently than I do, how the people of color experience differently than I. One of the cast members said something along the lines of "When I sing this number I think about how that could be me in that coffin, that could be my boyfriend, my brother, my friend." because that's what's happening right now. And to sing that song with that kind of experience running through your head, I can only imagine how that feels like.
I'm happy to hear it's being received well because even if it makes the audience uncomfortable, I feel that's successful because then they can explore why they are feeling such a way.
I couldn't agree more. We've had those experiences, and I'm sure every production of this show has, with certain lines whether they get laughs or not. You can hear the audience and figure out whether they are laughing because they think it's funny or whether they're laughing because they're uncomfortable. But sometimes you can't tell and that's affecting to everyone on stage and backstage. Grandfather says this line "Know any coon songs?" and every single night it's gotten a laugh, you can hear the tones and mostly the laugh is "Oh my god, did he just say that?" There have been instances where people are cackling, which is a little unsettling, but that just lets us know our job is that more significant.
With our country's current political and ethical climate, what do you think is most relevant to 2017 in the story of Ragtime?
There's a scene between Father and Younger Brother, where Father confronts him and says something along the lines of "Nothing could excuse the destruction of property and loss of a life." He's basically telling Younger Brother that there's no excuse for Coalhouse to have taken someone's property and taken somebody's life, and Younger Brother says something like "I didn't hear you say such a eulogy at Sarah's funeral". That little scene, to me, is the entire point of the show. People are so blind to acknowledge that at the end of the day everybody wants the same thing: peace, love, and safety, but people live in such fear because they carry around hatred thinking that is going to get them to their goal, and I think that's what the problem is. If Father had just seen why Coalhouse is acting the way he's acting: someone had destroyed his property and because of that took a life of someone he loved, he might've acted differently towards him. Essentially now Coalhouse is doing the same thing but now he's full of hatred because the people who were full of hatred affected him.
The hatred spreads.
Exactly. Earlier in the show, Coalhouse and Sarah are singing "Wheels Of A Dream" speaking on how they're excited to share the love of America and share the freedom with their son. When his car gets destroyed his dream is crushed right then. What Seth (our director) and Jesse (our choreographer) did was tell the story as Lynn [Ahrens] and Stephen [Flaherty] wrote it but then staged it so they could stay true to the book. "Ragtime" by E. L. Doctorow. There's a part in the novel where Evelyn Nesbit and Emma Goldman had a relationship, so they staged certain moments that pay tribute to the original source material.
You spoke earlier about the audience response to this show, what do you think the audience will take away after a performance?
What we would all hope for, as a cast, is hope for people to feel as if they saw life through another lens. This musical only scratches the surface of 'the immigrant experience' and 'the black experience'. Primarily our audiences are almost all white, I rarely look out into the audience and see someone of color, and I just hope they leave making them more aware. If we can leave the theater every night knowing that a couple of hundred people got to learn something and go home continuing to think about what they just saw at the theater, then we've done our jobs. That means if they hold the door open for somebody or say hello to somebody they don't know. That starts the butterfly effect.
Is there a moment in the show that demonstrates shifts between characters' point of views towards others?
The scene at the end when Coalhouse and Father have this conversation really moved me. Even Father who might be the most ignorant, privileged person in the whole show comes to, and says "Your son's a fine boy." He realizes that they aren't as different as he had once thought; they both have sons and they both are trying to be good people. I wish for the audience to think that 'If Father can look at Coalhouse in the eye and want the best for him then I can do that too.'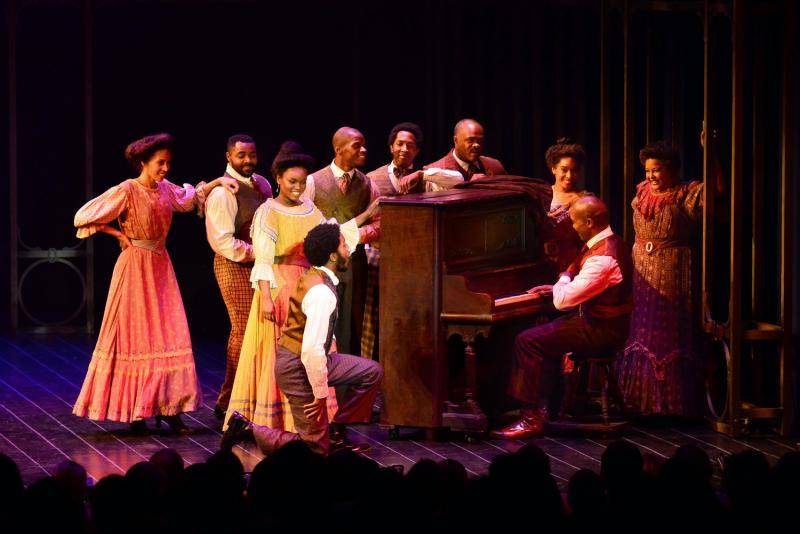 I think that's something that makes theatre and art very special. We hope to make a positive change with what we do and what we love to do.
Yeah, I hope that the people who see our show or other people around the country that are performing it, as it's happening a lot regionally, think 'Does art imitate life?' or 'Does life imitate art?' I hope our show makes people want to know more, like I said it scratches the surface. There is so much more we can learn, as we've been seeing; history is repeating itself and I'm not sure we can make it completely stop, but we can make it better. I consider myself to be very educated and eager to learn, but this experience opened my eyes even further. It's about being not afraid to talk to each other and seeing one another for the human beings that we are, that's what this musical teaches.
It's so important to shed light on others experiences and I think the show is so beautifully written, it's one of the shows that taught me the power of theatre.
I just want everyone to see this show, it's life-changing to be a part of it. It's great. [Laughs] Something I was also thinking while performing it was that you don't ever feel that one group, whether it's the New Rochelle ensemble or the Harlem ensemble or the Immigrant ensemble is better than the other, they're all struggling. Even Mother is not happy in her relationship, it's a feminist show, a race show, it's a class show, it's just so good.
---
Individual tickets are on sale and prices start at $52 each. Get your tickets HERE or by calling the Ogunquit Playhouse Box Office at 207-646-5511.
Ragtime is Directed by Seth Sklar-Heyn, Music Directed by Jeffrey Campos, Choreographed by Jesse Robb, Scenic and Projection Design by Timothy Mackabee, Costume Coordination by Molly Walz, Wig/Hair & Makeup Design by April Spain, Lighting Design by Richard Latta, Sound Design by Kevin Heard , and Fight Direction by Joe Bostick. Casting by Anthony C Daniel.
Photos courtesy Ogunquit Playhouse, Gary Ng, photographer
Be sure to follow Megan on her Website.
Related Articles View More Maine

Stories

Shows