The Kentucky Center And KB Productions Present WHOSE LIVE ANYWAY?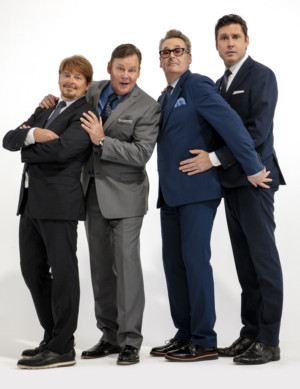 The Kentucky Center presents Whose Live Anyway? Thursday, April 4, 2019 at 8 p.m. at the Brown Theatre, 315 W. Broadway.
Tickets start at $35. Kentucky Center members can call the member hotline at (502) 566-5144. Standard tickets are available at www.kentuckycenter.org/presents, by phone (502) 584-7777, (800) 775-7777, and in-person at The Kentucky Center box office and drive-thru. Please call (502) 566-5111 for information about the range of accessibility options we offer to enhance your performance experience.
Whose Live Anyway? is a 90-minute show presenting improvised comedy and song all based on audience suggestions.
The show features Greg Proops, Jeff B. Davis and Joel Murray, current cast members of the Emmy-nominated TV show "Whose Line Is It Anyway?" along with special guest Dave Foley.
The performance showcases some of the improv games made famous on the long-running TV show as well as some exciting new ones, featuring musical direction by Bob Derkach.
More Hot Stories For You