Click Here to Visit the College Center

Blogs are the opinions of the authors and do not necessarily reflect the opinions of BroadwayWorld. BroadwayWorld believes in providing a platform for open and constructive conversation.

Student Blog: College Admissions Tips and Tricks
Tips and Tricks from my Personal Experience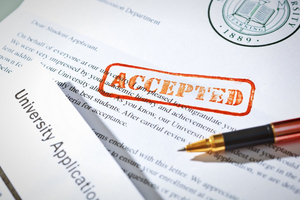 Hello again Broadway World!
For those of you who are high school seniors, college students ready to transfer to a four-year university, or college students ready to apply for a master's program, you have come to the right place. It is that time of the year... COLLEGE APPLICATIONS! Applying for college can be a stressful time. I am currently applying for my master's program and have learned so much from this experience. Here are some tips and tricks from my past and current experiences.
For all of you high school seniors or juniors that want an early start, college applications can make you feel like a fish jumping from a small pond into an ocean. The biggest mistake I made when applying to college was applying to only one school. I was lucky enough to get accepted into that school, but it would have been smarter to have two or three back-up schools. If you haven't picked a school that you love, you can start by choosing your major. What is it you want to study? From there you can search schools that have the program you want.
I am applying for my master's in library science. There are very few colleges that offer this program in California and even fewer schools that have a highly ranked program, so my choice is an easy one! One of the most important parts of applying to college is knowing the application deadlines. While most schools have similar deadlines, it is important to know the deadline for the schools you will apply to and don't procrastinate on completing and submitting the application. Another option is to apply to two-year colleges. Two-year colleges offer a cheaper way to get a degree and are a great introduction to university life. Two-year colleges also give you the chance to explore different programs if you are not positive about what you want to study. Most two-years schools also have easy transfer programs to help students find the right four-year university for them. If you are ready to transfer to a four-year, talk to your advisors to see the options available to you.
For all the college students ready to apply for your master's degree or your PhD, most of my advice would be the same. Find your program and the university you want to attend, and don't procrastinate on completing and submitting the application. Depending on the school you apply to, you will need two to three letters of recommendation. Most schools require the letters be from a prior teacher or school faculty worker, or from a coworker at your level or higher up. When asking someone for a letter of recommendation, make sure it is someone who knows you well and will give their honest opinions about you. You will need to write a purpose statement or personal statement about yourself. The school may have a prompt for you to write about that usually talks about how the specific program and school will help you and how you will contribute as a student. I believe honesty is the best policy. I can imagine how boring it would be to read hundreds of statements about how the writer will be the perfect student. Whatever the purpose/personal statement might be, be yourself when writing it!
If you haven't already started your application or looked into colleges, start now. It never hurts to be over prepared and you don't want to miss out on what could be the best experience of your life. I hated college at first, but I ended up meeting the people that are now my best friends and they have helped me in more ways than they will ever know. Good luck to everyone searching for the right school and to everyone currently applying and waiting for their acceptance letters. We got this!