Photos: First Look at Arthur Miller's ALL MY SONS at A Noise Within
A Noise Within (ANW), the acclaimed classical repertory theatre company, presents Arthur Miller's classic ALL MY SONS, as part of the 2015-2016 BREAKING AND ENTERING season, directed by Geoff Elliott, playing now through November 21, 2015 (opens on October 17). Miller was born on October 17, 1915 (this production opens on the actual day and date of the centennial of Miller's birth). BroadwayWorld has a first look at the cast onstage below!
It's 1946 in the backyard of the Keller home.
Joe Keller
's son Chris wants to marry Ann Deever, their former next-door neighbor and the daughter of the disgraced Steve Deever, Joe's former business partner. Ann has severed ties with her father, and was previously involved with the Keller's older son Larry, who became a fighter in World War II, still missing in action. Larry and Chris' mother Kate believes that Larry is still alive. Ann's brother George accompanies Ann to confront the Kellers, after he visits his father in prison. George believes that
Joe Keller
is equally responsible for the deaths of airmen whose planes crashed because of defective parts that Keller's company manufactured during the war. The cast includes
Geoff Elliott
* as
Joe Keller
,
Deborah Strang
* as
Kate Keller
, Rafael Goldstein* as Chris Keller, Maegan McConnell* as Ann Deever,
Aaron Blake
ly* as
George Dee
ver, Jeremy Rabb*as
Jim Bay
liss, June Carryol* as Sue Bayliss, E. K. Dagenfield as Frank Lubey, Natalie Reiko as Lydia Lubey and Vega Pierce-English as Bert. * Denotes member of Actor's Equity. Single ticket prices for ALL MY SONS start at $44.00. Contact the A Noise Within box office in person, via phone at 626-356-3100, or online at
www.ANoiseWithin.org
for updated pricing and seat availability. A Noise Within is located on the corner of Foothill Boulevard and Sierra Madre Villa Avenue at 3352 East Foothill Blvd., Pasadena, CA 91107.
Photo Credit: Craig Schwartz

Geoff Elliott as Joe Keller with Deborah Strang as Kate Keller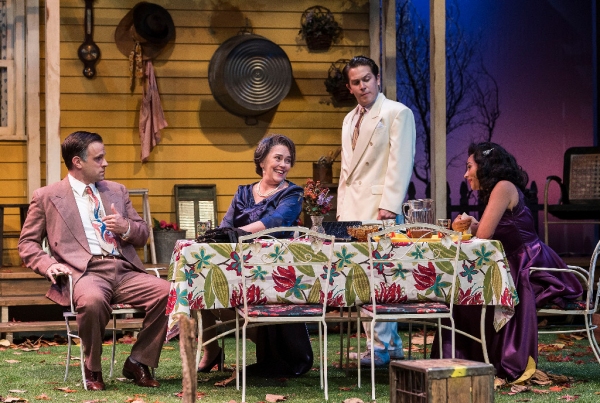 Aaron Blakely as George Deever, Deborah Strang as Kate Keller, Rafael Goldstein as Chris Keller, and Maegan McConnell as Ann Deever