Review: LEGALLY BLONDE at Argyle Theatre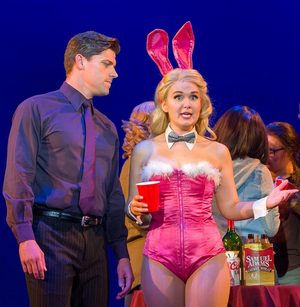 Oh my God you guys! Elle Woods is holding court at the Argyle Theatre in Babylon and the jury finds her absolutely adorable! Star Kirby Lunn leads an excellent acting troop with stellar voices in the stage adaptation of the hit movie "Legally Blonde" now playing through August 25.
If you have cable television, you are quite familiar with Elle Woods since they show the 2001 blockbuster movie over and over again. She's a recent college graduate who chases her dreamboat to law school and discovers some important life lessons along the way. Just like when Dorothy arrived over the rainbow, Elle made new lifelong friends and wicked enemies along her collegiate journey at Harvard Law and in the end, she managed to take down the villain and prove to the world and most importantly to herself, she had what it took all along.
Ms. Lunn, who returns to the Argyle after a smashing debut as Amber Von Tussle in "Hairspray," expertly portrays our lead and pink princess Elle. Singing, dancing, and winning our hearts, Ms. Lunn never leaves the stage and triumphantly delivers another delightful performance.
Jordan Litz makes an excellent Warner, the boy who didn't believe in Elle and broke her heart. Instead, he traded her in for the sweet and sour Vivienne, played by the great Marie Eife. Vivienne starts out as a Negative Nelly but eventually grows on all of us. Mollie Downes is terrific as Brooke Wyndham, the gal behind bars for killing her husband and her jump roping skills will impress.
Alas, Emmett the teaching assistant and hero comes to the rescue and the youthful Tyler Miclean saves the day and falls in love. Mr. Miclean is in fine voice and seems charming. Other fantastic key players include Kate Zulauf as Margot, Michelle Foard as Serena, Courtney Fekete as Pilar, and Harley Barton who is a hoot as Enid.
We are thankful and grateful that Broadway star David Engel is spending his summer on Long Island playing the sticky Professor Callahan. With his big Broadway resume behind him, he graces the Argyle stage with professionalism and dignity. Just when you think there's enough talent to bring down the house, in walks the next big star Jill Taylor Anthony as Paulette. With her manicure kit and powerful voice, Ms. Anthony commands the salon and lures us in with her musical madness. Mr. Engel, make sure you bring Ms. Anthony back to Broadway with you!
An energetic ensemble never gives up and effortlessly wisps us from the sorority house to the courthouse. Notable mention to triple threats Bryce Colby Vaesworn and Tyler Dema, two hard working ensemble members who keep the laughs coming even in the eleventh hour. Keyboardist Jonathan Brenner conducts a swell group of musicians who proudly musicalize Elle and her university chums.
"Legally Blonde The Musical" is yet another movie turned Broadway musical that filled a theater on the Great White Way. Numerous productions are constantly popping up and the familiar tale of "The Blonde Girl That Could" proves timeless. Some of us wish we could go back in time to our college lives even for a few hours and director/choreographer Antoinette DiPietropolo did a fine job making that possible.
--------------------------------------------------------
Starring: Jill Taylor Anthony, Harley Barton, Caesar, J. Ryan Carroll, Emily Chester, Tyler Dema, Mollie Downes, Marie Eife, David Engel, Jamie Farish, Courtney Fekete, Michelle Foard, Cassidy Ingram, Jordan Litz, Kirby Lunn, Tyler Miclean, Ashley Gale Munzek, Jennifer Oehlwein, Kwasi Perry, Michelle Rubino, Conor Stepnowski, Stitch, Bryce Colby Vaewsorn, and Kate Zulauf.
Music and Lyrics by Laurence O'Keefe and Nell Benjamin, Book by Heather Hach, Artistic Director Evan Pappas, Set Design Front Row Theatrical, Lighting Design Travis McHale, Costume Design Travis Chinick, Sound Design Carlos Dias, Jr. Wig Design Kurt Alger, Associate Choreographer Ashley Gale Munzek, Associate Director Ashley Puckett Gonzales, Musical Director Jonathan Brenner, Casting Director Michael Cassara, CSA Musical Director Jonathan Brenner, Production Stage Manager Kellie McMenemon and Directed and Choreographed by Antoinette DiPietropolo.
For more information and tickets please visit: www.argyletheatre.com or call: 844-631-5483.