Country Music Legend Vince Gill To Join Irsay Band For Free Vegas Show
Public invited to free March 4 exhibition & concert with Rock Hall Members Billy Gibbons, Stephen Stills & Ann Wilson.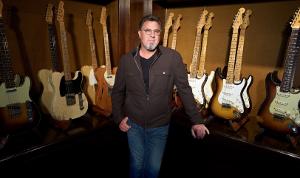 Country Music Hall of Famer and 22-time Grammy winner Vince Gill will join Indianapolis Colts Owner & CEO Jim Irsay and his all-star band for a free, one-night-only performance in Las Vegas celebrating The Jim Irsay Collection, his traveling museum of iconic artifacts from rock music, American history and pop culture.
The March 4 event will feature a free concert by The Jim Irsay Band, led by Irsay on vocals. The band will be joined by Gill, as well as Rock & Roll Hall of Famers Billy Gibbons (ZZ Top), Stephen Stills (Crosby, Stills & Nash; Buffalo Springfield) and Ann Wilson (Heart). The evening also will include a special tribute to the late David Crosby, legendary member of Crosby, Stills & Nash and The Byrds, who recently passed away.
One of the most popular artists in modern country music, Gill is famous for his top-notch songwriting, world-class guitar playing and warm, soaring tenor, all wrapped up in a quick and easy wit. Gill achieved his big breakthrough in 1990 with "When I Call Your Name," which won both the Country Music Association's (CMA) Single and Song of the Year awards as well as a Grammy for Best Country Vocal Performance, Male.
Since then, Gill has won 17 additional CMA Awards, 22 Grammy Awards, and eight Academy of Country Music Awards. In 1991, Gill was invited to become a member of The Grand Ole Opry, and in 2007 was inducted into the Country Music Hall of Fame. In 2012 he was honored with a star on the Hollywood Walk of Fame. A gifted songwriter, Gill's compositions earned him entry into the Nashville Songwriters Hall of Fame in 2005 and was awarded the prestigious BMI Icon award in 2014.
Throughout his career he has released 20 albums, sold over 30 million albums, and charted 45 singles. Always considering himself a musician above all else, Gill has over the years been a part of some iconic bands including Pure Prairie League, The Notorious Cherry Bombs, and The Time Jumpers. In 2022, Gill was inducted into the Musician's Hall of Fame. In 2017 Vince was asked to join the Eagles on the road and continues to be a part of that historic band's tour.
Saturday, March 4
6-11 p.m.
Downtown Las Vegas Event Center, 200 S. 3rd St.
· This event is free and open to the public, but tickets are required.
· To reserve a ticket, visit jimirsaycollection.com or Eventbrite.
· Tickets are free, but guests may choose to donate to Kicking The Stigma, the Irsay family initiative to raise awareness about mental health, when they register.
· Capacity is limited and tickets will be distributed on a first-come, first-served basis.
Other members of The Jim Irsay Band include Kenny Aronoff on drums (Sir Paul McCartney, John Mellencamp, The Rolling Stones, Sting, Bob Dylan), Tom Bukovac on guitar (played on over 700 albums with major artists), Mike Mills on bass & vocals (founding member of R.E.M.), Danny Nucci on guitar & saxophone (actor, Titanic, The Rock), Michael Ramos on keyboards (Mellencamp, Patti Griffin, Paul Simon), Carmella Ramsey on violin, mandolin & vocals (Reba McEntire, John Hiatt, Olivia Newton-John), Kenny Wayne Shepherd on guitar & vocals (five-time Grammy nominee) and Mike Wanchic on guitar (Mellencamp).
The evening centers around the exhibition of the collection, including Irsay's world-famous guitar and instrument collection, as well as artifacts from American history and popular culture. This will be the ninth free exhibition Irsay has hosted, with past stops in Nashville, Tenn., Austin, Tex., Washington, DC, Los Angeles, New York City, Chicago, Indianapolis and San Francisco.