Review: MADAMA BUTTERFLY at Lyric Opera Of Kansas City
Lyric Opera's "Madama Butterfly" as performed on the stage of the Muriel Kauffman Theater is extraordinary. Puccini's music remains lyric and lush even after one hundred fourteen years.
Madama Butterfly opens in a lovely, traditional house located high on a hill that overlooks the harbor at Nagasaki, Japan. The year is 1904 and President Theodore Roosevelt has dispatched the U.S. Navy Great White Fleet to circumnavigate the world in an effort to extend America's global footprint.
A U.S. Naval Lieutenant based in Nagasaki, Benjamin Franklin Pinkerton, is about to rent the home and enter into a semi -permanent marriage contract with a fifteen-year-old Geisha named Cho Cho San (Butterfly) through a traditional Japanese marriage broker.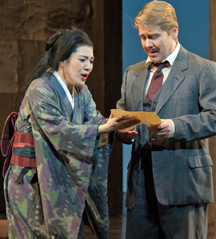 Pinkerton (tenor Georgy Vasilliev) is head over heels in love with Butterfly (Soprano Karah Son), but he makes it clear to his friend Sharpless (Baritone Daniel Belcher), the American Consul, that when he rotates home to the United States, it is his attention to take an American bride. Sharpless warns Pinkerton that Butterfly may not view their union in the same way he does. Butterfly moves into the hill house with her maid Suzuki (Mezzo-Soprano Kristen Choi) and awaits her wedding night.
Butterfly is not your ordinary Geisha. She comes from Japanese nobility, but her family has fallen upon hard times. Butterfly reveals that she has abandoned the religion of her ancestors and adopted the Christian God of the Americans and her husband. We see Butterfly's family renounce her. Butterfly and Pinkerton settle in for a comfortable life in the fairy tale home above the harbor.
Pinkerton does rotate home and marry another American, but he has maintained his financial commitment to Butterfly through Sharpless. Three years pass and Pinkerton returns to Nagasaki. He has written Sharpless and asked him to break the news about his new wife to Butterfly. He is unaware that Butterfly has borne him a blond-headed son, now about two-years-old.
Pinkerton must take care of his son and he still has feelings for Butterfly, but he realizes that inter-racial marriage in 1907 America is not a possibility. He cannot face her. Instead, he arranges for his new wife and Sharpless to confront Butterfly. She gives the boy to his father, on condition that Pinkerton comes personally to their house. She commits Seppuku, ritual suicide as the curtain falls.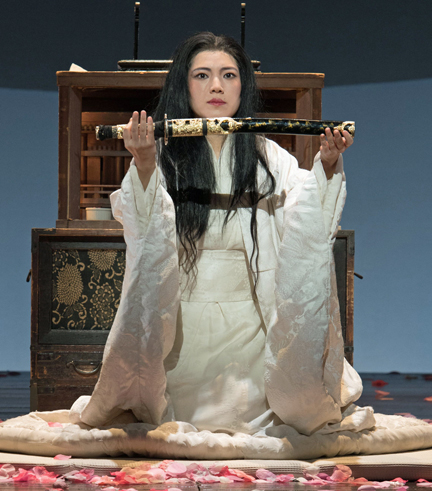 Obviously, there is so much wrong with this story in 2018, it is difficult to know where to start. An American Naval Officer played by a Russian enters into an arranged marriage with a Japanese fifteen- year-old played by a Korean. He unknowingly fathers an out-of- wedlock child before abandoning his Japanese teenage bride. Years pass and he shows up with a new wife. The new wife will accept the Asian-American baby... no questions asked. The Japanese wife is so devastated that she commits suicide.
Son and Vasilliev have performed these roles around the world and are tremendously skilled performers. Kristen Choi has performed Suzuki with the Washington National Opera. Daniel Beecher as Sharpless is based here in Kansas City. Sets, lighting, projections, and costumes are top quality.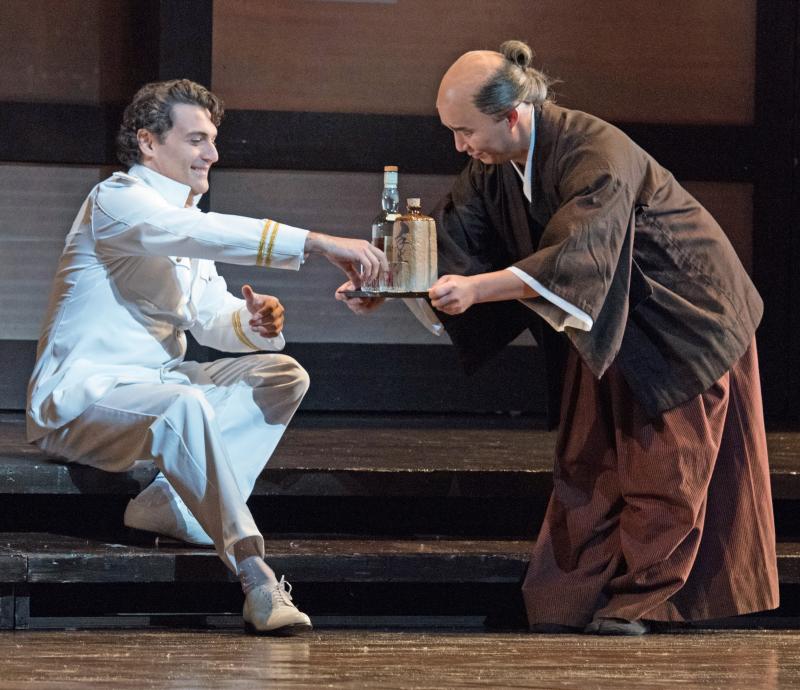 Midway through Act II, Pinkerton's ship returns to Nagaskai. Butterfly literally stands vigil waiting for him to return to her. Puccini gives us an extended, lush orchestral section that lets us appreciate the unsurpassed quality of the Kansas City Symphony Orchestra as incredible lighting transforms from dusk through the night to a bright and poignant dawn.
The remarkable thing about Madama Butterfly is that the voices are so excellent ... the acting so good... the orchestra so incredibly fine... and the stagecraft so impeccable, that we don't care about all the other stuff.
Madama Butterfly as directed by Ron Daniels and conducted by Ryan McAdams with the Kansas City Symphony is transcendent. It is an emotional experience coupled with the luxuriant sounds of Puccini performed at the highest, most romantic levels. I have never seen Grand Opera performed as well.
Madama Butterfly continues at the Kauffman Center on November 7, 9, and 11. Tickets are available online at www.kcopera.org or by telephone at 816-471-7344.
Photo credit: Elise Bakketun for Lyric Opera of Kansas City
| | |
| --- | --- |
| Vote Now for the 2022 BroadwayWorld Kansas City Awards | |
| voting ends in | |
Al Portner is regional editor for Broadway World – Kansas City.  He is a retired career journalist and media executive who has written for publication over more than 40 years. Portner ha... (read more about this author)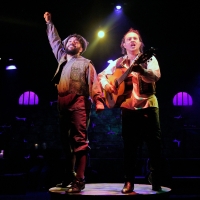 Review: MAN OF LA MANCHA at Music Theater Heritage

October 10, 2022

Playing now at Music Theater Heritage through October 23 at Crown Center is an imaginative new production of 1965's Tony award winning Best Musical 'Man of La Mancha' offered by Musical Theater Heritage.
---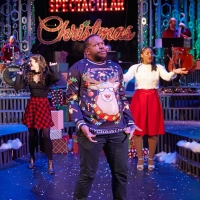 BWW Review: SPECTACULAR CHRISTMAS SHOW at Musical Theater Heritage

December 12, 2021

One of the annual challenges inherent to creating an absolutely new "Spectacular Christmas Show" at Musical l Theater Heritage is how to differentiate this year's production from the thirteen editions that preceded it. I have been privileged to see eight of the fourteen iterations and can promise you that each production is professional, well performed, entertaining and very different from earlier versions. Sure, you will recognize some of the music, but it is unlikely that the key will be one you are pre-programed to have heard before or that the various harmonies will be hackneyed.
---
BWW Interview: Scott Moreau of JOHNNY & JUNE at New Theatre Restaurant

December 8, 2021

"Johnny & June" at New Theatre Restaurant is an outstanding, original, tribute concert reminiscent of what TV audiences might have enjoyed at home between the premiere of the "Johnny Cash TV Show" in 1969 and the final "Johnny Cash Christmas Special" in 1985.   This New Theatre Restaurant original features Scott Moreau as Johnny Cash, Ashley Pankow, as June Carter Cash, and Cathy Burnett as Country Comedian, Minnie Pearl.  
---
BWW Review: JOHNNY & JUNE at New Theatre Restaurant

November 24, 2021

New Theatre Restaurant in Overland Park has opened an original and very enjoyable, new production, entitled "Johnny & June." The show is a country music tribute concert to Johnny & June Carter Cash with Scott Moreau and Ashley Pankow as the title characters and with Cathy Barnett as comedian Minnie Pearl along with a five piece band.
---
BWW Review: COMPANY at Musical Theater Heritage

November 7, 2021

Now through November 21, Musical Theater Heritage offers a super production of "Company," Stephen Sondheim's breakthrough 1970 musical. "Company" marks the first appearance of the indelible Sondheim musical voice we have heard so often since.
---